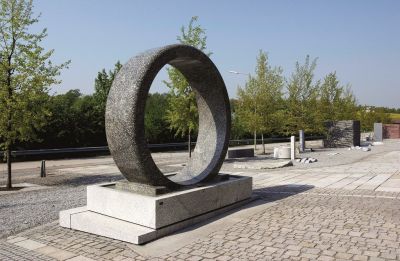 By Jeff Castle

There's something intriguing about heavy objects that float on water. In our daily lives, we often see traditional fountains made with utterly huge pieces of stone, but as gorgeous and compelling as those systems can be, it's the ones in which that stone moves that are the most fascinating of all.

The very idea that you can move a massive piece of granite with just the slightest touch of a hand is simply mesmerizing. These floating objects become centerpieces immediately – a fact that has led to their proliferation in plazas and other public spaces around the world in recent years.

Kusser FountainWorks of Tampa, Fla., designs and builds both traditional and floating-object fountains. We're a division of Kusser Aicha Granitwerke, a family-owned and -operated firm based in Aicha vorm Wald, Germany, that for more than 100 years has manufactured a range of granite products, many of them quarried in Bavaria, a region long famous for beautiful stone.


Our work with floating objects began in the early 1970s with simple spheres, and as our manufacturing capabilities have grown, so has our ability to create larger and larger spheres – although no commission has yet reached our limit of a ten-foot diameter.
Through the years, the company has produced spectacular granite objects of all shapes and sizes, but its most prominent claim to fame among watershapers is having perfected the floating-ball-fountain concept in the early 1970s: This innovation unleashed a genre that has since become popular around the world and was the subject of an article in WaterShapes in January 2006.

Precision engineering is the heart of our company's success and has led to the development of new machinery and advanced production techniques. These advancements in manufacturing make it possible to create massive objects with dimensional tolerances that are stunningly slight. And what we discovered along the way is that more than spheres can be made to float.

HARD MOVES

Through the years, we've been challenged by various architects, landscape architects, builders and property owners to create ever more interesting systems. These requests have had the effect of pushing us to look beyond spheres and to consider possibilities with granite discs, wheels and rings. In many cases, the firm has developed whole manufacturing processes and technologies to produce just a single system, knowing that advancing its capabilities in this way would offer the potential down the road for devising increasingly interesting systems.

Our explorations of the floating potential of non-spherical objects have led us in interesting directions – and in this case to a three-part fountain in which large sails independently drive the motion of floating discs.
Paired with that forward-looking attitude about technology is the timelessness of granite, a material that lends a sense of permanence to a project that is nearly absent in our modern world. It's a perfect blend in our company, and we know that what we produce and the precision with which we produce it will result in an object or system that may last for centuries.

For us in the fountain division and, we trust, for our clients and those who enjoy our work, just seeing spheres, wheels or disks that weigh tons and have been machined into shapes within fractions of millimeters creates an additional sense of wonder. And the fact that they float on incredibly small amounts of water shows just how precisely these objects are made and how amazing basic physics can be.


Our German headquarters features one of our most elaborate compositions to date: A tall spire of tremendous mass that rotates at the slightest touch and a fitting corporate symbol.
All of these systems work because of the surface tension of water and the precise contouring we bring to the stone pieces and the sockets or grooves that contain them. Many of these objects weigh several tons, but even the largest ones never take more than a flow of 60 gallons per minute to create the effect. Without the precise contours, of course, many times that amount of water would be required to get them to float.

In all cases, there are a few key constants: There's the object that moves, the socket that contains it and the water that makes it float. Those elements can be applied to create fountains that fit into a wide variety of styles and accommodate a wide range of design ideas.


Partial disks floating atop jets of water have added another layer of visual interest to these fountains: As the discs turn, they expose different jets that make these sculptures constantly renew their appearance.
It all started with spheres, and through the years the company has developed technology that enables a granite object to be machined to precise dimensions up to 10 feet in diameter – although to date no sphere has been asked for at a size that large.

HEAVY LIFTING

Once the spheres started catching on, it was natural for the company to take the basic concept and move in new directions.

The floating disks pictured here were the next step in the evolution of these objects. The disk is actually a partial sphere that floats in a socket, just as a full sphere does. In this case, however, the disk portion extends above what is essentially a hemisphere that floats on a thin sheet of water. This results in a sort of massive turntable effect that is now being used in a range of designs.


With this highly sculptural fountain, the spheres float atop angled cubes that themselves float on their pedestals – another sure way to make a compelling visual statement.
In some cases, the disks are flat – and many are used as a sort of rotating seating area. Some people find it surprising that even with the weight of multiple bodies atop these disks, they still spin freely. Again, it's testimony to the amazing compatibility of water and precisely crafted stones.

In some applications, the disks are basically used as platforms for other objects. In one fountain, for example, we fashioned a series of three disks that had large sails mounted on top of them, enabling the pieces to spin with the wind. In another at Kusser's corporate offices in Germany, a towering spire has been mounted atop a huge disk – which, although the composition weighs several tons, can be spun with the slightest touch. (One of the amazing things about this feature is that the top of the spire, from which water emerges and then runs down to the horizontal sculptural disc, turns independently: The systems is equipped with two small pieces of metal that act as vanes, enabling the structure to spin with the wind.)


The latest stage in floating-object evolution has taken the form of massive wheels and rings that float and spin in troughs. The wheels have become popular because of their ability to carry logos or decorative patterns that change with their motion.
What this has meant is that the basic floating-ball concept has become far more flexible with respect to both designs and applications. Some systems now feature partial disks that rotate and expose leaping jets at intervals, while other have secondary floating objects mounted on top of them, giving these systems added layers of interest and fascination.


Perfectly Permanent

For centuries, granite has been among the world's most enduring and flexible building materials. In my travels in Europe and especially Germany, I've been amazed to see the extent to which it remains in use, even when cheaper materials are readily available.

Granite curbs, for example, are common on European streets. Curious, I once asked Joseph Kusser, CEO of Kusser Aicha Granitwerke in Germany, why that was so when concrete curbs would be so much less expensive. As he explained, granite curbs can be re-used when roads are repaired or rebuilt or new ones are constructed, whereas concrete in similar applications would be broken up and sent to a landfill. In that sense, granite is very much a recyclable material that can be used and re-used for centuries.

In our work at Kusser FountainWorks (Tampa, Fla.), we get involved with a variety of materials including quartz, marble and other stone types. While those pieces can be spectacular, no other material is quite as flexible or durable as granite, which comes in a dazzling array of colors in massive chunks that are usually extremely consistent in terms of density and quality.

Because granite is so consistent, Kusser is often able to create elements such as fountains spheres or rings from single pieces of stone, which means they'll require minimal balancing and adjusting of their weight once shaped. Occasionally, a piece will fracture during the manufacturing process, but those that survive the process and are machined and prepared for shipping are highly reliable.

The material is so remarkable that I often compare finished pieces to jewelry: There's an elegance and delicacy to the finished material that is difficult to describe and really must be seen and touched with your own hands to be appreciated.

-- J.C.
The third stage in the evolution of floating-object technology has involved vertically oriented rings or wheels. These are different from the disks and spheres in that these objects sit in grooves rather than sockets and therefore spin in only two directions. Some are solid, but others are open like wedding rings.
As with the horizontal disks, the wheels and rings have opened up designs to more creative approaches. In many cases, the surfaces of the wheel carry company logos or some kind of decoration, and in some the rings are so large that people can walk through them. Our most complex projects to date have involved floating rings mounted atop floating disks, which is actually a fairly complex hydraulic trick in that these systems require separate circulation systems for each floating component.
IN A SPIN
Having worked in the fountain business for most of career, I've been thrilled to see how rapidly the range of concepts and applications has expanded. As more and more people have seen and enjoyed these systems, architects, landscape architects, designers and property owners of all types have come to us with creative ideas and seem constantly to be pushing us toward increasingly intricate technical solutions.
In the case of rings, some of them are large enough to walk through, and they seem irresistible to those who see the opportunity for interaction.
At every project stage, we work hand-in-hand with our clients at all levels, and we've found that almost every system is somewhat different. For this reason, all of our German-made granite components are fully assembled and tested before they are shipped to the job site. In many cases, we do the entire installation ourselves – and at the very least we closely supervise the process.

By being so involved, we ensure that the precision that has gone into designing and fabricating these objects is expressed fully in the finished product. After all, the materials and systems are made with materials that can withstand all the tests of time, so we approach each project with the idea that work we're doing now will be seen by generations to come.


Jeff Castle is executive vice president of Kusser FountainWorks, the Tampa, Fla.-based division of Kusser Aicha Granitwerke, a family-owned and -operated company located in Aicha vorm Wald, Germany. He joined the firm in 2003 after more than a decade in the fountain industry and is the principle designer and manager overseeing the design and installation of fountain systems featuring a range of granite and stone structures. Before joining the watershaping industry, Castle worked in a variety of roles in the electric-motor and HVAC industries and has degrees in HVAC engineering and business administration.