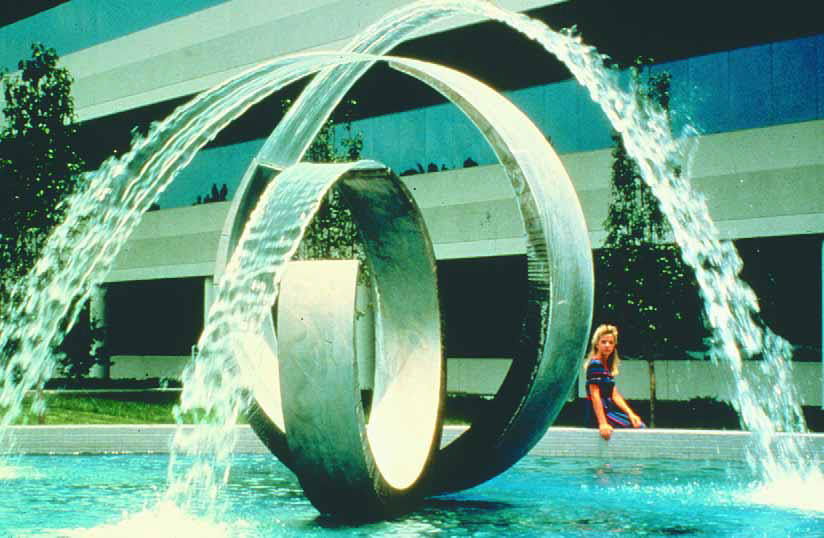 By Rafe Affleck
From the beginning of my career as a sculptor, I've mostly given myself over to two simple elements – metal and water – and have tried to develop approaches that turn one into an extension of the other.
I like the sense that a sheet of flowing water completes the simple stainless steel shapes I create. I also like to play with illusion by creating the impression that the water appears to come from nowhere. And I like getting involved in the hydraulics of laminar flow by making the water emerge from steel as a smooth, cohesive sheet.
In a sense, I draw constant inspiration from knowing that I could work with these two elements for my entire life and never come anywhere close to exhausting the creative ideas that await me.
As I see it, art really is a way of life for me. It definitely pays the bills, but it's not a job and I rarely consider it to be work. I've been at it for more than 20 years now and have completed hundreds of projects from small to monumental, but I'm always surprised when I [more]

Please note: This project is highlighted among projects recognized for meeting 'Platinum Standards' established by the WaterShapes team. Only a few outstanding projects have been recognized in this way.
Rafe Affleck is a North Hollywood, Calif.-based sculptor who creates modernistic and geometric stainless steel forms for fountains and watershapes. Most of his commissions come from commercial developers, but he also works for a range of very-high-end residential clients. Affleck's career began more than 20 years ago, following a stint as a graphic designer for a variety of firms in the Southern California area. His portfolio includes hundreds of commissions for a worldwide register of clients.