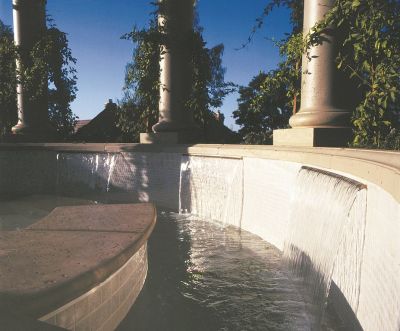 By Maria Hetzner
As customer demands continue to push the creativity of watershapers to new limits, industry professionals need to stay atop the trends – and nudge those of us on the supplier side to new levels of creativity as well.
In some cases, this means learning how to construct new environments, such as the vanishing edges and beach entrances so many clients now want. In other cases, this expanded creativity comes from a need to know what products are available from manufacturers.
Although once they were the product of on-site construction skills, sheeting waterfalls now fall largely into the category of
manufactured fixtures. This means that watershapers no longer need to worry about fabricating their own manifolds and nozzles, because these precision products are widely available over the counter and offer great versatility and crowd-pleasing visual effects – all at a reasonable cost.
LOOKING BACK
The manufacturing of sheeting waterfall components began in the early 1980s when our company, Custom Cascades, introduced stainless steel components that could be purchased off the shelf and installed in the field with ease. These early products initiated a rapid developmental process that's seen the introduction of several generations of products – an important line of technological advances that continues to this day.
Before these products came along, achieving good sheeting effects with water was no simple task. Builders had to design and create their own manifold and nozzle assemblies using formed concrete rigged with metal baffles and weirs. Getting things right required either luck (never reliable enough) or a truly advanced understanding of waterfall hydraulics. It also called for working with much tighter tolerances than most builders were accustomed to observing.
The specialized level of expertise required meant that the sheeting waterfall was beyond the technical ability of many watershapers and out of reach price-wise because of the specialized technical skills required. Of course, there were sheeting waterfalls before 1980, but they were much more difficult to build than they are now.
With the advent of prefabricated sheeting-water fixtures, more and more contractors were able to provide these effects in a broad range of designs in applications ranging from the most elaborate commercial watershapes to simple backyard projects.
Ease of installation freed watershapers to push the envelope, get more creative in their designs and develop all new approaches to using sheeting water. Twenty years later, we've seen literally thousands of innovative applications across a broad range of installation types and pricing levels.
The original units were much larger than they are now and came only in stainless steel. Now, they come not only in stainless, but also in PVC, ABS (in a variety of colors), copper and brass. A number of suppliers have gotten involved as well, calling their products out by a variety of names that all boil down to the same basic purpose: the even disbursement of water across a linear nozzle to create the familiar sheeting waterfall effect.
LIQUID GLASS
In theory, sheeting effects are simple to attain: Water flows into a manifold system in which internal baffling forces water to the lip or nozzle area in an even flow pattern.
Making that happen effectively, however, is anything but simple. A big part of the technical challenge is that you need to know as you begin just how far the water can fall from a given fixture while remaining intact – that is, how high you can go without breaking the sheet.
Our standard plastic models are designed to provide three feet of an unbroken sheet of water flowing at 10 gallons per minute per linear foot. Stainless steel models can provide up to six feet of unbroken water at 30 gpm. Larger lip openings and manifolds can be used to create falls over an even greater drop.
When placed above the recommended height, the water tends to break up (especially in outdoor installations where prevailing winds are an issue), thus creating increased splashing and noise. This can be acceptable where the view is strictly from the fall side and where the increased noise and splash patterns are taken into account – but that's not always the case.
Helpful Tips
Pre-fabricated waterfall fixtures are easy to use, but there are a few points of information that will help steer you clear of trouble:
[ ] Keep all plastic units out of extreme heat or direct sunlight for extended periods. If left exposed, they may bend or warp and won't work properly.
[ ] If a unit has debris in the lip area, be careful not to remove the attached ribs as you clean: This can result in a collapsed lip.
[ ] Keep all plaster and gunite away from the lip area: Any particles left on the surface of the fall will interrupt the sheet-like flow.
[ ] If using a metal fixture, be sure to extend the lip beyond the face of the surface wall. This will allow the water to drop into the reservoir as opposed to dripping down the face of the wall.
– M.H.
The advantage of pre-manufactured components is that guesswork is largely removed from the process: You know the tolerances and ranges right up front and can plan accordingly. You know the performance specifications, the required water flow and the size of the device itself. Not having these factors left to chance means that contractors can install these systems with reliable results – and leave the engineering part of the design to the manufacturer.
Recent years have seen a real expansion in the number of available fall configurations. There are radius falls in convex or concave forms, compound radius falls, extended lengths, corner units, raindrop falls, lighted falls and more. Customized units also are available as manufacturers work with watershapers in figuring out ways to create specific effects.
Technical considerations aside, however, what's most exciting about sheeting water is the striking aesthetics you can achieve with these units. The play of light in sheeting water speaks for itself, and so does the crystalline transparency of the wall of water as it draws the eye and, as a result, highlights and emphasizes various architectural and design elements of both the watershape and the surrounding structures.
It's also true that sheeting water is great fun. In pools and spas, for example, sheets of water are extremely interactive, inviting kids and adults alike to swim beneath the curtain and look back through the distorting layer of falling water. And these features create a wonderful noise, uniform and soothing and highly effective at masking the noise from equipment pads or nearby traffic.
Descriptions alone don't do many watershapes justice, and that's certainly the case here. That in mind, let's take a brief pictorial tour of some projects, all by way of demonstrating the versatility of these waterfalls and setting up a spot for them on the palette of possibilities available to watershapers.
---
Right In Line
This spectacular swimming pool/waterfall combination – by Ron Gibbons Swimming Pools of Islip Terrace, N.Y. – provides a perfect example of how dramatic a simple, straight line of sheeting water can be.
The fall in this job is created with a single 23-foot-long stainless steel lip and drops 4-1/2 feet into the pool below. When viewed from the fall side (as shown here), the linear quality of the fall echoes and accentuates the classic rectilinear architecture of the home. From the driveway above the feature, the effect is of the water flowing beneath the roadway and falling into the pool.
---
A Modern Edge
This commercial waterfeature, built by Prestige Pools of Las Vegas, makes use of a similarly extended line of sheeting water – but with an entirely different aesthetic outcome.
The clients, owners of a commercial horse ranch, wanted a distinctly modern-looking feature with clean lines and a near-monolithic appearance. In this case, not only does the sheeting waterfall echo the stark geometry of the installation and serve as the visual center of the waterfeature, it also provides a refreshing sound of running water in the midst of the often-scorching Nevada desert.
---
Gentle Curves
A set of three (slightly radiused) 2-foot falls follow the contours of an elegant canal that surrounds this island spa.
But unlike the first two projects shown here in which the sheeting fall is a dominant visual feature, Crowder Construction of Walnut Creek, Calif., used the falls in this case as an accent – a device for adding visual and aural interest and texture to a spectacular residential installation. Lucky bathers can float around the spa and get wet by passing beneath these simple falls.
---
A Splashing Racket
Here's an unusual application of a sheeting waterfall: The owner/ builder took two 8-inch units and directed the flow onto two steel scuppers about a foot below.
The result is an indoor waterfeature that makes a tremendous amount of clatter – not my first choice for a way to use sheeting water, but illustrative of the range of effects you can create by thinking outside the box with these watershaping components.
---
Night Lines
This spectacular backyard project, completed by Wise Pools of Conroe, Texas, winds up this quick tour by revealing the beauty and drama that can be gained in what can easily be called a "typical" sheeting waterfall installation.
The falls were set in raised bond beams and staggered to provide a meandering focal point. The radius falls harmonize with the fan-shaped geometry of the pool and further echo arcs expressed in the steps, planters and grass-filled spaces in the decking.
---
Sculpting an Arc
The "arc fall" is a souped-up alternative to the sheeting waterfall. In this truly spectacular backyard spa, Aquatic Technologies of San Juan Capistrano, Calif., incorporated the waterfall fixture in a sculpted structure that borders on modern art.
To be sure, arc falls requires a fair amount of engineering based on the unit's ability to work at zero elevation; the important point to note is that this effect of pushing the water further into the water environment is readily attainable using off-the-shelf products.
---
Cascade Steps
For this project, Crowder Construction devised a more elegant approach to using the sound qualities of sheeting water.
The customer wanted a soothing rush of noise, combined with a visually striking architectural detail. The sheeting water in this case creates a perfect disbursement of water over the tile steps, guaranteeing a uniform, all-encompassing flow. (This uniformity of flow also offers big advantages in creating naturalistic flows that roll over cascades of faux rock or real stone.)
Maria Hetzner began her career as part of the Orcal distribution operation 11 years ago, joining a family business that has participated in the pool and spa industry for nearly 40 years – at times in the service, repair, construction and retail sectors but most prominently as distributors for the past 20 years. She currently works for Orcal's Custom Cascades unit, which supplies waterfall systems from its base in Bloomington, Calif. Hetzner focuses on customer service, executive sales and public relations, and her work includes close interaction with a variety of contractors and designers in a range of pool and waterfeature projects.