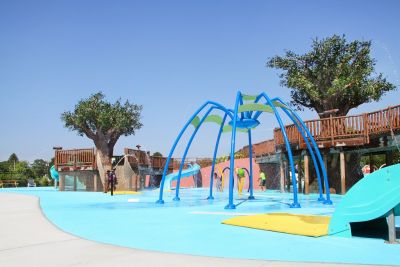 By Joseph M. Serpe
When New York's Long Island comes up in conversation, most people think about the Hamptons, exclusive summer resorts, incredible estates and beaches by the mile.
But that image has a flip side: For many years, in fact, Wyandanch, a hamlet within the town of Babylon, N.Y., has been a community that has had very little go its way, with poverty-stricken streets, gang activity and not much going on that would make its citizens hopeful about the future.
Starting in 2013, however, the picture began to change, courtesy of local government officials and private developers who stepped in and dedicated half a billion dollars to lift Wyandanch up in ways few of its residents would ever have dreamed possible.
One of the key components of the redevelopment program – known locally as "Wyandanch Rising" – has already been completed: a 14,400-square-foot playground in Geiger Lake Memorial Park filled with water effects and interactive play systems. This facility will ultimately be joined by new apartments, restaurants and stores, with everything dedicated to the thought that this should be a community where almost everything its people need can be found within easy walking distance.
GETTING INVOLVED
Sidney B. Bowne & Son (Minneola, N.Y.) became involved in the program early on, eventually leading a team with Keller Sandgren Architects (Amityville, N.Y.) and our New York-based general contracting firm, Stalco Construction as its main players. This $10-million component of the overall project had to do with the spray park and its pavilion.
As proposed, it was to be the largest municipal waterpark on Long Island. Bowne acted as the site surveyor, spray-park designer and construction manager in addition to serving as civil engineers and the mechanical, electrical and plumbing (MEP) engineers. Keller Sandgren Architects undertook corresponding roles for the pavilion. The landscape was handled by Babylon's in-house design team.
Geiger Park's waterplay area revolves around a 'Tree of Life' concept, and two of them loom over the deck-level splash pads. These trees were painstakingly built on site atop massive support structures and are linked by a bridge system that includes slides and an array of water cannons. (All photos by Ola Wilk, Wilk Marketing Communications, Brooklyn, N.Y.)
The park was financed through a combination of local and federal sources. In the pre-construction and early-construction phases, Stalco reduced the cost of construction by nearly $1 million through value engineering, scope revisions and specification of alternative materials.
Pursuant to extensive conversations with community leaders and program planners, the architecture/engineering team designed the spray park around a "Tree of Life" theme, incorporating two large, artificial tree structures into the plan. The two trees were to be linked by a long play bridge that would work its angular way through the space.
This schematic offers a bird's-eye view of the spray park's layout, including trees, bridges, multiple slides and various waterplay features and splash pads. It's not a huge space, but it's been packed with opportunities for play.
The spray playground's 25 play elements include a second, smaller bridge, three large water slides, multiple water cannons, a rope-climb net, bucket water dumps and large spider and snake waterplay features equipped with several twisting and spiraling slides. The thoughtfully zoned space also includes a less-intense aquatic-play area for smaller children.
The waterpark systems were all sourced from Water Odyssey by Fountain People (San Marcos, Texas). The chlorine- and UV-treated water required by the play systems circulates through the park at a rate of approximately 1,600 gallons per minute.
UP IN THE TREES
The most striking elements of the new park are the two artificial trees. They serve as visual keys to the park's overall "wilderness" theme and make literal sense in the context of the park's lake and the woods surrounding the space.
The trees are slightly different from one another. The larger one, which is approximately 24 feet tall, is outfitted with an eight-foot-high platform and has branches reaching out about 20 feet. (This one includes an opening with two small slides inside its trunk.) The smaller tree, at 22 feet tall, has a six-foot-high platform and branches extending out by about 18 feet.
Both trees, which we custom-designed for this installation, involved some tricky structural and fabrication challenges. Each is set atop an eight-foot-deep concrete footing within which the construction team erected support structures consisting of stainless steel pipes and plates. The final shape of trees was then achieved with a concrete foam sprayed over the resulting steel skeletons.
At deck level, you begin to appreciate the scale of the space and see how it's been zoned into areas for older children and vigorous play on the one hand, and spots for scaled-down fun for toddlers and young kids on the other. It's a waterpark-style rendering of the 'wilderness' theme, but the design team used colors, placements and textures to maintain a natural feel.
On a more natural note, we used Greenheart – a sustainable wood material imported from Guyana – in construction of the play bridges. This material is extraordinarily resistant to rot and water damage and has long been used in marine environments. Its ability to function beautifully without chemical sealants was a major point in its favor, making it ideal for use in a children's play area.
Greenheart beams up to 30 feet long were also used to support the bridge structures. The bridge decking itself was surfaced with a slip-resistant, fiberglass-reinforced grating. The railings on the elevated portions of the spray park were custom fabricated to reinforce the wilderness theme. They feature steel pipe cores encased in urethane molded and finished to resemble wood logs.
For comfort and safety, the playground surface is topped by a non-skid coating made using recycled rubber crumbs as the aggregate. Topping it all off is the array of features from Water Odyssey, whose catalog contained all of the elements we needed to outfit a wilderness-themed waterpark.
COMPLETING THE PACKAGE
Close by the waterplay area is a new, 2,500-square-foot pavilion that features a 1,400-square-foot veranda housing a concession stand, a ticket window, an office, public bathrooms, and the pump and filter room for the spray park. It is flanked by a 94-car parking lot and serves as the main visitor comfort station for the entirety of Geiger Lake Memorial Park.
The equipment room for the spray-park systems is large, complicated and noisy, but the fact that the project was a multi-disciplinary collaboration virtually from the start helped ensure that there would be ample room for all required components – and that a sharp eye would be kept on allowing for future service and maintenance.
The designers at Keller Sandgren Architects drew inspiration from the woods surrounding the facility (as well as Geiger Lake and its streams) in designing the pavilion, devising a low-slung, unobtrusive, Adirondack-style structure with stone piers and amber-stained cedar siding. Even the muted color of the roofing material was chosen to "rusticate" the building's profile. To one side is an observation deck that offers views of the lake and the forest.
One of the challenges of building near a lake is a typically high water table – and that was certainly a factor here: With water found just five feet below grade, we were prevented from installing a conventional stormwater retention/control system.
The equipment is all housed in the pavilion that flanks the spray park. Low-slung to fit into the park's landscape (but punctuated by a tall observation deck), the structure also serves a variety of other purposes for those who come to enjoy the park and its amenities.
Instead, we devised a shallow drainage system consisting of catch basins, pipes and several hundred feet of collection chambers located throughout the spray-park area as well as beneath lawns and the parking lot. The 30-inch-deep chambers collect any stormwater, then allow it to seep slowly into the ground through their crushed-stone bases.
When the park was opened and the systems commissioned, hundreds of children were on hand to play on the spray deck and learn their way around the waterpark's structures, bridges and slides. They were immediately caught up in the wilderness theme, moving freely through the space and enjoying its opportunities for fun and recreation.
For all of us who worked on the project, this was the moment we'd been waiting for – the acid test – and the facility passed with flying colors.
Joseph M. Serpe is vice president of Stalco Construction, a New York, N.Y. and Islandia, N.Y.-based commercial and municipal general contracting firm. He has managed Stalco's recent construction of several water-recreation facilities, including the Geiger Park project as well as the Asphalt Green athletic center in Manhattan's Battery Park and the Manorhaven Beach Pool Complex in Port Washington, N.Y.