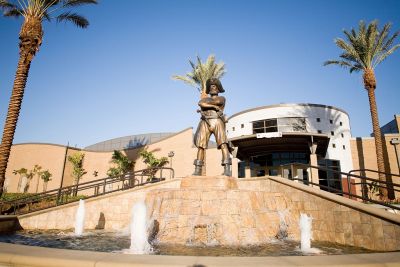 By Patricia Soto
A small town set in the suburban vastness of southern California, the city of La Mirada seems an unlikely setting for a leading-edge aquatics facility – let alone the grand one that now occupies 19 prominent acres within the city's sprawling regional park.
We were first introduced to the project in September 2005 by the city's public works director, Steve Forster, who invited us to sit in on a meeting to discuss the city's ambitions. At this gathering, key city officials let us know that they'd already secured much of the $30 million plus the project would require and expressed their desire to begin moving right away with a very aggressive project schedule. What was needed now, they told us, was a company that had the expertise and experience to jump in, take the site plan and develop a design.
It seemed unusual to us that a town with just 50,000 residents would undertake such a large project, but as we became more involved, the intensity of La Mirada's commitment became overwhelmingly apparent. So would its determination to build an environment that would stand as one of the most outstanding aquatics centers in the region – something truly unique in the way it would comfortably accommodate both competitive events and family fun and togetherness.
At that first meeting, civic leaders made it clear that they were after a design firm with extensive experience in both competitive and recreational aquatic facilities. Our firm, Counsilman-Hunsaker (with offices in St. Louis and Los Angeles), was a natural candidate for the project, given our decades of experience in developing municipal facilities of both kinds as well as combinations that encompassed competitive swimming and interactive waterplay.
ON THE SPOT
The city's enthusiasm for the project impressed us from start to finish.
City Manager Andrea Travis and Community Services Director Tom Robinson joined Forster and a number of other key staff members (including Jeff Brown and Anne Haraksin) at every meeting, and we knew that they were doing all they could to keep the process moving along as smoothly as possible.
Along with our firm, the team the city brought together also included Westburg+White Architects (San Diego); the civil engineering firm of Willdan (Anaheim); and, as construction managers, C.W. Driver (Pasadena). High levels of mutual support and teamwork were required, because one the requirements they revealed to us right away was that they wanted an extremely compressed project timeline, with construction to begin in May 2006 in anticipation of a grand opening in Spring 2007.
We informed the city that we could meet the timeline in terms of the design process, but that experience led us to believe that the implementation phase might easily be held up either by the permitting process or by the intrusion of some unexpected challenge. To minimize those factors, we suggested that all key decision-makers needed to commit to participating in all relevant meetings; again, experience told us that this would eliminate delays in disseminating information and allow the design team to adjourn meetings with the answers we required to keep moving forward.
Beyond making it suitable for matches in a variety of aquatic sports, a key aim in designing the competition pool had to do with giving those who would use it (as well as spectators) plenty of room to maneuver – hence the generous deck areas and ample grandstands seen particularly well in the view across the smaller teaching pool.
Without hesitation, the city agreed – and we completed health-department-approved documents on schedule in March 2006 as a result.
During this time, the city of La Mirada and the County of Los Angeles (which had jurisdiction over the regional parkland) were in negotiations over a land transfer – a complex process that led to a number of stipulations on the project and added several layers of complexity to the project. One condition, for example, caused a delay in starting work on site: Several species of migrating birds nest in the park's trees each spring, and environmental regulations prohibited work in the vicinity of these trees while the birds were present. This hitch delayed excavation until August, and once the digging began, ongoing care was required in monitoring the site to ensure that no historical artifacts would be destroyed.
The unanticipated delay, however, actually gave the team the advantage of allowing more time to define a host of key details and fully orchestrate the work to be done by various subcontractors. It also gave us ample time to make certain that all of the necessary materials and products could be secured and brought on site in a timely manner.
Once construction began, California Commercial Pools (Glendora, Calif.) did a masterful job of executing the swimming pool plans and responding to our concerns (and those of the city) as the installation progressed.
A PIRATE'S LIFE
Let's back up a bit, because we've yet to discuss the overall concept for the site.
First, it's really two centers in one: The city wanted to be able to stage competitive events and provide programming for community swim programs, while at the same time it wanted the general public to be able to enjoy a separate recreational area. In addition, they wanted the two areas to flow seamlessly and comfortably into one another.
To one side of the facility there was to be a full-scale, 50-meter, eight-lane competition pool – complete with a moveable bulkhead, a gutter-overflow system, one- and three-meter diving platforms, bleachers and two LED scoreboards. Adjacent to this competition pool at the center of the site (indeed, on the axial view from the center's entry lobby) was to be an eight lane, 25-yard "teaching pool."
The central pool is the first thing visitors see in entering the activity areas. It has a deck-level overflow design and features an elegant, semi-circular zero-depth entry centered on the side just beyond the lobby doors. As an extension of the competition-pool area, this space presents guests with a zone dedicated to aquatic activities ranging from swimming lessons and free swimming to warm-ups for competitive swimmers.
The teaching pool stands front and center opposite the facility's main lobby – the first watershape a visitor encounters when he or she gains access to the spacious deck areas. The competition pool stands off to the right, while the banner to the left invites guests to the facility's pirate-themed waterpark.
The racing pool stands in a large area to the right side of the complex relative to the lobby. It complies with U.S. competitive standards and can serve as the site for any level of aquatic competition (excepting world championships and the Olympic Games). The idea was to provide a top-notch facility that would serve as a training and competitive venue for local schools and swim clubs as well as for a variety of community aquatics programs.
One of the first groups to take advantage of the new facility was a swim club that had previously been based at a hotel in the nearby City of Industry. When they lost access to their home pool, the team approached the city of La Mirada, collaborated with the city on the project and renamed themselves the La Mirada Armada, a fitting label that plays off the city's proud Hispanic heritage.
That connection to longer-term Spanish history led to the theme adopted for the fun side of the facility: Known as Buccaneer Bay, this park within a park celebrates the days of the Spanish Main and has made "Splash," as the La Mirada Regional Aquatics Center has become known, a true regional attraction.
One of the defining features of both sides of the facility is the spaciousness of the deck areas. On one side of the competition pool, for example, are concrete bleachers that can hold up to 400 people, while on the other side there's a large, grassy hillside that can also be used for viewing. (Much of this lawn area, however, will eventually be turned into a second 50-meter pool – already planned and pre-plumbed.)
Combined, the area surrounding the competition and teaching pools includes thousands of square feet of decking, all of it finished with a beautiful blue/mother-of-pearl exposed-aggregate material and a beige-colored concrete worked into wave and bubble patterns that appear throughout the facility's interior and exterior spaces.
ROOM TO MANEUVER
As a designer, former aquatic athlete, USA age-group coach and parent of a competitive swimmer, I've learned first hand that deck space is a huge issue when it comes to the staging of large competitive meets.
Many top facilities tend to shortchange swimmers, coaches, officials and spectators by cramming them all into chaotic, uncomfortable spaces – and for major events, it's a crowding that can last an entire weekend. At Splash, however, there are ample expanses of decking as well as large areas filled with concrete benches, spaces for tables and chairs and a sweeping arc of umbrellas. (It also helps that the facility is outdoors and in southern California.)
In short, there's plenty of room for everyone to enjoy the setting – comfortably and without feeling as though you're always so much on top of each other that you always need to watch your step. A similar ambition toward spaciousness governed the rest of the design as well. The teaching and racing pools, for example, exist as two different zones, each with its established traffic patterns and sets of activities.
The teaching pool has a deck-level overflow system with the abovementioned semi-circular zero-depth entry located right outside the main entrance. This watershape is extremely inviting and, by virtue of its edge treatment and central location, is an unusually friendly body of water. By design, it's likely to wind up being the most used and versatile element in the entire project.
The pirate décor flows through the entire park, with fully rigged ships' masts, shipwrecks, treasure chests and more on hand both to entertain guests and remind them of the spirit of rollicking adventure in which they've been invited to partake.
By contrast, the racing pool is off to the south side and has its purposes defined by elevated viewing areas that make it an attractive venue for aquatic sports, diving, racing, water polo or synchronized swimming. It has a deep gutter system in which the deck is elevated a foot above the surface of the water, so it's clearly not as "recreation friendly." Also, the gutter system made it easy to design the vessel to accept the moveable bulkhead – a detail that makes the pool even more clearly a place for competition swimming and training.
The result is that, although these two pools are on the same grade and are linked by expansive decking that makes it easy to move freely between them, there is also a clear separation in terms of functionality. In sites that don't have this much space, it's more of a challenge to create a comfortable environment with such distinctive zones.
Also, there is an enormous storage area that's walled off from the public. It provides more than ample housing for lane markers, starting platforms, lifeguard stands, water polo cages and other competitive accoutrements.
IN CHARACTER
Although just one side of the facility is dedicated purely to family fun, the pirate theme reaches throughout the entire facility.
It all starts at the entrance, where visitors are greeted by a bronze statue of a pirate standing proud with arms folded. Inside the facility, the theme is picked up in every direction: Even the scoreboards above the competition pool are mounted in superstructures that recall the masts of pirate ships.
These theme elements were created by Los Angeles-based Scenario Design Group, which was responsible for literally hundreds of details large and small, including various fences, rope bridges, signage frames and a host of masts, piers and docks as well as a ship's wheel and a treasure chest. Even the waste receptacles look like barrels lifted from the set of a pirate movie.
The waterpark area offers interactive play opportunities to guests of all ages and levels of interest and ability. From the large splash pad/play structure and the lazy river to the triple slide tower, the park is designed for active play and family fun – not to mention swashbuckling adventures.
The key here is that some of the visual elements are what you might expect to see in a full-scale theme park – but not necessarily in a community aquatic facility. Consider, for example, the large skull that emerges from a sand pit surrounded by large faux rocks and offer kids a great place to climb and play – or, next to the skull, a wrecked pirate ship.
As visitors enter Buccaneer Bay, they find themselves within a massive aquatic playground that carries a pirate theme to spectacular heights while providing an unexpectedly broad range of interactive systems for kids of all ages. The main waterplay elements occupy a 1,200-square-foot area that includes a large play structure with a tipping-bucket feature in the form of a three-dimensional pirate's head.
Making It Work

As with any project the size and scope of the La Mirada Regional Aquatics Center, there were a number of suppliers of equipment and other products that were key to the overall success of the process.

Knorr Systems of Santa Ana, Calif., supplied the system's massive pumps, which were manufactured by ITT Marlow H2O Technologies (Alhambra, Calif.). The high-rate sand filters were made by Nemato (Whitby, Ontario, Canada) and the pool heaters by Lochinvar (Lebanon, Tenn.), while the pool covers were supplied by T-Star (Oakland, Calif.). Seimens Water Technologies (Bradley, Ill.) came through with the chemical controllers.

In the competitive pool area, the lane lines and reels were supplied by Antiwave (Sanger, Texas). The scoreboards and timing systems are by Colorado Time (Loveland, Colo.), while the diving boards and stands came from Duraflex International Corp. (Sparks, Nev.).

The pool contractor, California Commercial Pools, directly provided pool gratings from Grate Technologies (Naples, Fla.), the play and slide features from Whitewater West (Vancouver, British Columbia, Canada) and the spray features from Aquatic Recreation Co. (Minnetonka, Minn.).

Some of the many additional prime contractors on the project included Sunports/Shade Structures (Dallas), which provided the shade canopies; Trademark Concrete (Anaheim, Calif.), which installed the colored-concrete flatwork; and Shaw & Sons (Costa Mesa, Calif.), which created the custom bubble and wave patterns in the hardscape.

P.S.
This area is flanked by a zero-depth-entry pool; a 600-foot lazy river with a variety of spray and rainfall features; and a core structure that includes a body slide, a speed slide and a tube slide. The many interactive waterfeatures, such as the bridge showers and waterfalls, were designed by our firm. The spray-pad features were provided by Aquatics Recreation Co. (Minnetonka, Minn.), while the slides and play structure were provided by Whitewater West (Richmond, British Columbia, Canada) – with everything scaled and designed for applications in specific zones dedicated to the needs of children of different ages.
This entire space is laced with winding, interconnected paths leading to broad deck areas. The sense of spatial integration we were after led to development of some interesting transitions between areas, including the lazy river and the splash zones. Where such spaces are normally set up with distinct boundaries, in this case the broad decks break down the usual barriers, impose a sense of visual unity – and serve a functional purpose by allowing easy lifeguard access across zones.
Of course, maintaining a sense of visual flow with so much hardscape and so many ramps, bridges and raised pathways was a challenge we had to work out with the construction managers and contractors, but the overall effect says it all: The setting is remarkably spacious, but there are easy transitions between activity areas and plenty of room for parents to watch their kids have a good time. In sum, it's a great place for people of all ages to congregate – a multi-generational marvel.
MORE STILL
The primary aquatic areas defined above are still only part of the Splash story.
In addition to the pools and waterpark features, for instance, the center also has a 20-person therapy spa set in a private area separate from the rest of the facility. This vessel has an unusual three-leaf-clover shape that allows groups of three to five people to sit in separate areas. And there's also enough room in the central core of the spa to allow for vigorous water exercising.
In addition, there's a large, landscaped area on a level just above the main aquatic zones that is beautifully appointed with shade structures and outdoor-cooking facilities. The city plans to lease these areas to corporations, community groups, churches or families throwing large parties – all in an effort to provide another level of use for the site while creating a reliable revenue source.
From atop the slide tower, you get a sense of just how expansive the 19-acre complex really is – and how much attention was paid to making everyone comfortable either in relaxing and playing or in training and competing.
The main building features beautifully appointed men's and women's locker rooms and restrooms adorned with ceramic tile that picks up the exterior color scheme and aquatic motifs. The main building also boasts meeting facilities, a cafeteria, office space and a retail store that sells a range of products related to swimming and aquatic exercise.
Throughout the site, the city invested in landscape and hardscape details crafted by ADL Planning, a landscape architecture firm based in Carlsbad, Calif. The city also did a wonderful job of taking design cues from central project elements and carrying them through to color schemes and the outdoor furnishings and shade structures – many of which suggest the sails of pirate ships. Even the lighting standards harmonize with the overall maritime theme.
If this facility works as it should, guests may not even realize why they enjoy it so much, other than for the obvious reasons that Splash is a fun place to spend their time.
From our perspective, we could see the city's ambition, understand the combination of desired features and pay the requisite attention to detail, flowing spaces, competitive needs and family fun, but we know from experience that La Mirada's determination to make it all come together was the key to the team's overall success of the project. The town set the stage, and everyone who worked on the project was motivated to help realize the dream of creating a place where members of the community could compete, exercise, have fun and enjoy all the varied aspects of aquatic recreation at the same time and in the same place.
Certainly, these features can be found in facilities in hundreds of other communities, but this project stands out because of the city's unflinching commitment to making everything as fun, functional, safe and beautiful as possible. To my mind, it shows what it takes to turn an aquatics facility into a showcase.


Patricia Soto is studio director for the Los Angeles office of Counsilman-Hunsaker, an aquatics-facility design and engineering firm with offices in Los Angeles and St. Louis. A New Zealand native, she has a long professional background in architecture and has specialized in the design of swimming pools for the past ten years. Swimming has been a lifelong passion, and her work reflects decades of experience through the care and insight she brings to her work in designing aquatic facilities and building close working relationships with clients.