Articles
By Scott Cohen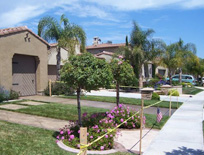 Among contractors, it's not unusual to find those who don't think much of their counterparts in other trades.
That seems a bit sad, really, but there's a reason for it: All too often, you run into situations in which other contractors do things that are silly or negligent — and then refuse to accept any responsibility for the consequences.
I've encountered just this sort of situation many times — and when you consider the cost of addressing the issues and correcting the problems that result, the harm done can range from the mostly insignificant to the truly devastating.
Scenario: We were working on a spectacular job in an affluent community in the northwest corner of Los Angeles County and had installed a series of decks on different levels all around the property. Each featured a beautiful sand-washed finish — including one in an upper-level area right next to the house.
Once the flatwork was finished, we pulled off the job site for a couple weeks to let the decks cure before we started walking across them to set up our landscape lighting and irrigation systems and their controls. Unbeknownst to us, a tile specialist who had nothing to do with our portion of the work came on site to install limestone ledger inside the house. Unfortunately, he decided to set up his masonry saw on the upper deck we had just poured and finished.
He spent three or four days sawing away at his limestone, effectively covering the freshly poured deck with dust. The homeowners spoke up and expressed concern, but the tile guy assured them that he could clean it off and that there would be no problem.
Unfortunately, however, when that kind of fine dust settles on fresh concrete, there's no good way to clean things up without damaging the finish. Ultimately, he had to resort to pressure-washing the deck: While it certainly removed the dust, it completely destroyed the finish's decorative qualities and left us with a deck area that didn't match any of the others.
After a good bit of arguing and finger-pointing, the homeowners decided we'd been negligent in not placing warning signs, laying down plastic or cordoning off the area with caution tape. They decided we were responsible when other trades came in and worked atop the decks in our absence because "they had no way of knowing where they should and should not go."
After more discussion and lots of rancor, it was finally decided that our concrete subcontractor and the tile installer were both responsible, and they ended up splitting the cost of redoing the upper deck.
The Fix: Again, this is a simple one. Always remember to mark damageable areas off with caution tape or lay down plastic to protect your work. It is never safe to assume that other trades will take the time to think about anything more than the tasks they have at hand.
Also, you must be aware that even when you do take precautionary measures, some people will walk right over the work anyway. That's why we take photographs of sensitive spaces after we've put up the tape or other warnings: This way, when somebody walks carelessly across our work, we can prove that they should have been aware of what they were doing.
We also discuss these issues in detail with our clients, letting them know they should stay off these surfaces themselves and make certain children and pets stay away, too. This makes them aware of what we've done to protect the site and generally puts them firmly on our side if anything happens.
But nothing is failsafe or foolproof! We ran into a situation a few years back in which we'd asked the homeowners to keep their dogs out of the backyard while the decks cured. After chiding us for stating the obvious, they failed to mention the prohibition to the housekeeper, who let the dogs out to leave paw prints all over the freshly poured decking.
Fortunately, it was a Spanish Colonial-style project and, thinking quickly, I pointed out to the homeowners that some people pay a great deal of money for Mexican Saltillo tile that has coyote footprints on it. We filled the prints so they weren't quite so pronounced, and the homeowners rolled with the idea that the marks added character — a nice traditional touch courtesy of the family pooches.
That was a spot of luck, of course. It's always best to protect your work!
Lesson Learned
If you don't take preemptive measures to keep your work from harm, you assume responsibility for any damage that occurs. So always think ahead and make no assumptions about the care or consideration of others — basically because they seldom have any!
Scott Cohen is president and supervising designer of The Green Scene, an outdoor design and construction firm based in Northridge, Calif. He provides consultation for clients nationwide and gives seminars on designing landscapes, swimming pools and outdoor kitchens. For more information, go to www.greenscenelandscape.com.
People in this conversation