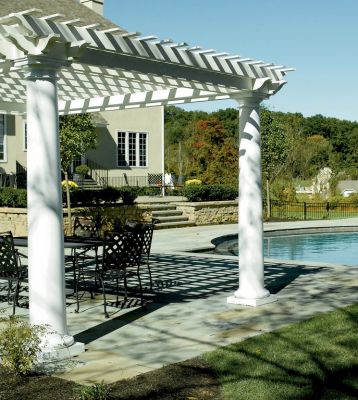 By Robert Nonemaker
Garden historians tell us there is evidence that pergolas and other shade structures were common features of Egyptian, Greek and Roman exteriors. They further suggest that they were normally situated on north sides of residences and were covered with grape vines or matting.
Not much has changed through the centuries, although these structures are now found in all directions around homes and as free-standing features in residential designs around the globe.
In modern times, these structures are used for almost every conceivable purpose – dining, cooking, fireside relaxation, parties, weddings, photo shoots and, most important, spending time with friends and family. They offer welcome retreats to those wishing to enjoy outdoor spaces on hot days and are increasingly becoming focuses of activity even in the middle of winter.
However they might be used today, the primary purpose for these structures has always been to shelter us from the sun. They offer an environment that's 10 to 20 degrees cooler than exposed areas nearby, and in these days when people are concerned about skin cancer, they can be far more effective in preventing problems than even sunscreen.
Whatever form they might take – and as the photographs accompanying this article demonstrate, there are many – people love these structures for their ambiance as well as for the senses of security, privacy and protection they provide to those who sit beneath them.
ELEMENTS OF DESIGN
Good exterior design has always been about organizing spaces in ways that allow people to enjoy their surroundings, both visually and functionally. Shade structures play a huge role in that context, allowing designers to create distinctive outdoor "rooms" in a nearly literal sense of the word.
Done well, a shade structure provides a much-needed vertical element – a "ceiling" for the outdoor room that makes it seem less vast and wide open. We've all seen big patios and decks that simply seem too large and flat: Generally, they're missing something in the form of trees or a shade structure that establish a vertical limit and define the exterior space.
Moreover, shade structures help by putting other design elements in context: An outdoor fireplace under a pavilion, for example, tends to look nicer and seem cozier than one left out in the open. An outdoor kitchen seems more appealing and usable when placed under a pergola and, in turn, makes the cook's job more enjoyable on hot summer days.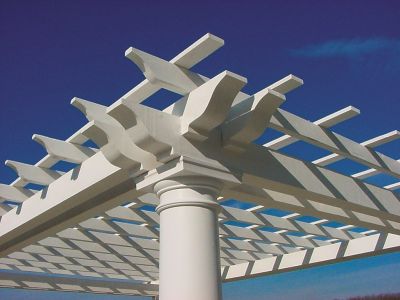 This pergola features cast-fiberglass columns and cedar beams, rafters and lattice to provide about 10- to 15-percent shade as built – with greater coverage to come once the plants take hold. It's tough to get plants to climb smooth posts, so we'll also set up a support system with thin stainless steel cables. (Once the vines are established the cables can be removed, but in most cases they'll be invisible by then.)
These structures can also be used to establish symmetry in a design by serving as a counterweight to the visual mass of the homes to which they're adjacent – all while adding much needed visual interest to backs or sides of homes that all too often are devoid of architectural appeal or detail.
They can define a design style while serving as the support mechanisms for privacy screens or swags of outdoor fabric. Perhaps best of all, shade structures are often set up to provide support for vines and climbing plants or espaliered trees, enabling landshapers to add greenery and color to spaces where trees or shrubs wouldn't otherwise work.
All of the above are classic, time-tested uses of these outdoor structures, but recent times have also seen the emergence of shade structures as outdoor entertainment centers outfitted with televisions, sound systems and whatever else it make take to enjoy sports or movies outdoors. Without the shade such shelters offer, the sun's glare would make it impossible to view the images on the screen in daylight hours.
Another novel purpose for these structures is as outdoor cigar dens. Most of my cigar-smoking clients have been banished from interior domestic domains, moving outdoors to keep peace in the family and let the wind carry the odor away. And given the fact that serious cigar smoking is a year-round pursuit, this has led some clients to offer smokers fully covered and sometimes even heated outdoor spaces.
DEFINING COVERAGE
Given the many uses to which they've been put through the years, it's no surprise that shade structures come in many styles and sizes – and carry a host of different names. In fact, landshapers often apply different names to the same item or use single terms to describe several different structures – a confusion that persists despite the importance of us all having a general idea of how each name should best be used.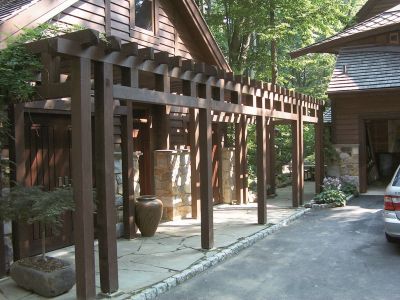 This pergola stands just outside the back door, offering the homeowners a place to pop outside and enjoy the backyard while eating dinner or drinking a morning cup of coffee. The design offers about 20-percent shade and will make a good support for vines. It also serves to frame views of the pool, spa and landscape from inside the house as well as from beneath the pergola itself.
Whether you call them pergolas, patio covers, gazebos, pavilions, arbors or something else besides, they really break down into two main, general categories:
[ ] A pergola is usually an open, frame-type structure that features overhead lattice or beam construction. These can provide varying degrees of shade depending upon the size and spacing of the beams or openings in the lattice and are often set up to support climbing vines and roses. Pergolas may be made entirely of wood, or they might have masonry supports or even concrete posts and beams. They may or not be attached to the home or some other structure.
[ ] A pavilion is generally a structure with a solid roof that is open on one or more sides. It provides many of the same benefits as a pergola but can take on more elaborate architectural flourishes. They're often made to resemble domed temples or complete timber-framed buildings, for instance, and in some cases are made completely out of iron.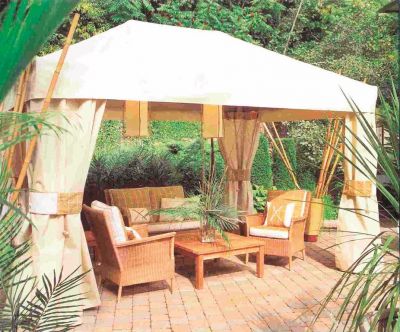 This tent pavilion is a modern option in shade-structure design and, when properly anchored in place, offers a flexible, elegant place to relax, entertain and dine. Built-in mosquito curtains allow for evening use, and the whole assembly can be taken down and stored through the winter – a portability that makes them popular when their owners move.
Of course, ingenuity and current technology keeps broadening our definitions of exterior structures. Recently, for example, I came across a fabric-covered tent pavilion that was exceptionally well made in an elegant style – and a great value compared to wood or iron structures that might cost hundreds of dollars per square foot.
This particular tent pavilion had side curtains, an insect screen and a roof that offered shade during the day but could flip open to provide views of the stars at night – great flexibility and all the romance of a pergola or pavilion at a fraction of the cost.
A prefabricated product has the advantage of having been engineered for its intended use – which is not always the case with shade structures designed by landshapers as a part of a project. There's no question: These are critical structures and should pass through review by a structural engineer and be built in full compliance with all local building codes.
PROPER PLACEMENT
Once a decision has been made about what type of structure is desired, you need to figure out where best to place it. The key here is determining what will most capably serve the owners' needs, both visually and functionally, which is why I always ask my clients a series of questions.
I need to know, for instance, how they want the structure oriented in relationship to the south or southwest. Any shade structure set on the south or southwest face of a home (in the Northern Hemisphere, at any rate) will give homeowners optimal shade in the area immediately outside the home in which people will tend to congregate.
As an added advantage, a shade structure with a southerly exposure will help reduce air-conditioning bills by reducing the amount of direct sunlight entering the home. And if the ceiling structure is designed at a proper height, the sunlight will be able to peek into the house during winter months when the sun is lower and any plant cover on the structure is devoid of leaves.
This pergola features a tight lattice that blocks out 75 percent of the sunlight – and was designed that way because the owner didn't want vines (and the bugs that come with them) located so close to the house. It opens out from the kitchen, dining room, family room and office and is on the home's southern exposure, so it helps keep all those spaces cooler through the summer.
We also talk about intended uses (relaxation, entertainment, dining); the square footage required to accommodate family needs and foreseeable gatherings; the time of day in which greatest use is anticipated (to determine what sorts of lighting or bug-repelling or heating systems may be needed); and additional issues that enable us to define a good set of design parameters.
Next, we explore ways of placing a structure to take advantage (if possible) of the site's best views and features or locate it most conveniently adjacent to where most activity will be occurring in the yard. I have seen structures situated at the far end of a pool or set out in a yard far away from where visitors will tend to venture: Although these structures may look nice, if not used they become little more than expensive garden art.
The simple fact is that most of our clients don't have estates with massive acreage, meaning our focus should fall on functionality and visual appeal rather than strictly on the visual. (In those cases where I've worked with clients on big properties, we almost always end up balancing a structure set up as a distant focal point with one that is functionally more valuable much closer to the home.)
Of course, topography is a huge issue in shade-structure placement, especially in cases in which the structure is to be separated from the main building. You need to consider how the pergola or pavilion fits into the space, how tall it will be and whether it will represent any sort of obstruction (or serve as a framing element) for distant views.
MATERIAL NOTES
After topography, the scale of the pergola or pavilion relative to surrounding structures, trees and physical contours is the next consideration. Quite often, you'll see structures where the designer or installer has chosen to undersize the beams and posts on these structures with the result that the overall effect is weak, uninteresting and out of proportion with the features they're meant to complement.
More often than not, this happens in response to a client's desire to restrain the budget – and despite the fact that good design should never be sacrificed in this way. You're better off finding an alternative material that's less costly or redesigning the structure so that it makes good design sense.
This structure shelters a fireplace on a descending slope. Without the fire element, it would seem out of place or unnecessary, but as it is, it offers the family shade through the summer and warmth through spring and fall. This was a case where the style of the shade structure (with its peg details and corner braces) was made to fit with the home – an 18th-century Pennsylvania farmhouse.
It's also important to make allowances for securing shade structures to the ground or adjacent structures to ensure their stability. Pergolas and pavilions often lack the sort of cross-bracing, sheathing or attachment to buildings that lend them structural rigidity, so you always need to look out for the possibility that they'll catch the wind and act like sails – especially when covered by plants.
That last point underlines the importance of installing well-engineered structures: I have seen pergolas collapse under the weight of the plant material growing on them – a load that should be anticipated in the design and accommodated by the massiveness of structural components.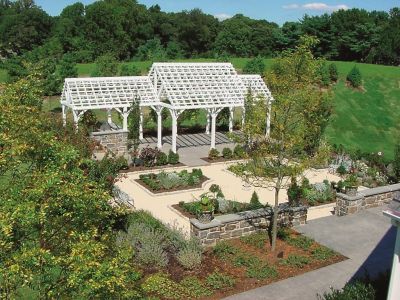 Designed for big visual impact on a narrow budget, this openwork structure is made from pressure-treated yellow pine sealed with an oil-based stain. The aim was to make it look like a skeletal timber-framed barn with a few special touches suited to the home's elegant, 'refined country'-style neighborhood.
As for construction of these design elements, most of our shade structures are made using Western Red Cedar or White Oak to take advantage of their rot resistance. For our verticals, we typically use six-by-six posts at a minimum and will often deploy 12-by-12s for more substantial structures. We've also used cast fiberglass columns with resin top and bottom caps, partly for rot resistance, partly for price. Cast and carved-stone columns are also wonderful (budget permitting).
As decisions are made about materials, it's best to keep an eye on maintaining consistency throughout the design: Too many different types of materials can yield visually busy or cluttered results, so we look to those that can be used flexibly across applications – stone that comes in various thicknesses, for example, or wood that can be found in various sizes and dimensions and used on other hardscape elements within the design.
Most important, the proper design of a shade structure is all about the clients: You must listen to their wants and needs, meet their expectations and develop a design that expresses the way they want to live. If you can do all that and combine continuity of design, spatial organization, visual appeal and proper engineering, clients in need of a bit of shade will beat a path to your door.
Robert Nonemaker is co-owner of Outerspaces Inc., a business he started with his brother David at the age of 12. After a college career during which he studied construction management, communications, engineering and business, he and his brother decided to pursue landscaping as a career. Based in Glen Mills, Pa., Outerspaces currently employs 27 craftspeople, technical experts and managers and specializes in large, complex residential landscape, pool and fountain projects typically costing $1 million and up. He is also owner of Robert Nonemaker Exterior Design, a firm that offers design- and construction-consulting services to architects and landscape architects throughout the country.