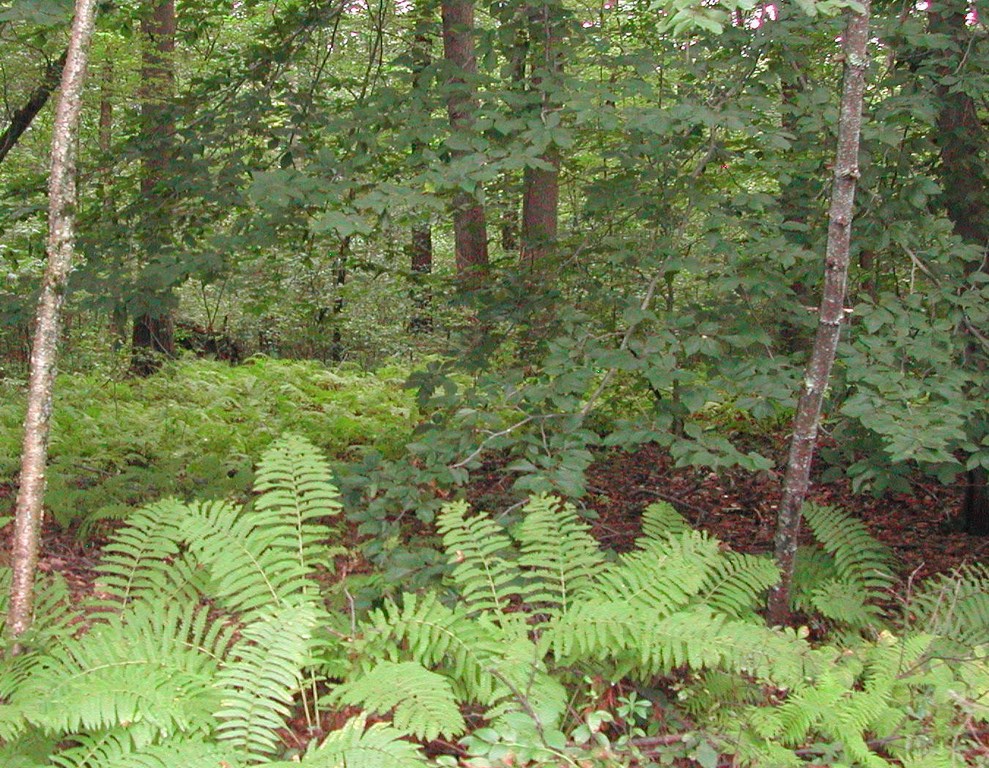 By Maria von Brincken
It was an unusual time to be thinking about work, but there I was on a late-August morning, and Peak's Island off the coast of Maine was in glorious summer form. Small enough to walk around in an hour or so, the island is filled with delightful, charming summer cottages – not a "McMansion" in sight.
In the early light, my thoughts had been silenced as I savored the beauty of the coastal wetlands and meadows filled with wildflowers, grasses and sedge. I was totally absorbed by the surf, salt air, rocks and ocean, but then the wildflowers along the road – plants we might call "weeds" if they popped up in our city or suburban gardens – began demanding my attention.
It wasn't long before I was back in working mode and found myself thinking about the relationship between the manicured, well-kept gardens of cities and suburbs and the wilderness that surrounds them and seems constantly to be trying to overwhelm their orderliness with its relative chaos.
Fully into the process, I was hard at work thinking about the balances between kept and unkept – and everywhere I turned I saw borders and boundaries and margins where a distinctive tension between tame and wild was working itself out.
FOR LOVE OF GARDENS
There on Peak's Island, wandering along its unpaved roads, all senses engaged, I had found myself "seeing" the roadside cottages' landscapes with rare intensity. Most presented simple yards of mown grass (the happiest strewn with kids' toys) or manicured flowerbeds, but the ones that intrigued me most were the semi-wild gardens.
The walk brought to mind the duality of my love for gardens: On the one hand, I'm inspired by the romantic look of a wild cottage set in the moors of England or a cabin amid the Sierra woods or a marine-headlands refuge tucked in the sea-grass dunes of Nantucket or northern California. While I like the simplicity of total immersion within the natural world, I'm stirred on the other hand by the cultivated beauty of well-tended, well-composed gardens of trees, shrubs, perennials, annuals and vines.
It struck me that as a weekend guest, I'd like to do nothing but enjoy the scenery. My friend's semi-wild Peak's Island garden was thoroughly pleasant with almost no effort required. Wild field grasses wove through woodland shrubs and trees thriving on the glacial mound, and the parking and entry areas of mown grass were perfect until your feet found the boardwalk that steered you to the front deck.
Along the boardwalk here and there were rocks settled into the bank of the glacial mound. A rock garden planted with a happy mix of blown-in and planted herbs, wildflowers, Mallow and ferns presented itself in a pleasing and very relaxed way. I treasured these sensations as both gardener and designer.
At the same time, I wondered: If this were my weekend or summer-long retreat, would I prefer things to be different? I assumed that the beautiful, well-tended perennial borders gracing other island abodes were the provinces of full-time summer residents who enjoyed the same sort of garden puttering I so enjoy at home. It occurred to me that the balance between carefully maintained and semi-wild was comfortable to me.
My observations of that day also showed me a thing or two about how precarious that balance really is.
PRACTICING WHAT I PREACH
The measured dance of the tended and the wild has proceeded in my own home gardens for years. In my choreographic work, I've long been inspired by Sara Stein's wonderful book, Noah's Garden (Houghton Mifflin, 1994), which influenced me greatly by expressing the ideal of restoring the ecologies of our own backyards.
Since first reading the book, I've done what I can to design with meadows, artificial ponds, wetlands, hedgerows of berrying species and corner woodlands that provide wildlife corridors for animals (my personal preference being birds rather than hedgehogs!) and insects such as butterflies, dragonflies and more.
My former back garden thus contained a wild meadow, a semi-wild meadow (with plugs of perennials planted within the grasses) and woodlot that fringed a shaped, mown lawn perfect for neighborhood softball and volleyball games. Its bluebird house was perfectly sited within the wild grass meadow, nestled by the woodlot on two sides and the shrub hedgerow on a third.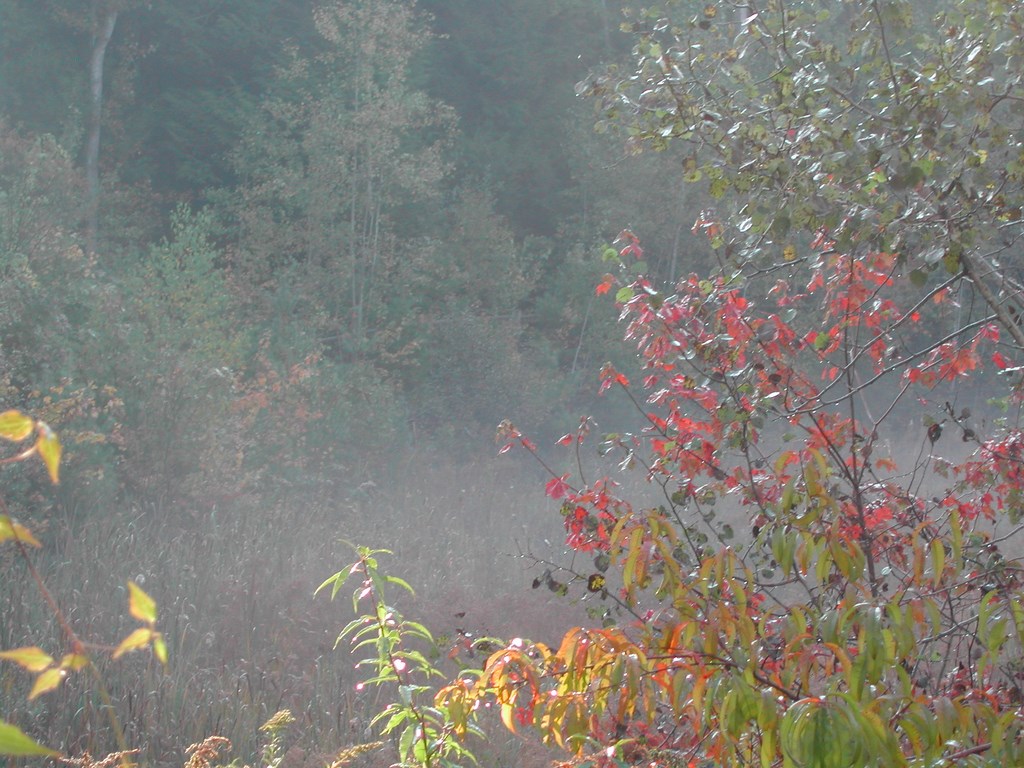 The marsh/woodland area behind my home is truly untamed – a thoroughly enjoyable prospect at the same time it is a space in which nature and wilderness have taken complete control.
The perennial gardens closest to the curb and the house were studiously composed and tended (my trial gardens for new combinations for use on clients' projects). As the borders came closer to the meadows, they became wilder – that is, I allowed more "weeds" to stay for longer periods – but never became totally wild, as the meadow required yearly mowing to discourage the forest succession. I'd dig out the invasive Buckthorn and Bittersweet seedlings or cut and paint stumps with an herbicide.
I left that space behind a while ago, moving to another home with a much smaller outdoor space – although I did manage to find one with a marsh and woods right behind it.
For my new home, I removed all the lawn and have planted perennials, shrubs and trees as a narrow and lovingly tended and cultivated border that buffers me from the wild (Figure 1, above, and Figure 2, below). The bluebird house has yet to be installed.
Pondering the idea of design intent and values, I have consciously represented mine in my home and in my design work. Environmentally motivated since my college days, my projects feature plants best matched to their habitats horticulturally, aesthetically, spatially, environmentally and organically.
NEW BALANCES
Nowadays I find discussions of "sustainability" everywhere, and I wonder: Am I already practicing it personally and professionally? Can the concept even be applied to the ornamental garden? And what does it mean in terms of maintenance, community and beauty?
These are huge questions, and I'll leave specific discussion of them and their implications to a future column or feature. For now, let me offer a definition of sustainability from an Australian web site, www.greenhouse.gov.au. "Something is sustainable if it can keep going indefinitely. Natural systems have been operating successfully for millions of years. Nothing made by humans can do that."
By that definition, the marsh and forest space behind my house is sustainable but the meadow I established is not, as the forest will continually strive to succeed it. This leads me to wonder if there might be a broader term (such as "sustainable ornamental garden") that might encompass what I'm after – a term that includes words like organic and xeric as part of a broad definition of combined wild and tended spaces.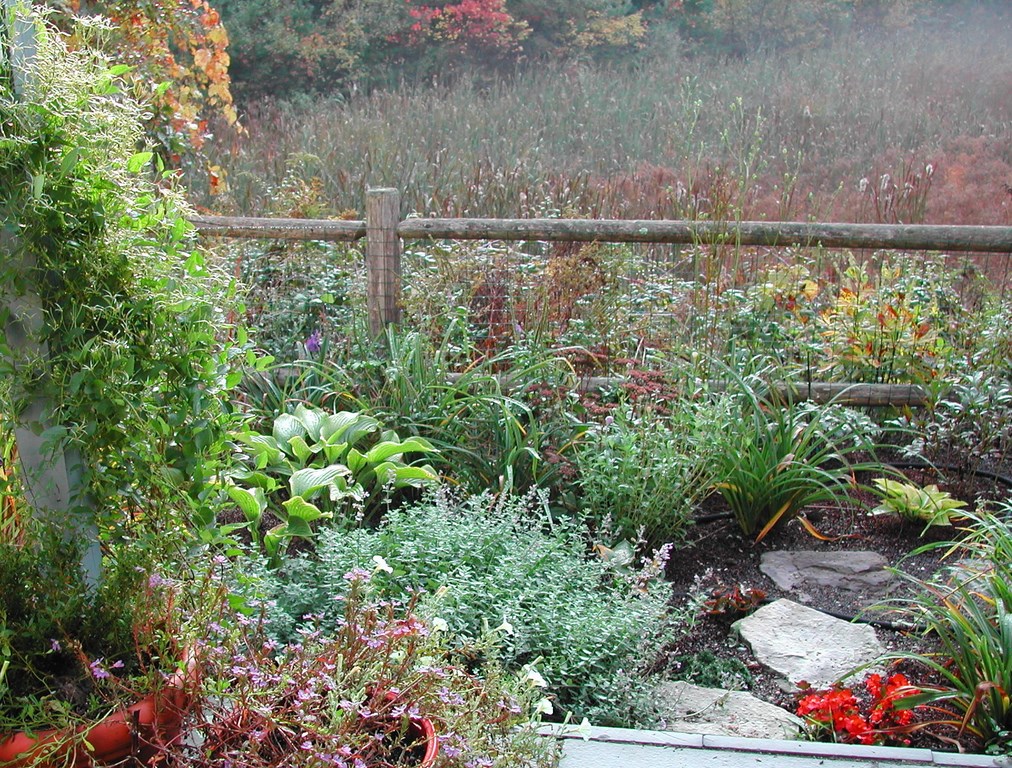 Closer to my house, I eliminated the lawn and inserted an array of perennials, shrubs and trees as a narrow, orderly border that lets me keep my distance from the wild spaces beyond.
Coincidentally, in the midst of pondering these notions and applications, two projects have come my way that include wild gardens. In one, I've suggested and designed a landscape that includes a wet and a dry meadow, a fern glen and a hybrid courtyard that uses many of the same plants – but weeded and maintained. The other involves a dry meadow with flowering woodland, native edge plantings and a different kind of courtyard garden that brings the meadow plants into a maintained garden that merges into the spaces beyond.
The plant palette for the dry meadows includes Echinacea, Rudbeckia, Helianthus 'Lemon Queen,' Lupine, Monarda, Baptisia, Liatris, Coreopsis, Calamagrostis, Narcissus and more. The wet meadow has a mix of natives and exotics: Rhododendron, Viburnum dentatum and Ilex verticillata frame the woodland edge, while the perennial mix includes abundant drifts of native and exotic ferns with Japanese Primula in spring and ferns, Iris, Filipendula and Ligularia for summer. Late summer/fall ferns then merge with Eupatorium and Lobelia, with Astilbe and large-leafed Pelboboykinia for contrast and drama. I'm using plants that wander and those that stay put as well as a mix of indigenous, native and exotic species.
These are hybrid, spontaneous landscapes with tended elements and some provision for management of vagabond plants. My environmental and organic approach acts as an invisible frame to my practice of landscape design, and I describe these concepts with newly minted phrases such as "Flowering Native Shrub Border" and "Flowering Meadow."
RIGHT TIME, RIGHT PLACE
I am conscious of the fact, of course, that wildness looks great in the country but that the approach needs to be adapted for application in urban or suburban areas. To keep these "civilized" places from looking as though they've been abandoned, I suggest mowing edges along roads, creating mown paths and establishing clear visual patterns in meadows.
The trick here might be to think in terms of framing views by using fences, walls, paths, arbors or tunnels. There's also merit in the idea of using shaped plantings of similar plant material and combinations that are tended and mulched in a wide foreground band, making the wilder area behind them seem intended. This is actually a time-tested planting pattern: well-tended and composed plantings close to buildings and entry drives while the edges farthest away are wild.
There's an obvious maintenance issue here in that the manicured section will require constant policing to keep on top of unwanted seeds blown in from the wild section. And it's also clear that much depends on the site, its opportunities, the clients and their willingness to explore the borders between the kept and the wild, just as I enjoyed them that lovely day at Peak's Island.
Through it all, I believe that it's possible to create beautiful landscapes and gardens that reflect the best environmental and human intent.
Maria von Brincken, APLD, owns and operates a full-service landscape design practice in Sudbury, Mass. Her award winning work has been published in Fine Gardening and is featured in Front Yard Idea Book (Taunton Press). She has also been interviewed and quoted by national newspapers, has appeared on local television and gives lectures at garden clubs, symposiums and conferences. She can be reached at This email address is being protected from spambots. You need JavaScript enabled to view it..