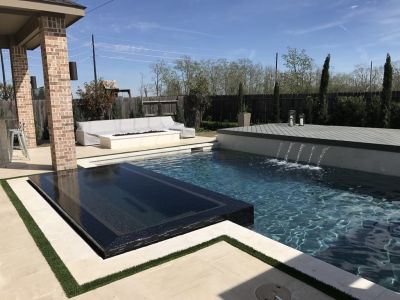 By Tanr Ross
If friends had told me that, eight years after leaving the Las Vegas desert, I'd be incorporating synthetic turf in a high percentage of my outdoor spaces in Texas, I would've said "No way!"
What a concept! I now live and work where there's no water shortage, so why on earth would my clients or I have any interest in finding substitutes for big expanses of lawn?
Well, what I'm seeing now is that the low-maintenance, long-lasting faux-grass solution is part of the discussion in most of my presentations. What's most amazing to me is the fact that it's become the answer for a whole range of persistent design challenges – so now I'm the one who brings it up even if my clients aren't asking me for it.
REAL ROOTS
It's taken the better part of 50 years for artificial grass to redeem itself from its initial appearance as Astro Turf and achieve wider acceptance. In that span, manufacturers reworked the product and have made it look much more like natural grass by creating better blade forms and mixing in a variety of colors instead of presenting monotonously uniform fields of green.
They also focused on lengthening the material's service life and marketed the fact that, once installed, it is nearly maintenance-free. Finally, they started speaking up about proper installation practices, padding, drainage and other issues that have made the product easier to work with and live with.
When we use artificial grass for large expanses (left), we follow the lead of golf-turf specialists and include undulations that give the area a more natural look. Other times, it's all about maintenance, as with this sloping area rolling down from a vanishing-edge trough toward a fence (middle left). If flat sections are called for, we try to set them off visually – as with the platform seen at middle right – or just keep them small (right).
It's also long been clear that artificial grass is a valuable presence in locations where drought is a consideration – and, as I'll discuss below, in several other places around the country where soil conditions and/or wet weather make maintaining real grass lawns a practical nightmare, particularly around the margins of pools and decks.
In fact, while artificial grass is a great product in areas subject to prolonged dry spells, such as Arizona, Las Vegas and southern California, it's finding applications in the area around Houston where I work. It wasn't a lack of rain that led me to the product: Instead, it was our typical bouts (sometimes lasting for weeks) of incredibly wet weather.
Cut into thin strips, artificial grass becomes a wonderful design accent – both visual relief from the potential monotony of big stone or concrete planes as well as a color accent that softens a space and makes it more inviting. It might be possible to use real grass in these applications, but the maintenance would be immensely tedious!
In this region, the soil is very often an extremely dense clay. When our seasonal storms come, any exposed portion of that clay soon turns into a heavy mud – every bald patch or marginal area – and inevitably gets tracked from the lawn across decks and into homes. Without proper preparation and drainage, real grass will often compound the mud problem and present oppressive maintenance issues aside from normal tedium of mowing and trimming.
Maintenance is usually the trigger – and, more specifically, the general desire of busy homeowners to avoid doing it at all costs. For years, this led many homeowners to turn to the all-hardscape approach and requests for large expanses of concrete and tons of loose rock. But given the underlying soil conditions in Houston, what's a great solution for "less maintenance" too often leads to a concrete-jungle or parking-lot feel for outdoor living spaces.
And there's one more factor that's been pushing us to consider and use an artificial option: Many of our web-surfing clients have seen pools with grass growing right up to the coping and want that look. For us, the synthetic-turf answer was straightforward – and we soon found that it worked like a charm.
A GREENISH TREND
In our projects, we're now tending to use synthetic grass in two ways: As larger square footage to fill small spaces and in linear strips to create visual interest.
When we're considering using artificial turf with high square footage, we take our lead from those in the golfing business who install synthetic putting greens in backyards all over the country: In their case, the challenge for their golfing clients comes from creating undulations and mounds; in ours, we noticed that those contours made large expanses of the material look much, much better – more "natural and organic," in fact.
We often use fake grass in combination with the real deal, deploying the synthetic material in places where maintenance would be a huge hassle and turning large and relatively easy-to-maintain areas over to genuine lawn. For us, it's mostly about aesthetics over the long haul. For our clients, it's about the hassles of daily upkeep.
Yes, we've installed flat fields of the material, but they tend not to be overly large – no more than about 100 square feet at a time. Any larger than that, and the fact is that flat putting-style greens don't exactly offer the super-custom look we want to create: We want to enhance theses spaces, not sterilize them!
We also find ourselves using linear strips of turf – typically either four or six inches wide – as graphic elements to help ease the harshness of backyard surfaces. In addition, they help us liven up monochromatic, earth-tone color schemes.
A primary lesson we've learned has to do with where to set the level for the grass material: It shouldn't present a trip hazard, so it can't be too high or too low; and the base material needs to be thoroughly compacted so the level won't change much over time or spill out on to the deck if it's windy or rainy.
One of our favorite looks involves using concrete as dividing strips for sections of artificial turf, or using strips of synthetic grass to set off sections of stone or concrete. The cool thing is that these are legal for use in our restricted easement zones – a big aesthetic win for the design and our clients.
A nice feature here is that, by inserting wrapped, perforated drain pipe in the bottoms of these slots, we effectively create channel drains that help eliminate the intrusive drain openings the might need to be placed at ten-foot intervals where a pool runs along the length of a home. Nobody objects to seeing fewer drain grates or access panels around a pool – another aesthetic plus for synthetic insertions and a factor that dramatically simplifies flatwork.
As important, decking that has been sectioned in this way is seen as "removable" and can legally be installed within the famous Houston easement zones, giving the designer far greater flexibility and freedom in balancing hardscape and landscape areas throughout what is often seen as "prohibited" space.
SEEDS OF GROWTH
Although my emphasis here as a poolscape designer has been on the aesthetic evolution and emergence of artificial grasses, there's no escaping the fact that today's homeowners are probably more appreciative of the low- or no-maintenance nature of these materials than of the appearance of a detail that comes at a relatively high cost per square and linear foot.
The Eyes Have It
If there's any trick to using artificial grass in watershape projects, it's the simple mental one of looking at it as just another design element.
The way I see things, we work with a limited number of decking options: plain concrete, exposed-aggregate concrete, colored concrete, coated concrete, stamped concrete, various forms of stone, pavers and wood. Unless you work with a special patterning approach, the results can be monotonous, especially if the coverage area is large.
Before offering the artificial grass solution, I often broke big planes by using linear river-rock strips, but I ran into enough objections from the parents of young kids – concerned that the small rocks could easily become window-breaking projectiles – that I had to keep looking for a low-maintenance option.
With linear strips of synthetic turf, I achieve the "something special" so many of my clients are after, using contrasting bands of color to soften the look of the deck without sacrificing any of its utility while also dealing with drainage issues and allowing for flatter deck surfaces.
Now all I hope is that a supplier will see the value of marketing turf in both four- and six-inch wide strips (my usual choices): It'll cut down on the installation time and costs considerably!
-- T.R.
I acknowledge that practicality, but for me, aesthetics rule – which is why we make certain that we work with quality installers who know what they're doing when it comes to preparing the base, inserting drainage pipe, adding crushed stone, inserting padding (when needed) and installing the grass while making absolutely certain the edges will stay put.
That last point is particularly important: I know these edges will be walked on, kicked and challenged by creative (or merely curious) children. Many installers use special stakes to hold the material in place; there are also edging materials that have surfaces that lock onto the turf's edges. Whatever approach is used, an adequate securing system is a definite must-have feature in a quality installation.
We still use real grass in our projects – lots of it – and often use combinations of real and artificial material to suit a site's specific design requirements. I don't foresee a time when synthetic turf will fully supplant the real thing, but I do see a level of open-mindedness on the part of our clients that convinces me to keep exploring the possibilities and find new ways to pursue our artificial options.
Tanr Ross has been sales manager and lead designer at Sunset Pools in Katy, Texas, since 2009, and founded Intelligent Blue, an independent watershape-design firm, in 2011. A long-time advocate of computer-assisted design technology, he has served as an adviser in development of the Pool Studio software system and has taught a number of courses in its efficient, effective use. In 2014, he was recognized as designer of the year by the Houston-area chapter of the Association of Pool & Spa Professionals.