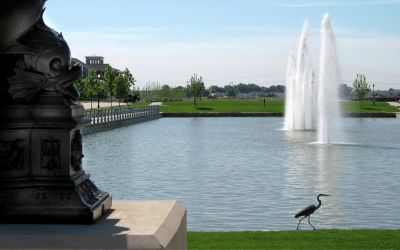 By Anne Gunn
Sometimes finding just what you need is as easy as looking in your own backyard.
That's what happened for Greg Whittaker of Whittaker Homes, one of Missouri's largest home builders, when he began searching for the right partner to provide dramatic watershapes for New Town, an innovative community in St. Charles, Mo., a suburb of St. Louis.
Situated on the site of what had been a farming community, New Town is intended to invoke and embody a comfortable lifestyle for the 21st Century. Parklands filled with water were the key to Whittaker's vision not just for aesthetic and thematic reasons, but also for stormwater management.
While visiting St. Louis' Forest Park, a venerable civic treasure, Whittaker saw the beautifully restored and refurbished fountains, pools and jets in the park's Grand Basin and Jewel Box. Not long before, Forest Park had undergone a $90-million facelift to address more than a hundred years' wear and tear caused by hikers, bikers, walkers and picnickers from around the globe (see WaterShapes' May 2004 issue, page 34, for details).
As a result of that tour, Whittaker came to believe that our St. Louis firm, Hydro Dramatics, was a natural choice to help with watershape design and implementation. As he saw it, we'd developed just the sort of signature look for the Grand Basin in Forest Park that he was seeking for New Town.
A SMALL-TOWN FEEL
As we reviewed the possibilities, we came to agree with Whittaker's assessment – mostly because he'd assembled a stellar design team that included Marina Khoury, project manager for the Miami-based urban planning firm of Duany Plater-Zyberk & Co.; Tim Busse, vice president and director of architecture for Whittaker Homes; Bruce Corban, principal of Toronto-based Corban and Goode Landscape Architecture and Urbanism; and our staff at Hydro Dramatics.
This group decided early on that water was to be not only an integral, interactive focus for New Town, but also a unifying thematic and visual feature as well. After all, the development is cradled between two of the most significant rivers in North America – the Missouri and the Mississippi – and sits in a city that played a key role in the opening of the West in the 19th Century.
As far back as 1801 – well before Napoleon contacted him about purchasing the Louisiana Territory – Thomas Jefferson was already on a quiet quest to find a water route to the Pacific Ocean. After the Louisiana Purchase brought a slice of the Midwest from New Orleans to Montana under U.S. dominion, Lewis and Clark launched their "Corps of Discovery" explorations from the banks of the Missouri River in old St. Charles. What they found ultimately triggered thoughts of Manifest Destiny and the country's great western expansion.
Day and night – in times set aside for either contemplation or celebration – the floating fountains in the Grand Civic Basin set the tone for New Town. In sight and sound, they are easy on the eye, soothe the spirit and play a key role in the community by inviting homeowners to come to the water's edge to socialize with neighbors. (All photos by Larry Duffy, Whittaker Homes, St. Charles, Mo.)
All of this history influenced the planning of New Town from the beginning – a fact expressed by the overall focus on water. Indeed, by the time Whittaker Homes broke ground in 2003, fully 80 acres of the 638-acre parcel had been dedicated to scenic lakes and a canal, all in public spaces.
Three floating fountains provide the focus for the Grand Civic Basin, lending a backdrop to a 2,500-seat amphitheater. And coming up with a look for these features was simple: What Whittaker wanted was something that specifically reminded him of the fountains he'd so admired in his walk around Forest Park's Grand Basin.
New Town's Grand Civic Basin has a central fountain with an 89-inch float, a stainless steel spray ring and a 20 horsepower pump that sends water 35 feet into the air through a four-inch geyser nozzle. The spray ring has eight two-inch geyser nozzles that shoot water 20 feet high, and the lighting system consists of three 1,000-watt and eight 500-watt underwater lights. At full thrust, the system moves about 1,000 gallons of water per minute.
The two flanking fountains are on 63-inch floats, each of them boasting a seven-and-a-half-horsepower pump, six 500-watt submerged lights and a four-inch geyser nozzle that shoots water in a spray pattern that reaches to 25 feet. A pump house contains all of the electrical systems and panels as well as lightning arresters and a programmable logic controller (PLC) that reads wind speeds, controls spray heights and performs time-clock functions.
INNER WORKINGS
Helpfully, floating fountains are some of the easiest of all watershapes to maintain.
The fact that they are either tethered to underwater anchors or tied to the shoreline with cables makes them significantly easier to work on than a typical fixed fountain. If, for example, a light or lens needs changing, a technician simple rows out in a boat to make the exchange. And they are self-contained, so if serious work needs to be done, they can just be brought to shore, where their exposed systems and structures can be tended to with relative ease.
The extensive system of lakes, canals and basins is designed as a well-planted habitat for fish and waterfowl, but it's also intended for human use. Whether it's kayaking or splashing around in rowboats, whether it's fishing or regattas of radio-controlled sailboats, the water is less a scenic backdrop than it is a resource for civic fun and physical activity.
For these particular floating fountains, we were concerned with the occasional gusty winds that blow through the area. That in mind, we installed two-stage wind-sensor controls driven by an anemometer that meticulously tracks wind speeds in the area.
If the wind gets too strong, the sensor sends a message to a panel that controls the system's variable-frequency-drive pumps and slows them down to shorten the sprays. If the winds exceed that preset level, a second one shuts the fountains down completely. The control system then continues to monitor the wind, firing the pumps back up to the appropriate level when conditions change – or keeping the fountains in the "off" mode.
Innovative Spirit
Everything that's happened in New Town (and will continue happening for the foreseeable future) is a Midwest manifestation of a style of urban planning and architecture called New Urbanism by some and Traditional Neighborhood Development by others.
This movement had its start in the community of Seaside, Fla., in the 1980s, where Andres Duany of Miami's Duany Plater-Zyberk & Co. was the architectural director. Since then, his firm has planned three projects in the St. Louis area – including New Town, which is located just north of the city in St. Charles, Mo.
New Urbanism is a reaction to sprawl as well as sky-high land costs and a perceived need for human-scale connections. This is why the neighborhoods of New Town are so focused on pedestrians and zoned for mixed use: It's all about giving residents easy access to local gathering spaces, cafes and shopping. This is also why the streets have sidewalks and the homes have front porches: Everything is designed to get residents to turn off their televisions and join their neighbors outdoors.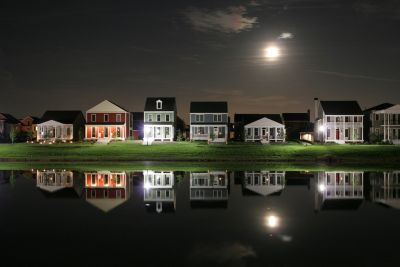 As is true of the historical orientation of the watershapes as a tribute to the Missouri and Mississippi rivers, New Town also has been built in accordance with another principle of New Urbanism to fit in with its surroundings and harmonize with the architecture and layout of the historic district of St. Charles, Mo.
Developer Greg Whittaker, the owner of Whittaker Homes who has long admired Seaside, held as closely as he could to New Urbanism's credo, which advocates reduced reliance on cars through encouragement of public transportation and liberal provision for bike trails, walking paths. He's also a big believer in the use of energy-efficient and sustainable building products.
The 5,500 planned homes for New Town will be completed in multiple stages through the next 15 years and ultimately will include five mixed-use neighborhoods, a town center at the intersection of Highway 370 and New Town Boulevard and homes ranging from cottages to stately custom homes. According to Whittaker Homes, the development is now about 15 percent complete and has a population of about 2,000 living in 800 dwellings.
A.G.
Of course, the systems we installed in the basin were tested in our outdoor testing yard well before we installed the final versions of the fountain packages. Tim Busse of Whittaker Homes was with us the day we fired up the fountains for the first time in our ten-foot-deep, 15-square-foot test pool – always an exciting process and one that, in this case, worked out extremely well.
There's only one issue with floating fountains: They need to be run 24 hours a day, seven days a week in the cold winter months to prevent surface ice from forming on the basin and possibly cracking the float – and to keep ice from forming on the streets from the fountains' overspray. For the most part, however, that year-round functionality is a big virtue: After all, who doesn't love the sounds of splashing water, which soothes and invigorates any day of the year?
Those sounds (and the sensations they conjure) were among the main reasons Greg Whittaker was so interested in focusing his project on water – right alongside the role the waters of the Missouri River had on the history of St. Charles as a community. New Town's water – whether a canal, lake or fountain – is easy on the eye, relieves stress and creates an invitation to socializing. The fountains in particular have become a peaceful accompaniment to wedding photos and other rite-of-passage events in the growing community.
URBAN INSIGHT
Throughout the development process, the New Town design team has regularly convened to discuss ways to broaden the role, enhance the character and increase the functionality of the property's 80 acres of lakes and canals.
Pursuant to those discussions, Bruce Corban of Corban and Goode Landscape Architecture and Urbanism will be developing a shoreline planting plan using aquatic and embankment plantings to create an eco-system that will help maintain water quality, augment oxygenation and serve as an aquatic habitat to support fish and attract waterfowl – all contributing to the sustainability of New Town's water resources.
In creating a town based on water, the planners, architects and designers followed the lead of European cities such as Bruges, a Belgian city famous for the number and variety of its bridges. These are both visual and physical links that bring residents of New Town together in ways that are both picturesque and fully functional.
The lakes also will have recreational potential, so there will be provisions for a harbor for people-powered watercraft such as rowboats and kayaks as well as sand beaches, swimming access and boardwalks. In addition, site plans call for European-style bridges of the sort found in Bruges, a Belgian city famed for such picturesque spans. Sites for outdoor sculptures are planned as well to accommodate art displays on a semi-permanent and rotating basis.
New Town at St. Charles is a special place, and we've taken an unusual level of local pride in having set the tone with the watershapes we custom-designed and installed. This may be Greg Whittaker's dream, but it's now becoming a reality for lots of lucky St. Charles families.
Anne Gunn is a fountain consultant for Hydro Dramatics, the full-service fountain division of Missouri Machinery & Engineering Co. in St. Louis. An affiliate member of both the American Society of Landscape Architects and the American Institute of Architects, she joined Hydro Dramatics and became part of the fountain industry in 1996 after a 22-year career in industrial sales for the steel industry. The firm, a leading designer and installer of architectural fountains worldwide, is known for its work on such prominent St. Louis-area features as the Gateway Geyser (the world's tallest fountain) and fountains for the Missouri Botanical Garden and historic Forest Park. Its international credits include elaborate installations in San Juan, Puerto Rico; at Weil University in Doha, Qatar; and at the U.S. Embassy in Moscow.