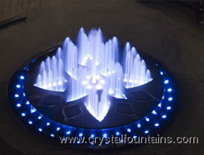 Toronto-based Crystal Fountains has designed a dramatic, multifunctional waterfeature for White Square Office Center, a major new commercial development in Moscow. The company describes the installation as "a fountain for the 21st century in a city with a tradition of fountains."

Crystal Fountains' brief was to design a unique waterfeature that would complement the architecture of the adjacent towers and serve as a focal point to the axis of three major pedestrian corridors. Encircled in a ring of Black Absolute granite - crafted by one of Europe's best stonemasons - the fountain is an elegant, 20-foot-diameter, raised water table.

A geometric pattern of sixteen "lotus leaf" shapes (based on decorative ironwork in the nearby subway station) are set within the water table to create an intriguing display. These patterns are revealed when concealed drains are activated, draining the water from eight voids. The shapes fill to create an alternate plane of water that contrasts with the main water table, producing a striking visual effect at ground level or from above (seen from offices). Lighting within the smaller voids makes the waterfeature glow, emphasizing the lotus shape.

When the voids drain, the jets lower into black stainless-steel perforated plates and can operate in normal mode. As the voids fill, they alter the character of the jets, which become heavier, denser, and wider, until they are a bubbling mound of water.

During the day, when nearby retail stores are open, the feature is a sophisticated and simple reflecting pool. The black background enhances water reflectivity and provides an illusion of depth. In the evening, the fountain becomes an entertainment device with dynamic, colorful shows of negative and positive water shapes.

Traditionally, fountains in Moscow are turned off during winter months; the new waterfeature will operate year-round. From October through April the water system will be winterized and shut down, but the LED lights will continue to be fully operational, creating colorful visual displays.

To watch a video of the Moscow waterfeature in action, click on http://tinyurl.com/4gtvygr.