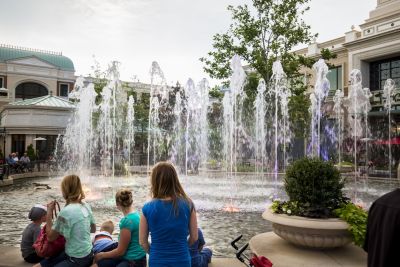 By Chris Thomas
Station Park is a modern mix of upscale retail, dining and entertainment venues with more than 1.2 million square feet of commercial space. It includes an event venue, health center, luxury hotel, ice rink, 14-screen movie theater – and a dazzling outdoor show fountain.
Our company, Fountain People (San Marcos, Texas), worked closely with developers and designers on the way to creating a world-class, choreographed water feature that provides a unique and exciting experience every hour on the hour. The fountain dances to the music of popular artists, old and new, with a stunning display of 30- to 60-foot-high spouts, sheets and plumes, all illuminated with a kaleidoscope of ever changing colors.
We're very proud of the fact that the fountain has helped Station Park become a destination for families and patrons from across the region, and amazingly there are tourists who come specifically for the spectacular fountain shows.
ENTERTAINING VISION
Station Park's developer, CenterCal Properties of El Segundo, Calif., turned to us to help them develop the dynamic display as a way to create a destination that's much more than a shopping mall. We were part of an elite project team that included landscape architecture firm Lifescapes International (El Segundo, Calif.) and fountain builder Outside the Lines (Anaheim, Calif.).
The team engaged in a careful design and development process that resulted in a state-of-the-art fountain that includes among other systems, LED lighting, static sequencing jets, multi-axis robotic nozzles, and an advanced show control system. The fountain's shows run every hour with rotating songs from 10 a.m. to 10 p.m. on weekdays, and 10 a.m. to midnight on weekends.
During performances, the pumps move water at a brisk 3,500 gpm needed to operate the display features. The displays are driven by three variable speed Berkley B-Series pumps, sized at 60, 40 and 15 hp. The system recirculates 48,000 gallons of treated water through a closed-loop, underground filtration system driven by a 3-hp Tristar pump. It's also equipped with a heater to keep the water flowing and the shows going during the winter holiday season.
The fountain jets are like dancers on a stage with their repertoires of dance moves and lighting effects. The multiplicity of effects enables our programmers to capture the mood, melody, rhythm and indeed, the spirit of the music.
The subgrade equipment vault is 10 feet away from the fountain. In addition to the pumps and heaters, the equipment set also includes a Hayward Pro Series 36-inch sand filter and a Chemtrol CH250 ORP/pH controller, to ensure superior water quality and chemical balance.
The fountain footprint is freeform and difficult to dimension. It measures roughly 90-feet long by 50-feet wide with 3,000 square feet of surface area at a nominal 18-inch depth. It's cited within the property on multiple visual axes and traffic patterns to provide maximum viewing opportunities from different locations. When you're there, it's impossible to miss.
The sensational shows feature 52 vertical chasing nozzles, six robotic nozzles, and one transforming nozzle. The chasing nozzles create low arcs of water that meander throughout the fountain and can be sequenced to look as though the water is literally chasing different patterns of movement. When choreographed to music these "chase scenes" animate the water with surprisingly brazen personality. The robotic nozzles move water side-to-side, front to back and can twist and turn in 360 degrees. The transforming nozzle transitions from a horizontal 360-degree flat spray to a vertical jet at various speeds giving the appearance of elegant motion as low speeds and clapping water at high speeds.
In our role as equipment supplier and consultant, we supported the installation process with documentation and oversight including component layout and plumbing. With an installation this complex, coordination with installer Outside the Lines and other key team players was crucial for timely completion and ultimately specified system performance.
The system enables individual control of each nozzle and light, giving it the ability to shoot water up and down, suddenly popping and instantly cutting off, or surging and retreating in undulating patterns, moving in multiple 360-degree directions, at varying speed and intensity.
LED color-mixing technology with RGB lights is color-calibrated with an almost infinite palette of colors that are programmed and repeatable across a spectrum of brightness and hues. In all, there are 60 light fixtures that portray a staggering three million variant shades of color.
We like to say it's like having dancers on a stage, but the dancers are streams of water and the lighting effects are their costumes. The palette of movement and color is accentuated by a fog system capturing light as if to fill in the background with splashes of color and depth. The design also features a cascading waterfall that flows into a lower pond, which combines with the misting nozzles to create a magical fog glowing with light.
As is true of almost all outdoor fountains, weather can be an issue, especially when the wind blows. During high winds, an anemometer/control system automatically reduces the pump flow rates in four increments based on wind speed.
FOUNTAIN CHOREOGRAPHY
There's no question it's the shows that make this musical water feature such a hit. Our programmers continuously work with the management at Station Park to create a steady flow of new shows; ensuring visitors are treated to something different each time they return, a key client priority. "The choreographed music, water and light effects in this fountain come together to provide true entertainment," says Craig Trottier, vice president of development for CenterCal Properties. "These shows change seasonally and are updated regularly and the songs played are only play popular tunes."
The shows are created using a sophisticated program that is powered by a complex computer system more than a terabyte in size. Each show is manually choreographed, beat-by-beat to music making the water appear to be moving while adjusting the light intensity and color, perfectly synchronizing the movements of the water to the rhythms, melodies, arpeggios and crescendos of the musical score. Most of the year, the fountain features seven different water shows that rotate throughout the day. Three additional holiday-themed water shows are added into the rotation in the winter for the holiday season.
Our technicians, led by master programmer Brian Reese, use DMX code to create the shows and then export them to the fountain management staff, who in turn upload the new shows onto the system. Because the programming is all done at our offices, we eliminate the expense of having to send a programmer to the site to adjust the show.
It's important to consider the fountain effects from different focal points both near and distance. Up close the view is treated to a spectrum of colors and textures. Stepping back the composite view takes on structure, sequence and patterning. From a distance, the fountain entertains visitors from a variety of surrounding viewpoints.
The amount of time it takes to choreograph a song really depends on the personality and length of the song; the longer and more complex the song, the longer the programming, but also with that comes fresh opportunities to show off the system's creative capabilities. The client chooses and secures rights to the music. We offer feedback and will point out that a dull song will likely result in a dull presentation, while choreographing a show to a tune like Michael Jackson's "Thriller" will always be a winner.
Some simple songs can be completed in just two to three days others much longer. Just this past month, we were asked to create a new show to a Michael Bublé song, which took about 10 days due to the complexity of the song. In that case, we shared the show visually on screen in a GoToMeeting with the client so they could see our proposed show and offer feedback. Once everyone agreed on the final look of the show, we finalized the code and loaded into the fountain. It's scheduled to premier this June.
The software is very much like video editing software. We use 3D rendering and animations that include an incredible amount of detail, so the final outcome is nearly identical to shows we send to our clients for approval. The client decides on the song and length of time they want to run the song at the fountain and the pricing is determined accordingly.
There is no regular downtime for the fountain. The system is designed for year 'round operations with only a few hours of annual maintenance. We do occasionally send programmers just for a quick test and adjustment in the field, next to nothing compared to the frequent and lengthy field visits needed to program systems that don't have remote capability
EVER CHANGING
The wonderful thing about this technology is that it allows fountains to remain current and exciting for viewers. Like Broadway musical shows, audiences are always looking for new experiences.
As of now, the fountain has over 30 songs in its repertoire with a budget for five or six new songs every year, with new shows for Memorial Day, the 4th of July the winter holiday season. It's a point of pride for everyone involved that these shows are so spectacular that patrons come to sit and watch the effects as they might go watch a dance performance.
The owners of Station Park are very aware that the fountain brings customers to spend money at the retailers and restaurants surrounding the fountain and are very pleased Fountain People keeps their show fountain performing beautifully.
To enjoy the Station Park show fountain's interpretation of a holiday classic, click here.
Chris Thomas is director of marketing for Fountain People Inc., a fountain design and equipment-manufacturing firm based in San Marcos, Texas. He has a decade of experience promoting the physical, mental, and social benefits of water features and aquatic play. His background in marketing and communication design enables Thomas to identify market needs and trends, contribute to the aquatic community through product development to enhance the guest experience, and discover design strategies that move child development forward.