By Randy Beard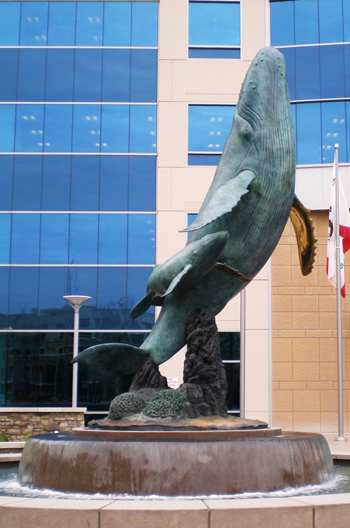 As watershape design expands beyond the mostly recreational traditions of the recent past, more of us are being asked these days to design water elements that work more decoratively and serve to frame, reflect and otherwise accentuate or accompany art pieces.
In these situations, a pool, fountain or basin design is visually driven by the artwork, and whether the project is done for a private residence or a commercial complex, the results can be wonderfully dynamic. In most cases, requests for this design approach come from an owner who has a particular piece in mind; in a few other cases, the artist will commission a watershape to accompany a main attraction of his or her devising and becomes a key participant in the design process.
All in all, I see this as another manifestation of a trend in which increasingly ambitious clients seek to make highly personal statements about their tastes by seizing control of their exterior environments. Often, this desire is driven by travels in which they've seen artworks displayed in a similar fashion and want to recreate such settings for themselves; sometimes it's an entirely individualized impulse to do something special.
Whatever the source of these art-driven adventures, I've found the work to be stimulating, challenging and always highly customized: No two situations are ever exactly alike; stylistic flexibility is mandatory; and none of these clients is [more]
Randy Beard operates Pure Water Pools, a construction/service firm based in Costa Mesa, Calif. He may be reached at This email address is being protected from spambots. You need JavaScript enabled to view it..