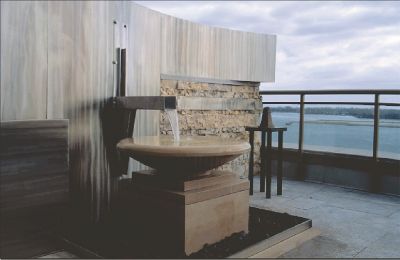 Watershaping advanced by leaps and bounds from 1999 through 2004 – a journey of artistry and practicality that was an inspiration to witness. In this retrospective feature, WaterShapes Editor Eric Herman reviews 25 key projects published during that time frame, offering an ongoing resource to watershapers while defining a Platinum Standard for the designers, engineers, builders and artists who use water as their chosen medium.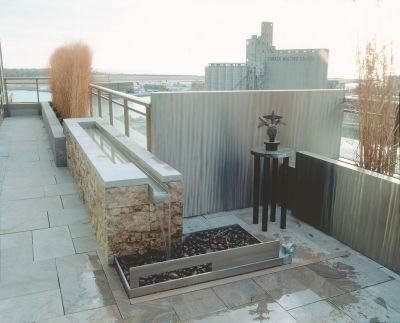 Janet Rosenberg & Glenn Herman
Janet Rosenberg & Associates
Toronto
Perched eleven stories high on a wind-swept terrace above Lake Ontario Harbor, this small, angular terrace was arranged to make a singularly modern sculptural statement. Textured, serpentine stainless steel walls, ledger stone, a raised water trough, a hand-carved Indian stone basin, stone decking and tall specimen grass were deployed by Janet Rosenberg's firm to transform what was essentially wasted space into an award-winning design that connects the terrace with distant lake views.