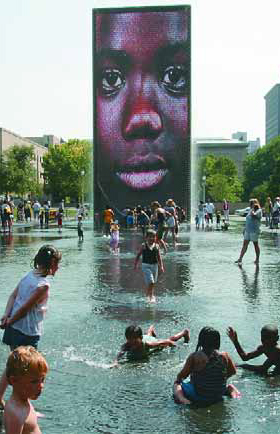 By Larry O'Hearn
In July last year, the city of Chicago unveiled its newest civic landmark: Millennium Park, a world-class artistic and architectural extravaganza in the heart of downtown. At a cost of more than $475 million and in a process that took more than six years to complete, the park transformed a lakefront space once marked by unsightly railroad tracks and ugly parking lots into a civic showcase.
The creation of the 24.5-acre park brought together an unprecedented collection of
world-class artists, architects, urban planners, landscape architects and designers including Frank Gehry, Anish Kapoor and Kathryn Gustafson. Each contributed unique designs that make powerful statements about the ambition and energy that define Chicago.
One of the key features of Millennium Park is the Crown Fountain. Designed by Jaume Plensa, the Spanish-born sculptor known for installations that focus on human experiences that link past, present and future and for a philosophy that says art should not simply decorate an area but rather should [more]