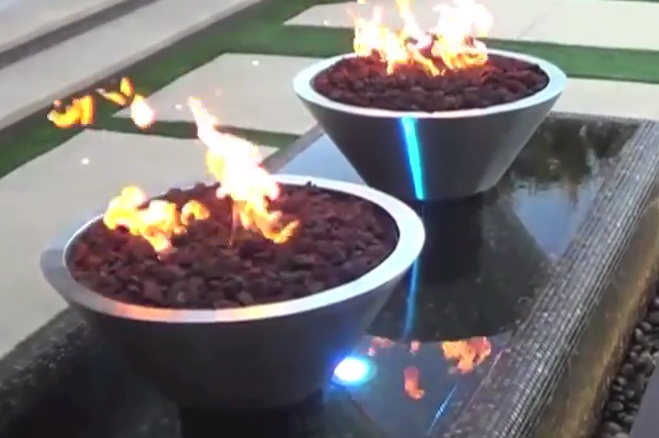 By Mike Farley
In my experience, watershapers have a tendency to focus a bit too narrowly on one or another aspect of the craft – some on pools and spas, others on ponds or fountains. You get the idea: In speaking with clients, there's an inclination to play to one's strongest cards – and I think that can be a mistake.
The video linked below offers a case in point: My usual focus is on pools and spas, but in this instance I stretched out a bit and developed a cool fire fountain to fill a key spot in my client's yard not far from the pool I designed. The fountain is a simple perimeter-overflow system, with a rolled-tile top edge and water flowing into a narrow, stone-lined trough. (One nice touch: The top edge of the trough has a lighting strip that makes the fountain's tiled base glow at night.)
The stainless steel fire bowls bring lots of warmth and light to the space and echo fire features associated directly with the pool; if I perceived watershapes other than pools and spas as being beyond my capability – a thought I'd never harbor – I might have missed the opportunity to keep this project under my complete control and risked having someone else come in with an incongruous intrusion on the design.
As I see it, WaterShapes has done all of us a service by broadening the definition of what we do as designers well beyond what any of us might have thought 20 years ago – and that, I think, is a good thing indeed.
To get a look at this neat little fountain, click here.
Mike Farley is a landscape designer with more than 25 years of experience and is currently a designer/project manager for Claffey Pools in Southlake, Texas. A certified member of Genesis 3's Society of Watershape Designers, he holds a degree in landscape architecture from Texas Tech University and has worked as a watershaper in both California and Texas.