Articles
By Scott Cohen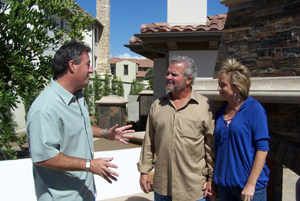 In Part 1 of this article, we explored the nature and variety of the possible disagreements that can arise when couples really get down to the business of saying what they want in a backyard watershape or landscape project. (To see that item, click here.) These conflicts can be profound at times and can result in the scuttling of project if they're not addressed directly, constructively and sympathetically.
On the bright side, nobody involved in these discussions really wants things to fall apart – not the couple and certainly not the designer (although if the arguments are particularly rancorous, he or she might decide that getting involved between warring parties might not be worth it). So let's assume that everyone involved is reasonable and motivated enough to want to see things through: How do we avoid being sidetracked by skirmishes once we start discussing what everyone hopes will be a dream backyard?
Quite often and very helpfully, the couples I've encountered have talked enough about the project to see points of conflict and will have, on some level, already come to terms with respect to the big picture before sitting down with me. If they're anywhere close to being on the same page when the first meeting happens, it will definitely help us all avoid trouble.
Down to Business
Regardless of whatever else might happen, it's important for the designer to make certain both spouses are present at that first meeting. Even if the couple has prepared by ironing out the big differences, there are often large distinctions between the priority men and women place on various elements of their watershapes or landscapes. In other words, it's critical for the designer to size up the nuances of both interpretations and understand how each element fits into the clients' list of priorities.
The key here is that a capable designer not only will have witnessed some or all of these discussions before, but will also come to the meeting with current information on what's new in landscape and watershape design and may know exactly what can be done to bring points of dispute to quick resolution.
With many of these design elements, for example, experience shows that it's not really a matter of either/or: If one person wants a gushing waterfall and the other a relaxing trickle, a variable-speed pump or a secondary pump can be added, thereby letting the clients have things both ways. Specifically, if she wants calm and peaceful and he wants Niagara Falls, both are within reach in the same backyard.
The same point applies to spas. If the man and the woman have different preferences when it comes to what feels good – either gentle or forceful – a booster pump with a remote control can be added. All it will take is a tap on a control panel or even a smart phone to go from mellow to mind-blowing.
Declaring Peace
As suggested above, a designer who has been around the block a time or two will know all about disputes of these sorts and is likely to have possible solutions at the ready. And it's not just about pumps and water flows, either.
An outdoor fireplace or fire pit, for example, can provide the family with a warm, relaxing, low-intensity ambiance in an elegant outdoor living room, but it can also blaze into glory when the guys are out there with their cigars and beverages to watch a football or baseball game.
Same with outdoor sound systems: If one spouse (usually but not always the man) wants outdoor sound reminiscent of the mosh pit at a stadium concert and the other (usually but not always the woman) prefers subtler sounds and never wants to see the speakers, these systems always have volume controls, and the speakers can be hidden in decorative rock structures or integrated into fireplace or outdoor kitchen structures.
Truth be told, no designer worth his or her salt will have much of a problem settling most of these disputes. In fact, he or she will focus on going well beyond these controversies to offer unique, creative elements as part of the project that will excite both clients. Once items in dispute are recognized, discussed and set aside, that designer will continue asking lots of questions and spend time digging deeply into features and details that will make both clients happy.
In this way, not only are battles of the sexes brought to an end, but the designer also incorporates wonderful artistic touches that reflect the personality and imagination that brought the couple together in the first place. The goal, in other words, is creation of an environment in which both the man and the woman will feel great about the space that's being developed. The result: an integrated backyard that will keep harmony in the relationship as well as in the garden!
Scott Cohen is president and supervising designer of The Green Scene, an outdoor design and construction firm based in Northridge, Calif. He is also the author of books on a range of subjects related to watershaping and landscape design. For more information, go to www.greenscenelandscape.com/scottcohenbooks.html