Articles
By Bruce Zaretsky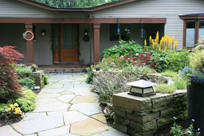 "You only get one chance to make a first impression."
How many times have you heard that in your life? There's a good reason for it: First impressions last – and that's particularly true with a home.
This is why real estate agents typically bring up "curb appeal" when advising clients about how to sell at the best price. Why? Because if prospective buyers drive up and sees a messy, weed-plagued yard, chances are good that they will simply roll on by. And even if they stop, the negative initial impression will be hard to shake as they
move inside.
This is why I focus on entries when I speak with clients: As I see it, these out-front spaces introduce visitors to a home while signaling a transition from the public sphere to a private environment.
In this, the first in a series of articles in which I'll deal with a range of spaces that make up a home's exterior environment (patios, watershapes and more), I'll start at the beginning with a look at main entries – focusing this time on walkways and next time stepping back for a broader view.
At Hello
I've always thought that the front of a home should be inviting – a way to embrace family and visitors and start everyone on a safe and satisfying journey toward the main entrance. Whether the home is large and elaborate or small and simple, the entry should tell anyone who approaches what it's all about aesthetically while also revealing something of the homeowners' personalities.
If guests pull up and see, for example, an uneven set of paving stones dropped in a weedy jungle (or, worse, can't see through the underbrush to find any reliable path to the front door), their thoughts about what they'll find inside will tend to run in unhappy directions. But if they encounter a well-conceived, neatly executed set of design elements, they'll develop a positive sense of anticipation and may rest assured that their needs for clear passage have been thoroughly considered.
And of course, it's not only visitors who approach the entry: The homeowners themselves will do so even more frequently and will see the space as an area of transition between their house and outside world.
For all of these reasons, I tend to look at front entries as formal spaces. This doesn't mean that I set them up as "formal" in any design sense; rather, it's that I think they should have structure and purpose that help them guide family and guests directly to the main entry.
In most cases, our clients and their visitors will use cars to gain access to properties, most of which will include driveways. These days, of course, smaller lots packed with bigger homes ensure that there generally won't be a lot of space to work with; quite often, in fact, this means that the parking facility will be a strong architectural feature, with a straight shot of driveway running from the street to an obvious garage.
In designing these spaces and managing the transitions, it's wise to consider the process of arrival. Personally, I start by imagining that there's an invisible barrier about thirty-odd feet from the garage beyond which there's a special space reserved for my clients. It is my intention that visitors will perceive this limit and park outside it.
So now we face a challenge: If guests are parking 30 feet down the driveway and the homeowners are closer to the garage, where should the walkway to the entrance start? Will guests have to walk up the driveway (and perhaps alongside the car that may be parked there) to reach it? Are all directional signals clear?
Careful Steps
Often, this placement decision isn't helped by homebuilders. All too often, they'll include what I call a "Builder's Special" walkway – usually narrow (seldom more than three feet wide), typically made with the cheapest-possible materials and seemingly slapped down just before the final occupancy inspection.
Very often, homeowners will live with this walkway, sometimes even replacing it with a better material but generally allowing the walkway to follow the same builder-determined course to the main entry with no thought of a more sophisticated aesthetic role or function. Yes, it may track the shortest distance between two points – but that's not always a virtue.
As a rule, the first thing I do when designing a front entry is to move the walkway down the driveway to a point where the guests should be parking. It's a visual signal, a beacon that lets them know where to park without imposing on the homeowners' special space. Even more important, it defines where their experience of the home begins.
I'm not so naïve that I think guests will be confused about how to get to the front door if I don't define a pathway. But on some level it's a key – a design detail that begins to define an experience – and something over which I want complete control. On some level, in fact, I pretend that visitors really don't know how to get to the front door, and that it's my responsibility to show them the way.
By placing the walkway down the driveway, I gain an opportunity to "present" guests with the home's front entry. If they had approached the way the builder wanted them to, they would have walked along the foundation under the looming presence of the home's walls and then would suddenly turn to confront the main door.
That's not what I want. Instead, I want guests to approach the front door head on because I want them to experience some visual drama. And along the way, I want them to pass through an enjoyable garden or lawn area that sets the stage.
In doing so, I consider issues of scale and appropriateness and will often reach for some extra panache by (space allowing) turning the area right off the driveway into a landing or miniature patio featuring a sculpture or large containers with plants.
Bright Path
As I see it, being deliberate about defining a visitor's or homeowner's experience of the approach to a home is akin to setting guideposts that will show family and guests where they are going and giving them all a taste of what they can expect once they enter the home.
Whether it's a mini-terrace within the walkway or a space in which containers, sculptures or seating systems set the tone, I work at establishing pathways that make guests comfortable and welcome homeowners to their personal sanctuaries. And when the evening ends, I like to think of these spaces as ones in which it's possible to say fond farewells.
To encourage these exchanges, I provide generous spaces where some can stand comfortably, some can sit – and all will lead eventually enjoy warm goodbye hugs. Surrounding such a space with stone walls and plantings makes it even more special and intimate – details that will be the subject of my next article.
Bruce Zaretsky is president of Zaretsky and Associates, a landscape design/construction/consultation company in Rochester, N.Y. You can reach him at This email address is being protected from spambots. You need JavaScript enabled to view it. .