Articles
By Bruce Zaretsky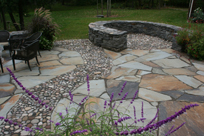 Let's start by assuming that the home's stage is set – that the main entry has been well defined, clearly established and graciously appointed. Let's further assume that friends are coming over and that the weather is nice. In these circumstances,
more and more homeowners are interested in leading visitors through the familiar confines of the home and making the outdoors an ever-changing extension of the interior space.
In this scenario, the patio that starts right outside the back door (or doors) is the heart of the entertainment. It is where guests gather, where food is cooked, a table set and a meal is consumed. And then, when the dining is finished, it becomes the after-meal setting where relaxation and conversation take place.
And it's not just about guests and entertaining: At other times, a patio is the household's Sunday-morning-reading-the-newspaper space, or the evening-glass-of-wine space. And even if nobody is using it, the patio is an open invitation to those inside the home – a reminder of friendly encounters and a spur to good times to come.
In this sense, all-purpose patios are perhaps the most important square footage in the exterior environment. And because these are areas in which design will dictate use, we, as designers and builders, need to pay careful attention and work closely with our clients to make certain these spaces do the job.
Defining Usage
When I interview clients, I am always mindful that all their spaces are important and that designs should be balanced across the entire setting. With patios, however, it's certainly true that I have more questions than I do about most other parts of an exterior design.
Will the space be used for dining, entertaining, cooking, reading? How many people are likely to be involved, both on the low side and the high side? Is the patio to serve as a pool-side haven, as a play space, as a work area? We explore all of these possibilities in our conversations, and I spend a lot of time opening clients' eyes to potentials they might not have considered.
Long story short, once we know what they want and expect, we can design their patios with a greater sense of certainty that their desires will be met.
As I see it, a modern patio space is a direct extension of the family-room/kitchen combinations so prevalent in today's architecture – even to the extent that lots of people are watching televisions outdoors these days. Where not all that long ago the job was about surrounding a bit of hardscape with plants and recreational areas, the task now involves us in spatial organization and development at a remarkably sophisticated level. And that can be a real challenge to lots of landscape designers and watershapers, although it's certainly not beyond most professionals' reach.
In my company, we invest a tremendous amount of thought and creativity into our work with these spaces; we insist on our clients being similarly committed to the process. Without a doubt, the process requires time and concentration – but it doesn't take a lot to see that once I know what my clients want, it's much easier to design their spaces for them.
Next time, we'll start considering in detail what happens once the interviews are complete to our satisfaction and we begin the process of defining the space – beginning with one of the most important (but too often overlooked) details of all: setting traffic patterns.
.
Bruce Zaretsky is president of Zaretsky and Associates, a landscape design/construction/consultation company in Rochester, N.Y. You can reach him at This email address is being protected from spambots. You need JavaScript enabled to view it. .