By Eric Herman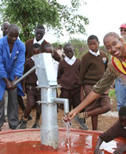 Just before the holiday season of 2010, we were contacted by Dr. Carolyn Rowley, the vice president and chief financial officer at the watershape-control manufacturer Gilderfluke & Co. (Burbank, Calif.). She is also founder of the Machao Orphanage, a facility located about 100 kilometers outside Nairobi, Kenya, in the rural region of Makuini.
Makuini is a place where more than 60 percent of the 1.8 million who live there exist below the internationally recognized poverty line, and one in 10 adults are infected with HIV.
She called to share the important news that the orphanage had just completed Phase II of its development plan - basically, the drilling of a well to provide the orphanage's residents and staff with potable water. "It's amazing what these people had to do before in order to find just a few liters of water," Rowley explains.
Indeed, local women previously had to make dawn-to-dusk sojourns in search of water, often finding only brackish puddles at the bottom of dry riverbeds. "Now we have an abundance of water," Rowley reports, "and it's amazing to witness the direct impact it has on the lives of these people."
The Machao Orphanage is dedicated to providing an education and a new lease on life for children who have lost their parents to HIV/AIDS, an epidemic that continues to wreak havoc on populations throughout Africa. The orphanage is currently home to 25 children, but with the availability of fresh water, that number will almost certainly increase. In fact, the facility's long-term plan is to house, feed and educate up to 80 children.
"Not only do we have clean drinking water available, the well also opens up the possibility of establishing gardens on the site, which will help feed these children, too," Rowley explains. "For now, it's amazing to think that this is the first time some of them have ever tasted fresh water."
The well and its manual pump were set up by Living Waters International under the management of John Baker, the organization's Kenya director. I spoke with Baker early in January, while he was back home in Toronto for a brief break before returning to Kenya.
He explained that Living Waters International is a faith-based organization devoted entirely to bringing potable water to the world's poorest people, whether they be in Central America, South America, India or Africa. In its 20-year history, the organization has established approximately 10,000 wells, in the process serving countless thousands of people.
"Water is something most of us have always taken for granted," Baker says, "but when you see how the simplest of wells can impact the lives of so many people, it makes you realize how utterly dependent we are on fresh water."
The well at the Machao Orphanage is just 100 meters deep, Baker notes, adding that it's shallow compared to most and is fitted with no more than a manual pump. "There's no electrical service in the area, and the locals aren't accustomed to operating or maintaining electrical devices or generators," he explains. "That's why it made sense to fit this well with a simple manual pump."
Even with that basic setup, the well comfortably delivers water at a rate of 1,500 liters per hour. "That's a vast amount compared to nothing," Baker adds.
To learn more about the Machao Orphanage Foundation or to make a donation, go to www.machaoorphanage.org
To learn more about Living Waters International, go to www.water.cc
Author's Note: As editor of a magazine that focuses primarily on the recreational and decorative uses of water, following up on Dr. Rowley's initial contact served as a profound reminder of how crucial fresh, potable water is as a global resource. I'm proud to relate this story and can only hope that its telling will encourage others to get involved and do what they can to bring life-giving water to those in need.
- Eric Herman
Do you know of other individuals or companies in the watershaping industry that are making a contribution to help the world? Please let us know about them at This email address is being protected from spambots. You need JavaScript enabled to view it. .