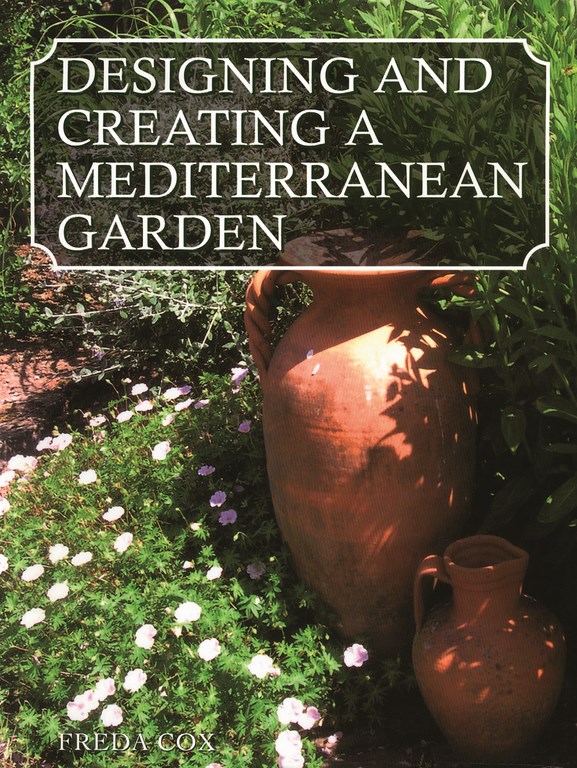 By Marti Linder
For centuries, the Mediterranean gardens of Italy, France, Greece and Spain have put sun-thriving plants on beautiful display in dry environments.
The Greek isles flourish with wildflowers whose colors become more vivid against the bleached background, while Spanish gardens combine the fragrant blossoms of citrus trees and the fragile pink blooms of Almond trees with open, arid landscapes. Italian and French gardens present more formal atmospheres, incorporating boxed and trimmed trees with trellises and pergolas draped with vines.
Each area has its distinct style, but the main elements of these gardens are the same, with the hot sun being the primary common factor.
As is revealed, however, in Designing and Creating a Mediterranean Garden by the English artist Freda Cox, it is possible to cultivate a flourishing Mediterranean garden in cooler climates. Cox writes authoritatively on the subject, supported by years of experience as head of the United Kingdom's branch of the Mediterranean Garden Society and as the organizer of exhibitions for the Royal Horticultural Society.
In her book, Cox elaborates on her love for Mediterranean botanical estates and her quest for ways to bring the glories of these gardens to other climate zones. As she explains, "There is one major difference between Mediterranean gardens and those in more northerly latitudes. Whereas we expect our gardens to be full of colour all summer and dormant during winter, in the Mediterranean the seasons are reversed.
"Summer is the dormant period," she continues, "with plants remaining below ground during the hottest part of the year. As summer and cooler autumn months arrive, welcome rainfall soaks the sun-scorched earth, bringing plants to life again. Gardens and countryside are filled with colour through autumn, winter, and spring."
The book details the hallmarks of full-fledged Mediterranean gardens, illustrating points with architectural renderings, covering traditional designs and definitions, and offering a plant-selection guide. Cox also traces the history of the style, describing the plants originally used as a baseline for all that follows.
Along the way, she emphasizes design and architectural details rather than soils and planting conditions, more often referring to survey measurements and sets of plans rather than fussing over growth habits. A large section on lawns, parterres and knot gardens, for example, offers many pictures of completed designs, while others cover hardscape details and decorative effects. There's also a great chapter on using certain plants as windbreaks.
Continuing with her site-oriented approach, she offers designs for Mediterranean gardens in small, medium, and large areas, complete with plant recommendations for temperate and even severe climates. She also highlights the national styles, dedicating considerable space to Classical Italian and French Country gardens as well as their Spanish and Greek counterparts.
As a bonus, there are dozens of pages of lists covering everything from beneficial and destructive pests to traditional Mediterranean plants. And don't miss the list at the very back of the book of her favorite gardens, nurseries and garden societies around the world.
While it's structured more or less as a reference book, her warm, concise writing style makes it easy to read. And it doesn't hurt that she supplements a rich array of photographs with her own drawings of flowers and creatures – simply charming.
Other resources that might prove helpful in playing with Mediterranean-garden concepts include The Royal Horticultural Society Index of Garden Plants by Mark Griffiths; the Royal Horticultural Society Gardeners' Encyclopaedia of Plants and Flowers; and the web site of the Mediterranean Garden Society, www.mediterraneangardensociety.org.
Marti Linder is CEO of X-terior Art, a landscape-contracting firm in southern California. Her experience in the landscape industry spans more than 25 years, including collaborations with high-end architects, designers and various landscape professionals. She can be reached at This email address is being protected from spambots. You need JavaScript enabled to view it..