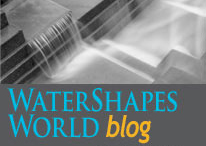 By Jim McCloskey
I'm beside myself with satisfaction – and no small amount of pride: After months of painstaking development, we have within the past week launched two major initiatives within the WaterShapes.com web site:
[ ] First, the system by which we categorize and file articles has been completely revamped.
When the site was originally mapped out, we worked with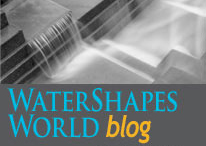 By Jim McCloskey
Through many of the early "WaterShapes World" blogs, I wrote (perhaps too often?) about what was happening with the WaterShapes franchise and web site and all sorts of grand plans we had to burst back onto the scene with a huge, multilayered portal aimed at serving a broad universe filled by watershapers and their clients and prospects.
In reality, we didn't do much bursting and instead discovered what all sorts of web operations have experienced through the years: Making things happen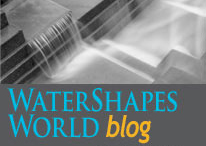 By Jim McCloskey
Few who shape the water will ever make as profound an aquatic mark on the world as did landscape architect Lawrence Halprin.
He's long been a favorite of mine, and we've called attention to his work and influence on more than a few occasions in the pages of WaterShapes and on WaterShapes.com. Along with Thomas Church and very few others, he defined the way we all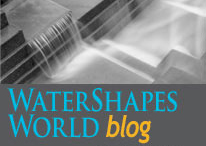 By Jim McCloskey
I've been around watershapes on a professional basis since 1986, and I can recall more than a few times when something has crossed my desk that made me cringe.
Often it was studies released by the National Association of Realtors about what adding a pool does to a home's value. On too many occasions it was news about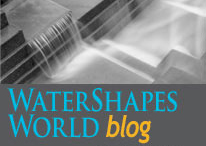 By Jim McCloskey
Back in the early days of WaterShapes, I recall a long breakfast conversation with David Tisherman in which we discussed the importance of travel as part of a complete design education.
It was the summer of 1999, and I was on the hunt for artwork to go along with an article Mark Holden was preparing on the history of watershape design: David was known as someone who had traveled extensively and, more to the immediate point, was an avid taker of photographs of superior quality.
He'd brought several sleeves filled with slides (remember them?) along to breakfast, and as we talked and I reviewed the photos, I was endlessly impressed by how meticulously he'd recorded so many places and details. I've always been a traveler, too, but I never much cared for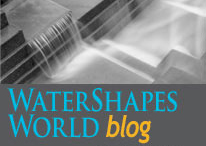 By Jim McCloskey
The ingenuity of the folks at the National Swimming Pool Foundation makes me smile.
If you'll recall, I wrote several months ago about Tom Lachocki's election-season declaration that it was time to donate to something, anything other than candidates for office. His suggestion was to divert political contributions toward the funding of swim lessons for children – which seemed, amid the fall's welter of campaign ads, a much more productive way to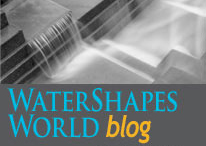 By Jim McCloskey
In the past year, I've written Travelogues for WaterShapes EXTRA about the reflecting pool on the Capitol Mall in Washington, D.C., and the fountain at Point State Park in Pittsburgh. In researching these watershapes and looking for suitable video links after selecting them for coverage and starting to write about them, I learned that both had been closed for renovation as I was pulling things together.
Apologies for the timing – although I'm reasonably confident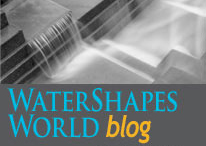 By Jim McCloskey
As I've mentioned previously in this space, I spend a fair amount of time every day searching the Web for items to include in the Around the Internet and Aquatic Health, Fitness & Safety sections of watershapes.com.
I only began this exercise last fall – well out of the swimming season, so it's just in recent weeks that I've started completing the cycle and getting a sense of the annual rhythm of these stories. One distressing observation: As the summer wears on, the number of news reports about drownings and near-drownings is simply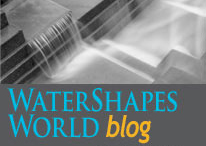 By Jim McCloskey
Just a month ago, I wrote in this space about the generosity of a group of watershapers and landscape designers who planted a park in a Rochester, N.Y., neighborhood that definitely needed a boost. Ever since, it seems, I have kept running into reports of genuine, aquatically related community spirit.
In many cases, for example, threatened closures of public swimming pools have been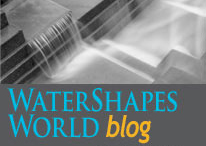 By Jim McCloskey
When I was new to the watershaping world back in the 1980s, it always surprised and disappointed me when newspaper articles – most of them quoting real estate agents and officials as primary sources – told the world that a swimming pool added nothing to the value of a home. In fact, the articles contended, a pool probably lessened the home's resale price by severely limiting the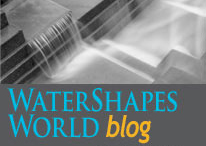 By Jim McCloskey
Bruce Zaretsky's name certainly should be familiar to longtime readers of WaterShapes and WaterShapes EXTRA!, but if he and his partner Sharon Coates keep it up, their renown is likely to spread far beyond the watershaping industry in months and years to come.
The other day, Bruce and Sharon sent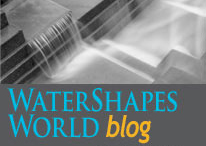 By Jim McCloskey
As I indicated earlier this year, we at WaterShapes have dedicated ourselves to making our newsletter and Web site bigger, better and more helpful than ever.
We've increased the volume and frequency of original newsletter articles and features, gotten involved in raising the level of education in our industry and organized everything we do to make solid information accessible in ways that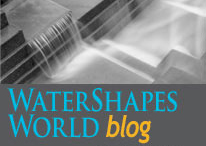 By Jim McCloskey
I'm still smiling.
As I've declared in a few recent blogs, my hope has been that the apparent conflict between Genesis 3 and Artistic Resources & Training (ART) would result in two high-caliber education providers emerging in place of one that was drifting.
If the first classes conducted by ART are any indication