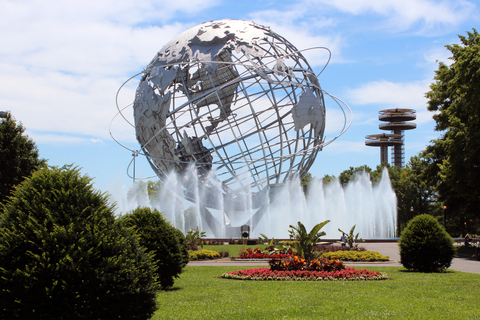 By Jim McCloskey
I started to appreciate the fact that my Aunt Genevieve was one of the coolest women in the whole wide world in the Spring of 1964.
In the days just after the New York World's Fair opened that April – while the networks and newspapers were still agog about one pavilion or another and how amazing the whole scene was – she sent a small package to me in California containing an embossed, gold-leafed invitation, a fair ticket and a keychain with a medal depicting the Unisphere attached to it.
Even at eight years old, I knew my aunt was
Recognized far and wide as one of the world's greatest horticultural achievements, the 1,050 acres of Longwood Gardens offer a showcase for a dizzying array of plants, trees, architectures, themed garden spaces and elaborate fountains. In this special feature, watershaper, landscape artist and local resident Robert Nonemaker traces the history of this extraordinary property – with a special focus on its ingenious watershapes.

By Robert Nonemaker
In pre-Colonial days, the neck of the woods now known as Longwood Gardens was a hunting ground for the Lenni Lenape tribe, who prized the area for the richness of its game and timber.
Once the British arrived, the land moved under the control of William Penn, founder (and namesake) of Pennsylvania, who sold it to a Quaker family by the name of Pierce in the year 1700. The family farmed the property until 1798, when Joshua and Samuel Pierce began planting an arboretum and the space that would one day become Longwood Gardens was born.

Those of us living in the Philadelphia area have long enjoyed the privilege of having this resource in nearby Kennett Square, Pa. It's an amazing place, and I find my way there often because it seems that each time I go, there's something
The Crown Jewel of California's central coast, Hearst Castle is among the most public of all 'private' residences on the planet. Its Neptune and Roman pools are among the most photographed, published and familiar watershapes in the world – so prominent that the estate's brilliant fountains simply don't get their due. Here, designer and builder Skip Phillips shifts the emphasis a bit, paying tribute to all of Hearst Castle's watershapes, drop by drop.

By Skip Phillips
Visiting Hearst Castle is an experience that sticks with you. Long before I became a watershape designer, I know that my childhood visits to this hilltop in Central California inspired and affected my thinking about art and architecture and the creative use of space long before I had any professional interest in those subjects.
Every time I go – which is as often as I can – I'm impressed by a collection of art and architecture so rich and varied that I always find something new.
For years, I've been amazed by the castle's two pools and their beautiful details, incredible tile and classic style. More recently, however, I've started paying closer attention to the other ways in which water is used on the property – and my appreciation for what I'm seeing grows every time I stop by.
A BIT OF HISTORY
William Randolph Hearst inherited the 250,000-acre ranch on which the castle was built from his mother, Phoebe Apperson Hearst, in 1919. The remote property hadn't seen much development to that point, but he soon began transforming it into a monument to American ambition and his passion for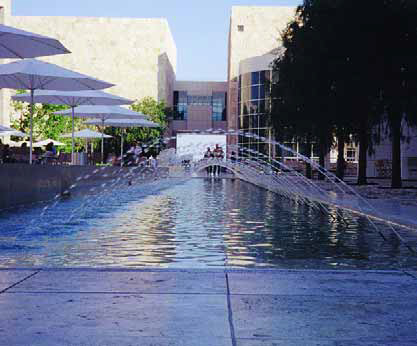 By Mark Holden
What's the use of knowing about history?
For many of us, the answer to that question seems so obvious that it comes as a shock to find out just how many people in the watershaping and landscape fields don't grasp the all-encompassing significance of our collective past – but it shouldn't.
Using my own career as an example – and even though I now spend a considerable amount of my time teaching professionals and university students all about art and architectural history – I confess that I waltzed through more than a few early years as an aspiring landscape architect and watershaper in blissful ignorance of
By Jim McCloskey
I've been a student of California history for many years – and particularly of its water history.
I was hooked as far back as the sixth grade, when I wrote a big report on the California Water Project and how we were, in the 1960s, just beginning to move water from the Feather River in northern California and feed it by circuitous means to
As is true of many of his fellow watershape and landscape artists, Rick Driemeyer is also an avid explorer of nature. For years, in fact, he's made a practice of regularly visiting wilderness areas for both professional inspiration as well as pure enjoyment – a perfect pairing, as he sees it. To press that point here in a big way, he shares what he's encountered in hiking through four of the most spectacular national parks in the western United States.

By Rick Driemeyer
By now, the thought that watershape and landscape designers need to study nature if they want to replicate it in their projects is basically a cliché. Truly, if you want to mimic nature successfully, you must first know it intimately.
What many miss in all this, I believe, is a deeper level of "knowing" that goes well beyond simply observing nature as a source of techniques and ideas. Frankly, I think that as designers and as human beings, we are much better off when we also learn how to become nature – by which I mean letting the sights, sounds and smells draw us physically into the place.
In doing so, we engage in experiences so profound that the mere mentioning of that place will set us off with memories we will share enthusiastically – or can use as parts of our latest projects.
No matter how often I visit natural places, I'm always amazed at the
For nearly 150 years, the Missouri Botanical Garden in St. Louis has been a delight to those who've visited its array of garden types and styles. During the last 30 of those years, many of these areas have been augmented by the addition of waterfeatures and fountains, notes Kerry Friedman of Hydro Dramatics, a company that has worked hand in hand with facility managers and sponsors to bring new interest and special excitement to the grounds.

By Kerry Friedman
'Any time that you can introduce water or the sound of water into an environment, the space is instantly transformed.' – Geoffrey Lew Rausch, FASLA, 2006 recipient of the Henry Shaw Medal for his work at the Missouri Botanical Garden
During the past three decades, the Missouri Botanical Garden has undergone a wonderful transformation, and much of it has been about water.
In that span, more than a dozen fountains and waterfeatures have been added to the 79-acre grounds of what many have long been considered to be one of the top three public gardens in the world – and happily, our firm, Hydro Dramatics of St. Louis, has had the privilege of working on all of them as project leaders.
These installations have ranged from the simple to the complex. Whether serene or splashing, barely bubbling or shooting skyward, our work has added a unique spirit and drama to many already-beautiful sites. In addition, they've involved us in memorable collaborations with the garden's creative staff, generous sponsors and the more than 850,000 people who come to the garden annually.
For our part, the diversity of the watershapes
Wikipedia: Wesley Fryer

By Jim McCloskey
I confess to having a weakness for this sort of fountain: There's probably something about the mixture of water and "animated" sculpture that grabs my imagination in a way that isn't true of many large-scale water displays.
It this case, it may also have something to do with serendipity and the fact that, the first time I saw this composition, I came upon it entirely by chance. It was about ten years ago, while I was in Irving, Texas, for a series of meetings and had part of a day to myself to walk around and take in the nearby sights.
It was early in the morning when a view of Williams Square opened up and I saw
The features, traditions and character of Chinese garden design are generally unfamiliar to most Westerners – and that's a shame, says watergarden designer Rick Anderson, because they are an art form all their own. He recently traveled to China to learn more about these unusual spaces and to explore the natural beauty of the Yangtze River's valley and here shares his observations and inspirations.

By Rick Anderson
Many years have passed since I first saw pictures of China, but my desire to travel to the Giant of the Orient has never waned.
In recent years, in fact, that interest grew ever stronger as I watched all the new information emerging from China as it has slowly opened itself to the Western world. I've been particularly fascinated by documentaries on the Yangtze River and The Great Dam that China is building to manage its floodwaters.
This past spring, I visited China to see its amazing gardens with my own eyes and travel down the Yangtze through the fabled Three Gorges and the Lesser Three Gorges. I went seeking inspiration and came back with more than my quota of thoughts on the mysteriousness and tantalizing vagueness with which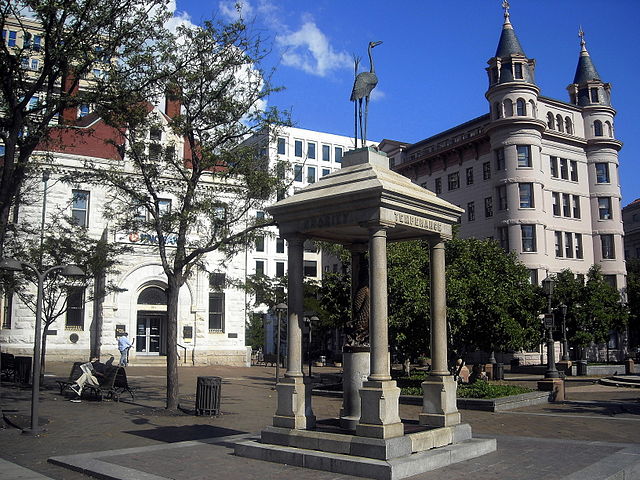 By Jim McCloskey
Once while visiting our nation's capital, I walked past an odd-looking fountain that really didn't make much of an impression at the time. Silly me, because of all the fountains and other watershapes I've seen, this one turns out to have one of the most weirdly interesting stories I've ever encountered.
This isn't one of the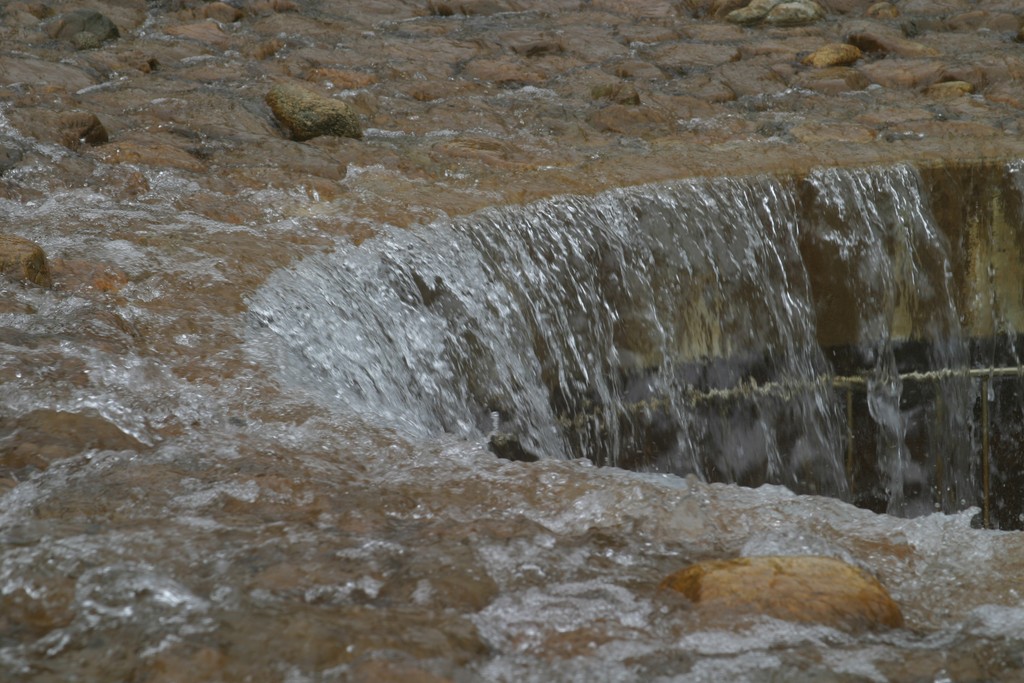 By Jim McCloskey
I was the third of four McCloskey children to attend UCLA. All three of my sisters went there, two of them before me, one after.
My middle sister, Susan, started in the fall of 1968, and I recall that there was quite a buzz about this weird new fountain that had just been commissioned on one of the campus' many plazas: It was essentially upside-down, with water flowing from the edges toward an off-centered well, and it soon became known as the Inverted Fountain.
I was 13 or 14 the first time I saw it. I'd gone with Susan to some on-campus event, and she gave me a brief tour of the place – including the plaza with the weird new fountain. At that point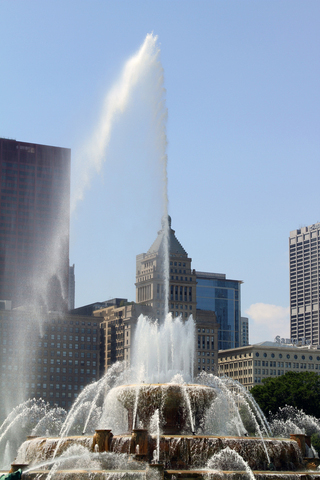 By Jim McCloskey
My family moved away from Chicago when I was just four years old, but I have three vivid, very specific memories of the place: icicles hanging from the eaves of our home in Evanston; the long freight trains that ran constantly on tracks at the far edge of the open field across the street; and Buckingham Fountain in downtown Chicago's Grant Park.
When I returned to the Windy City on business in the early 1980s (several years before I became directly involved with watershaping), it wasn't to Evanston I went; instead, once I'd checked into my hotel on that bright spring day, I made a beeline to the
Inspired by a source no less prominent than the hugely popular San Antonio Riverwalk, the citizens of an old Colorado steel town have invested $24 million in a project they call HARP – the Historic Arkansas Riverwalk of Pueblo. The project has transformed the town's rusty image, says landscape architect Donald Brandes, and sums up the benefits of thoughtful watershaping on the grandest possible scale.

By Donald H. Brandes, Jr.
In 1921, a flood rolled into Pueblo, Colo., submerging the civic center beneath 11 feet of water and leaving more than 100 people dead. To prevent the recurrence of such disasters, engineers came to town, diverted the river along a different path and encased it in underground levees several blocks away.
Seventy years later, a grand project known locally as HARP – the Historic Arkansas Riverwalk of Pueblo – undertook to restore the historic course of the Arkansas River and make it the centerpiece of a 26-acre downtown park.
HARP re-creates 2,220 linear feet of the historic river in concrete-lined (yet naturalistic) channels. Nearing completion after ten years, the urban park will include 3,300 linear feet of navigable waterway for use by water taxis and pleasure boats as well as dramatic fountains; more than a mile of promenades and other walkways; a two-acre lake; and an outdoor environmental-education center.
It has been a massive undertaking, as befits a project aimed at revitalizing an entire city. For the watershaping community, the project stands as an example of the truly transforming effect that