Whether in the form of a statue, a bowl for a fountain or an architectural detail, carved stone lends a timeless beauty and an intriguing quality to any aquatic setting. But there's a difference between just using it and using it well, says watershaper Mark Holden, who defines what you should know about the raw materials and their sources and also explores the various challenges, costs and pitfalls that may come along as part of the deal.

By Mark Holden
Since the dawn of civilization, it has stood as the single most enduring of all artistic media: From representations of mythological characters and historic events to applications as purely architectural forms and fixtures, carved stone has been with us every step of the way.
As modern observers, we treasure this heritage in the pyramids of Egypt and Mesoamerica. We see it in the Parthenon in Athens, in the Roman Colosseum and in India's Taj Mahal – every one of them among humankind's finest uses of carved stone in the creation of monuments and public buildings. As watershapers in particular, we stand in awe before the Trevi Fountain in Rome, the glorious waterworks of the Villa d'Este and the fountains of Versailles, three of history's most prominent examples of carved stone's use in conjunction with water.
But you don't need to
For more than 4,000 years, stone has been used to create structures of enduring beauty and grandeur. Some, including the Parthenon in Athens and Egypt's pyramids, are now icons the world over. Others, such as the great stone structures of Mesoamerica, are still relatively unfamiliar. Here, landscape designer Bobbie Schwartz seeks to pull back that veil, guiding us on an eye-opening visit to the Maya ruins of Mexico's Yucatan peninsula.

By Bobbie Schwartz

The people who once inhabited modern-day Mexico's Yucatan peninsula were remarkably sophisticated. Their civilization was based on a deep-rooted knowledge of astronomy, mathematics, hydraulics and engineering. They quarried stone and moved it hundreds of miles on rollers, using this raw material and incorporating it into highly refined buildings, temples, roads and monumental works of art that rival those of the better-known cultures of ancient Europe, Africa and Asia.
In 2001, I traveled extensively in the Yucatan to experience the region's culture and view masterworks from many centuries past. What I found was a sense of form, line and pattern in the ruins of
By David Tisherman
I spent ten days this last December traveling in Turkey – my second visit to the country in the past several years and a trip that reinforced vivid memories of just how mind-expanding a place it is.
The Greek, Roman, Byzantine and Ottoman empires all held sway over this patch of land at times during the past 2,500 years, and throughout that long history, these and other great civilizations of both East and West have made their marks on the place. Situated at the crossroads of land- and sea-trade routes between Europe and Asia, Turkey has vast, rich reserves to drawn upon when it comes to
The Fairmount Water Works is a monument to the history of water treatment in the United States, says Ed Grusheski, manager of public affairs for the Philadelphia Water Department. Established in 1815, the facility pumped water from the Schuylkill River until 1909 and has recently been restored and transformed into an interpretive center to educate the public on pollution prevention, watershed management and the history of the Water Department. (Lithograph by Currier and Ives, ca. 1860. Courtesy Philadelphia Water Department)

By Ed Grusheski
Local historians claim that the image of Philadelphia's Fairmount Water Works was the most reproduced of any industrial site in the United States through the first half of the 19th Century – and for good reason. At that time, the facility represented the absolute state of the art and served as a major point of pride for local residents as well as a source of fascination to visitors from near and far.
Throughout its long history, the facility was indeed at the leading edge of water-delivery technology and is now the ideal place to capture and tell the story of the development of environmentalism in the 19th and 20th centuries.
The story begins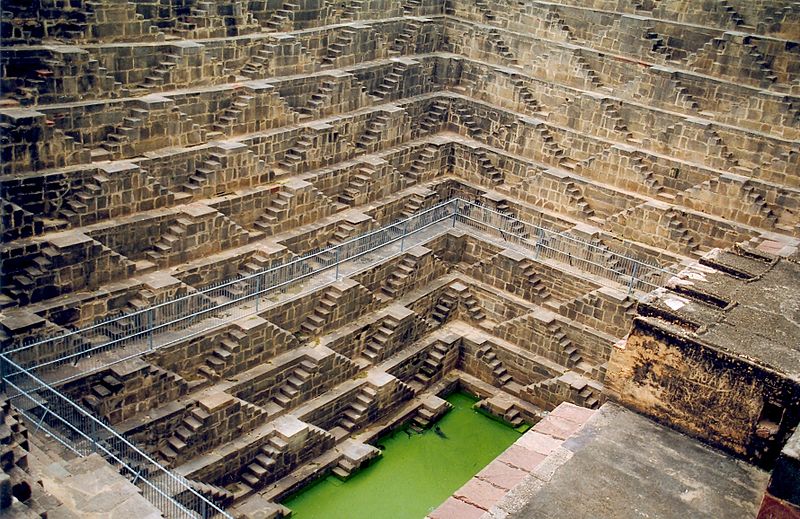 By Jim McCloskey
I hesitated in starting the New Year with a Travelogue about a class of watershape that is located beyond easy reach of most readers and is, in addition, one I've never seen personally. But I ran across a reference to these structures a couple days ago, and I just can't get them out of my mind.
Many times in the past, WaterShapes has mentioned the fact that, hundreds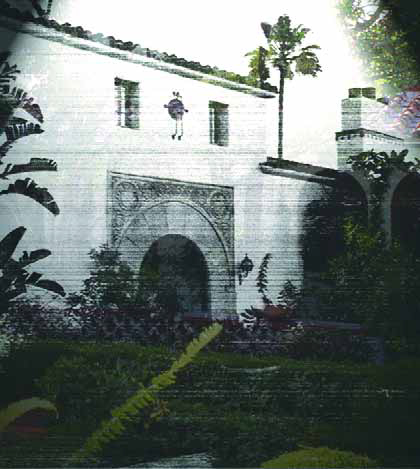 By Stephanie Rose
Here in America, our idea of history goes back only so far.
That's particularly true in southern California, where "older" architecture is anything before about 1960 and very few structures date to a time before 1920. But it's also the case for most of the rest of the country with reference to architecture: We don't have the "ancient" structures that still set the tone and architectural vocabulary the way they do in Europe, Asia and other places.
For those who prefer modern or contemporary styles, this lack of history may be irrelevant. For those who feel an affinity to older styles, however, there's a tendency to cringe every time an older house is torn down to
By Jim McCloskey
The cold snap that gripped huge parts of the country earlier this month put me in mind of one of my favorite things – and I feel deprived, because I've never lived in a place where such things happen.
Back in 1984, Judy and I took a train trip across Canada from Vancouver to Banff. It was November and brutally cold by the time we reached our destination, but we braved the wind and snow to do a bit of hiking in the beautiful terrain near Lake Louise – just breathtaking, both literally and figuratively.
While walking along a stream, we came across a cascade that started about ten feet over our heads. It had frozen over for the most part, and I recall the hollow resonance of the water flowing rapidly behind the waterfall's blue-white armor – a sound I've never forgotten. But the visual effect! I've always been a big fan of the Catalonian architect Antoni Gaudí, and there's something about the
For many years, watershaper/teacher/provocateur David Tisherman has urged his colleagues to get out and explore the world. Actually seeing architecture, art and ancient ruins in their own contexts, he says, is a sure-fire way to develop a sense of your place in design history and to inspire your own design ideas – a point he drives home by leading us around Asia Minor and discussing what he sees in light of his own work in the here and now.

By David Tisherman
It's a point I'll probably make to the end of my days: There is no substitute for travel and exploration of the historic world to learn about design.
In my "Details" column in the June 2005 issue of WaterShapes, for example, I discussed my recent trip to Turkey and made the point that the ruins and intact structures we examined while there were full of specific details that I and other watershapers use in our work – whether or not we recognize that what we're doing actually derives from ancient original works.
Showing what I mean in the clearest possible terms is what this pictorial article is all about. As you will see, I've included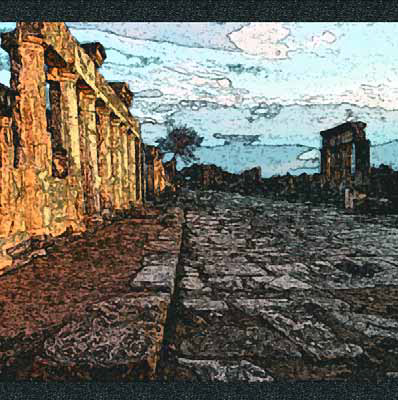 By David Tisherman
It's a truism that almost all contemporary works of art are derivative: The ideas have already been expressed in one way or another at some point in history, and all we can succeed in doing is to apply those enduring forms as creatively as we can.
We can't invent the wheel, but we can redraw it, embellish it, place it in context and, in our own ways, improve upon it through the choices we make in using it. To be effective in that sort of downstream effort as watershapers, it is essential that we understand the nature and origins of the basic building blocks of aquatic design.
For years, people have asked me where I get my ideas – pools raised out of the ground, the small spillways, the drain details, the modular deck treatments, the color usage and the use of reflection, to name just a few. "Through my design education" is the short answer, of course, but I can get more specific if we
Among all of the popular architectural, landscape and watershaping styles, few have either the history or persistence of the Spanish Colonial Revival, which burst on the scene early in the 20th Century and continues to this day to define huge swaths of the contemporary suburban scene. Here, watershaper and design historian Mark Holden traces the style's roots, defines its main features and explores its special relevance to watershapers.

By Mark Holden
The history of residential architecture took a real turn toward mass production with the emergence of the modern suburb early in the 20th Century. Especially in the years after World War II, middleclass families increasingly left urban congestion behind and headed for open outlying areas where developers were hard at work in preparation for their arrival.
Some developers put distinct stylistic stamps on the neighborhoods and communities they were building. Among the most popular and recognizable of these styles was the Spanish Colonial Revival – a look that has special prominence on the West Coast but that has surfaced throughout the United States and in places as far flung as Europe and China.
This style is so popular and has been used so much in so many variations that it is, these days, tough to nail down exactly what is or is not true to early Spanish Colonial motifs and ideas. That's not surprising, because this malleable style itself represents a cobbling together of ideas borrowed from Roman, Islamic and even Native American cultures.
Those deep roots, coupled with a scattering of design focus that has blurred borders and distinctions and any sense of stylistic purity, makes it tough for 21st-century watershapers and other designers to
Reopened in January 2006 after a nine-year renovation project, the Getty Villa in Malibu, Calif., has now resumed its role as host to what may be the world's greatest private collection of Greco-Roman antiquities. With its classic architecture, subtle gardens and elegant watershapes – not to mention great views of the Pacific Ocean – the facility is both a state-of-the-art museum and a designed space that links the distant past to the present day.

By Eric Herman
For the typical visitor, the newly-reopened Getty Villa is perhaps the most exquisite of all possible venues for viewing ancient works of art and craft – reason enough to plan a visit. For students of architecture and design, however, there's much more, particularly the opportunity to immerse yourself in the living, breathing environment of a classic Roman villa and its abundant amenities.
The Getty Villa site encompasses 64 acres of a rugged canyon rising above the Pacific Ocean in Malibu, Calif., and was once home to oil tycoon J. Paul Getty. A fanatical collector of Greco-Roman antiquities, he dedicated part of his original ranch-style home as a public museum in 1954. By 1974, less than a year before his death, he had completed and opened the original Villa on another part of the estate, realizing his ambition of creating a public monument dedicated to the arts.
The Villa's layout was inspired by the Villa dei Papiri, a first-century country house in Pompeii buried by the eruption of Mt. Vesuvius in 79 A.D. It was Getty's vision to display his collection in a setting evocative of its contents' historic origins and he realized it, but there were compromises: The spaces were crowded, and the works on display also included samples of paintings and craftworks of much more recent vintage – Renaissance masters, baroque furnishings and other distinctly non-classical artworks.
The Villa closed in 1997 at about the same time the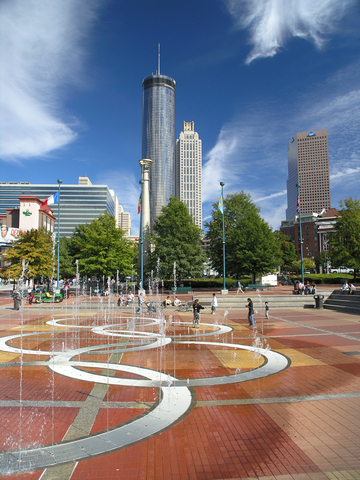 By Jim McCloskey
Business and pleasure have carried me to Atlanta more times than I can count through the past 30 years. On many of those occasions, I attended trade shows in the Georgia World Congress Center and found myself with enough time on my hands that I was able to enjoy Centennial Park, where people from all over the world once gathered to celebrate the Olympic Games of 1996.
I'd seen this area before the Olympiad, and I must say that the degree to which the city remade itself to host this international showcase event is truly remarkable. Particularly welcomed is the abovementioned Centennial Park, a broad, open space that I've strolled through often enough that it feels a bit like home. I am persistently intrigued by the Fountain of Rings, the park's big, interactive waterfeature.
Lots of times, I've seen the fountain teeming with kids running wild through varied jets of water, but on several occasions the timing's been right and I've caught one of the choreographed shows set to music of many descriptions. This fountain, some say, is the precursor to
Fallingwater is one of the world's most photographed and studied residences: Frank Lloyd Wright's sublime and inspired interweaving of architecture, forest and water has a grandeur that has never been matched in the more than six decades since its completion. Here, watershape designer and Wright enthusiast David Tisherman salutes this remarkable achievement and the man who redefined architecture for the 20th Century – and beyond.

By David Tisherman
It's one of the most famous buildings in the world, but few people know that Frank Lloyd Wright designed Fallingwater in a matter of hours.
In 1935, when Wright first received the commission to design and build a vacation home for Pittsburgh retail tycoon Edgar J. Kaufman and his family in Mill Run, Pa., he didn't get to the project right away. After several months of preliminary discussions and delays, Kaufman decided to force the issue, telephoning the architect and saying that he was going to visit Wright's studio to see what had been done.
It was at that point Wright decided he'd better design the house. He had a weekend.
The construction process was no more direct, but it took longer. Work began in 1936 and was completed by 1939 in a series of costly fits and starts. The project was originally set to cost in the neighborhood of $40,000, but the final tally rose to nearly ten times that amount – not inconsiderable in post-Depression America.
The result of the dramatic (and, at times, traumatic) process of design and construction is nothing less than one of the greatest achievements in American architecture, a work so compelling that it never stops