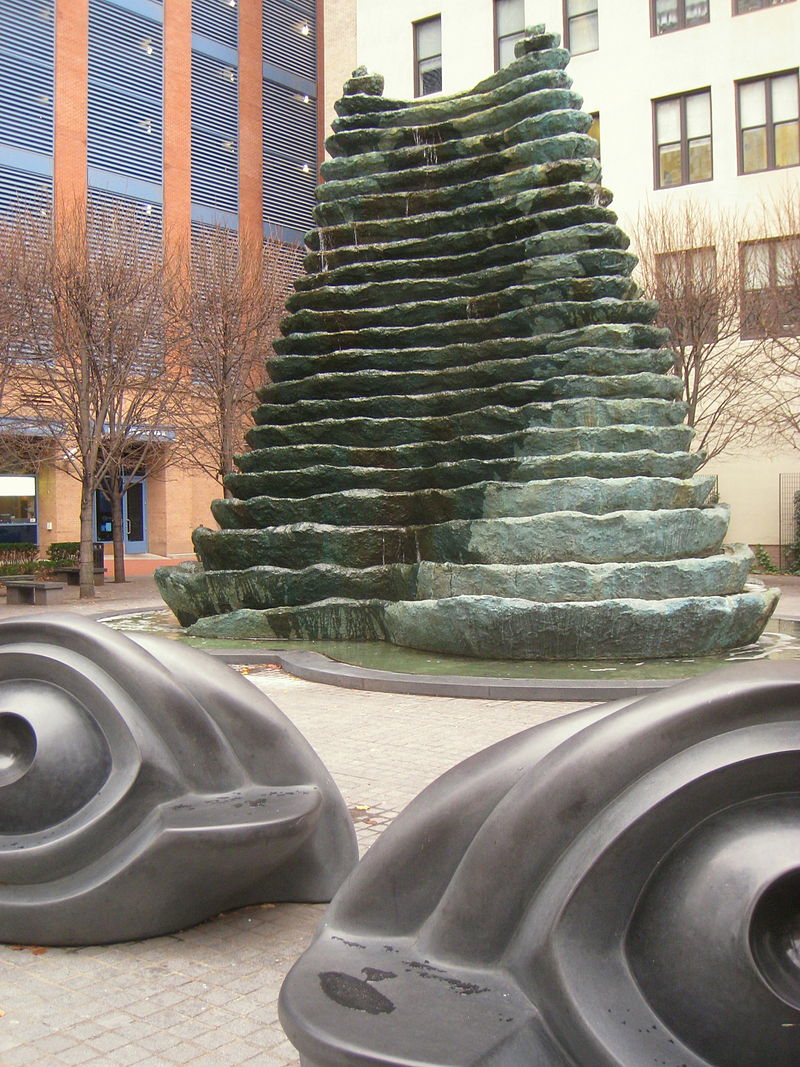 By Jim McCloskey
I love the fact that she was a friend and compatriot to Jackson Pollock, Willem de Kooning, Mark Rothko and other leading lights among the abstract expressionists. I love that she lived to be 98 and, just before her death in 2010, was still engaged enough by the world around her to start communicating through her art in support of the lesbian, gay, bisexual and transgender community. I love her name, which would have been the perfect alias for an avant-garde artist of the 20th Century but for the fact that it's really hers. Finally, I love her big sculptures, including the 25-foot-tall one in Agnes R. Katz Park in Pittsburgh, Pa.
Maybe the only thing about Louise Bourgeois' work I think I don't like is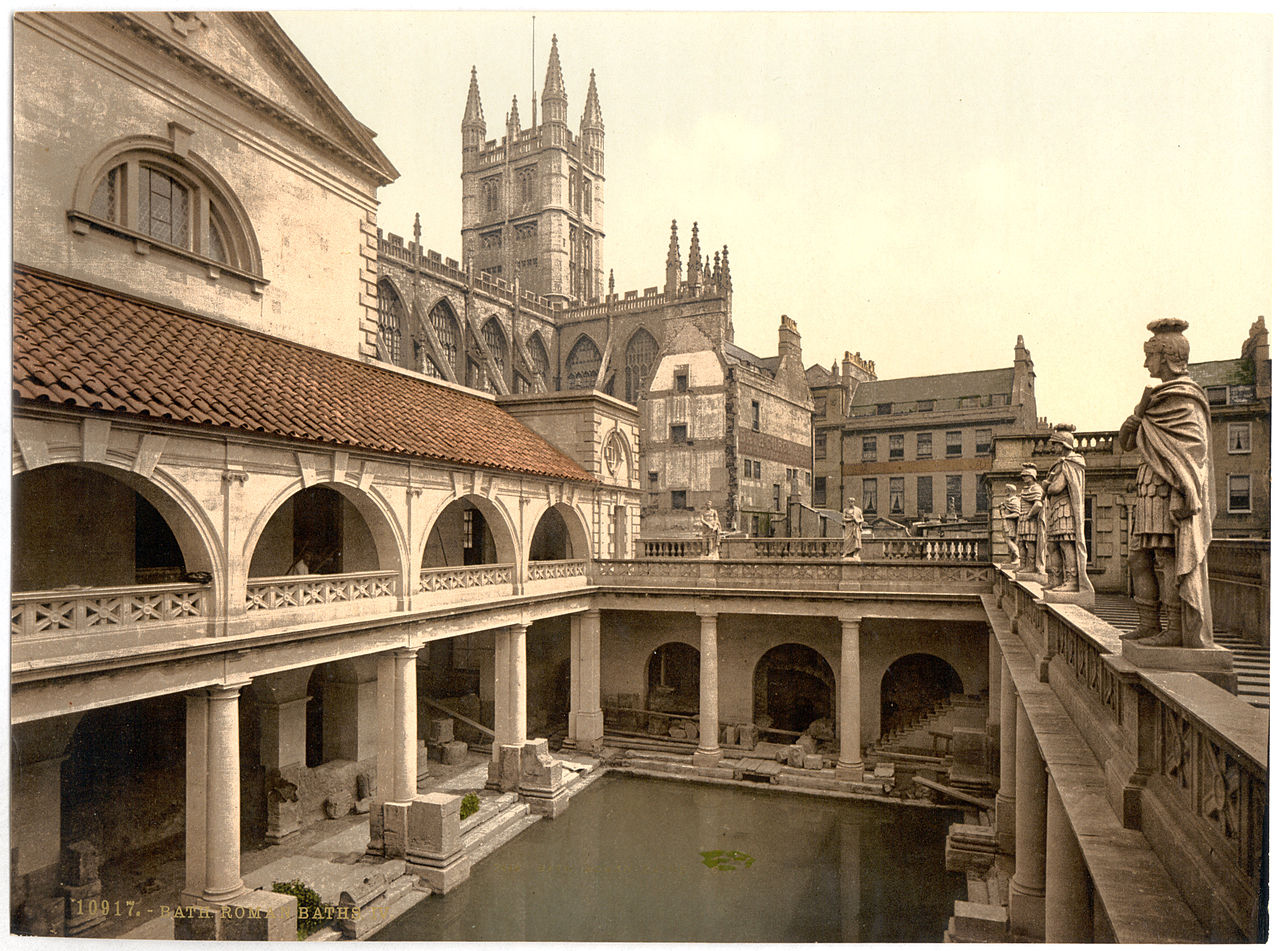 By Jim McCloskey
Please don't hold it against me: I was an English Literature major in college.
My specialty was the old stuff – Shakespeare's plays, the comedies of the Restoration period, poets from John Milton to Alexander Pope, and the early novelists, especially Jane Austen. It was mostly a pursuit of things written before about 1820 and kept me more than busy.
About eight months after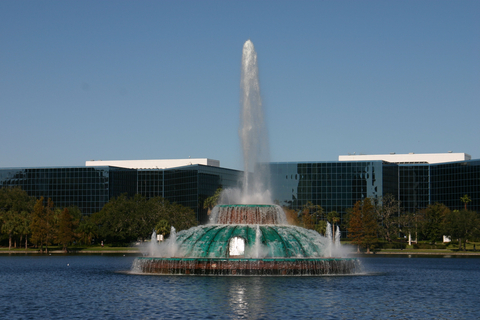 By Jim McCloskey
The first time I saw it, the water of the Linton E. Allen Memorial Fountain had been turned off for servicing. In that inert condition and with tiny figures creeping over its greenish surface, it looked to me as though a squat flying saucer had dropped in to slurp up water from Lake
By Jim McCloskey
One of the nicest days I've ever spent as publisher of WaterShapes came when I joined editor Eric Herman and our good friend William Rowley on the beach in Santa Monica, Calif., one spring day in 2006.
Bill was working there on the resuscitation of the swimming pool at the old Marion Davies estate. In the 1920s, she had been William Randolph Hearst's paramour. When she wanted a house built on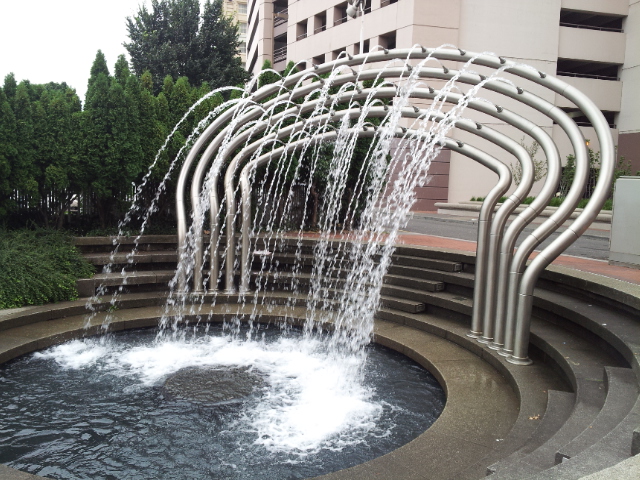 By Jim McCloskey
In my various trips near and far, I've occasionally experienced fountains that function only sporadically. If you'll recall, for example, I wrote in December 2012 about Ricardo Legorreta's purple aqueduct in Los Angeles' Pershing Square, which, I've been told, runs only when the local water table permits it – which is why I had to visit the square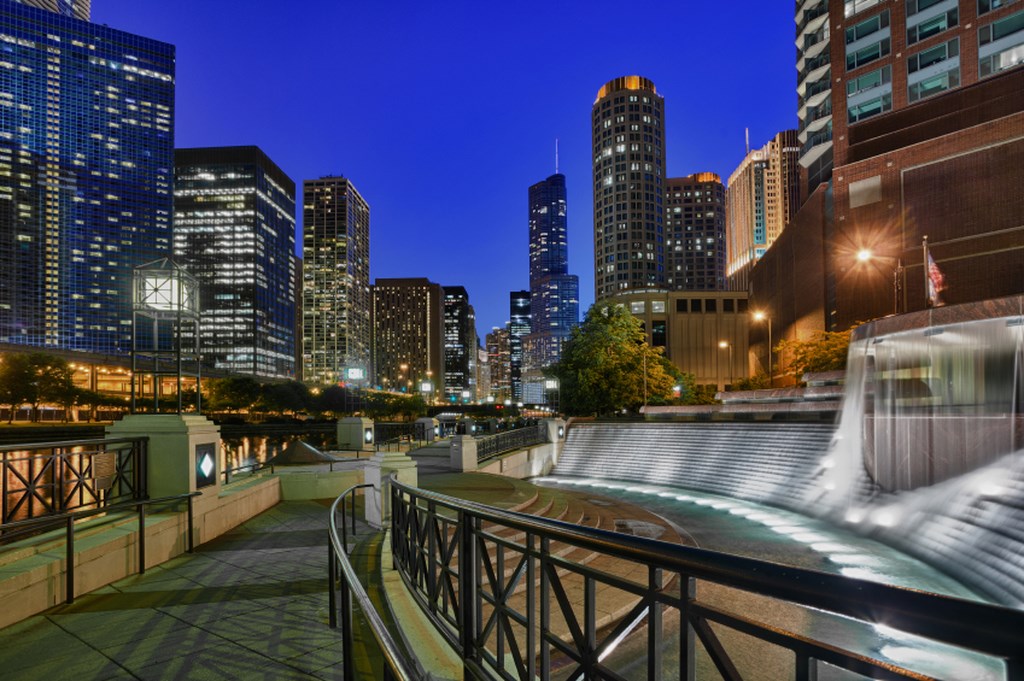 By Jim McCloskey
Some fountains are great because they are aesthetically amazing; others are on the less-spectacular side but have great stories or commemorate worthy persons or events. Happily, still other fountains deliver the whole package: They are beautiful to behold and intricately woven into their local histories and cultures.
One watershape in that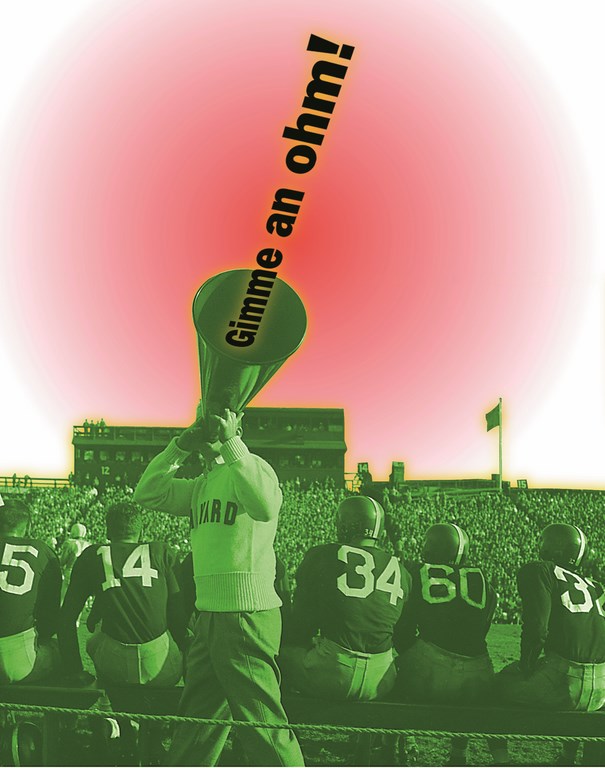 By Jim McNicol
You don't have to be a football expert to sit in the stands on a nice fall day and watch the locals bash the visitors. But to get the most from the festivities, it helps to know the difference between a two-point conversion and an on-side kick. Being able to converse with your seatmates about the nickel defense and the single-wing offense surging back and forth before your eyes makes it even better. The jargon isn't just for the players and sportscasters.
Electricity is a bit like that. Most of us are users, and most of us know some of the jargon despite the fact we don't work at a power plant. We know that we have 12-volt batteries in our cars and that the porch light takes a 60-watt light bulb. And for many folks, that's enough.
I believe, however, that those of us who work with things electric on a larger scale can benefit from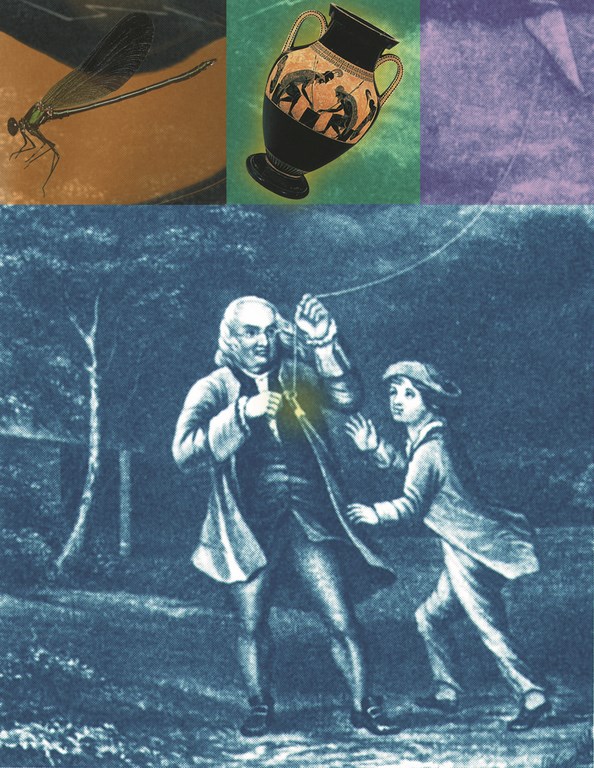 By Jim McNicol
Why does the current flow?
That was the question we left on the table at the end of our last session. We had pretty well nailed down the ampere as being the basic unit of measurement of electric current, in that it describes the quantity of flow of electrons from one place to another. We were about to examine the volt, the ohm and the watt when the current-flow question arose to command our attention.
To get a firm handle on this, we are forced to backtrack a bit. Actually, we have to go back a long, long way – about 60 million years, to when a particular species of pine-like trees grew along the Baltic coast. Over the millennia, the resin from those trees became fossilized, producing the beautiful, beer-colored material called anbar by the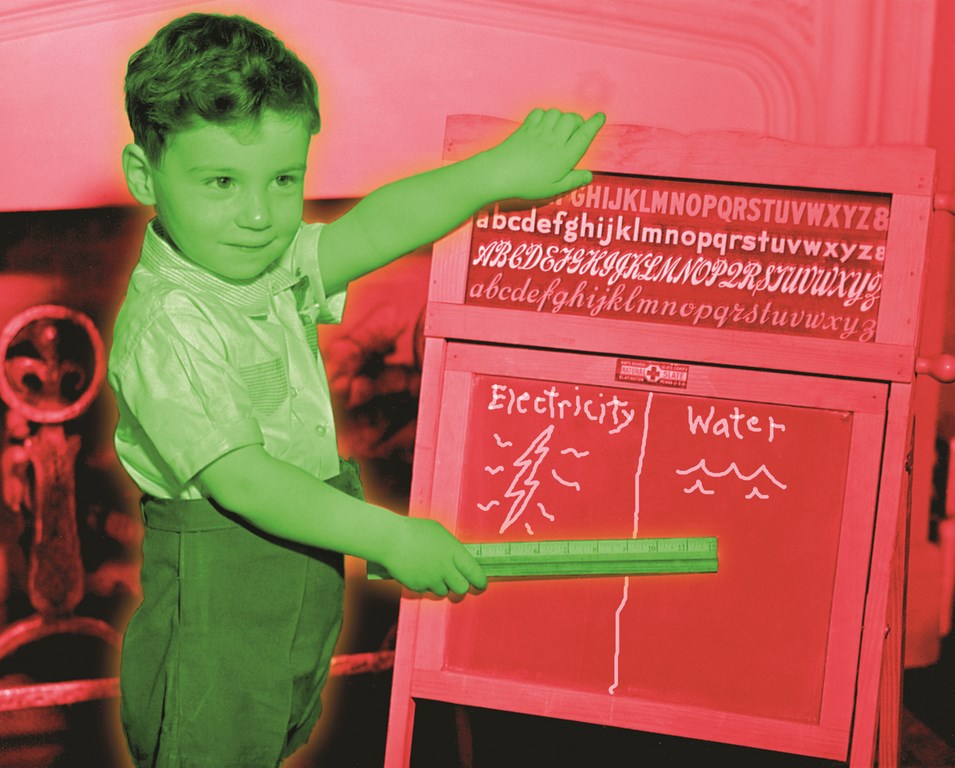 By Jim McNicol
Several years ago, I was asked to conduct a seminar on basic electricity for the members of a small homeowners' association. They were working their way alphabetically through the various trade disciplines with which a homeowner might come in contact. As I recall, they had covered attic fans, brickwork, cabinetry, carpeting, decks and doors at previous meetings. I learned that I was to be followed in coming months by fences, fireplaces and
From the earliest urban settlements to the most modern architectural settings, watershapes have played both functional and decorative roles in expressing the values of their societies. In the first of a series of articles on the lore of aquatic design, landscape architect and pool designer Mark Holden follows an introductory path that begins in ancient Greece and ends up in modern Las Vegas.

By Mark Holden
As designers and builders, we might feel with every new project that we have created the most profoundly original setting in the world.
In most cases, however, our most likely achievement has to do with adapting an architectural concept developed long ago, putting a modern twist on it and calling it our own. For me, in fact, the more I learn about the history of watershaping, the more I feel connected to ancient watershapers and recognize that we haven't created anything really "new" in a long time.
We all know clients, for instance, who want their backyards or public spaces to look like Spanish or Italian villas, French or English formal gardens, or maybe peaceful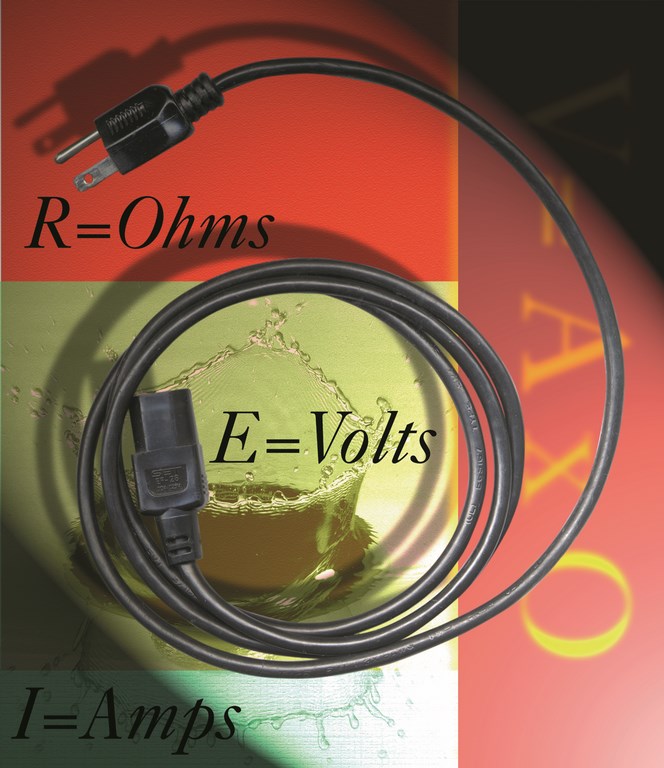 By Jim McNicol
During our last session, we explored the water-flow/electric-current-flow analogy and summed it up in a few sentences that are worth repeating:
• Water: The pressure created by the pump forces water to flow through the pipes and valves, overcoming the friction losses of the system. Higher pressure provides for more gallons per minute.
• Electricity: The voltage created by the battery forces electrons to flow through the wires and switches, overcoming the ohmic resistance of the circuit. Higher voltage provides for more amperes. (The short version of that is, "Volts push amps through ohms.")
To be truly useful to us, we must know something about the way these three basic units relate to
As a design concept, Japanese gardens know no cultural or geographic borders: Elements of this style of garden design have been exported throughout the world to shape exterior spaces of all sorts in both public and private settings. Here, gardening and landscape design expert Elizabeth Navas Finley discusses the underlying principles of Japanese gardens, defining ways in which this simple approach to designing spaces can be put to use across a spectrum of applications.
By Elizabeth Navas Finley
The gardening impulse of the Japanese is truly ancient. In times before recorded history, sacred outdoor spaces around Shinto shrines and Buddhist temples were arranged according to this design vision. And through more than 1,000 years of recorded history, gardens have been created and refined by priests, warriors and emperors alike in spaces both public and private.
The style isn't original in the strictest sense: In many ways, the gardens of Japan find their sources in Chinese gardening styles and landscape painting. But the Japanese developed and refined their borrowings to fit their own national taste for subtle naturalism and elegant rusticity. The result is an amazingly coherent and distinctive landscaping style that now can be experienced at hundreds of public gardens in Japan.
The nice thing today is that you don't have to live in Tokyo to appreciate Japanese gardens – or to incorprate their principles into your designs.
In fact, garden designers around the world now use the obvious elements of Japanese gardens – the stone lanterns, gravel and clipped azaleas – in naturalistic and asymmetrical settings of all shapes and sizes. In some cases, the total look of the garden is Japanese; in others, its principles are used to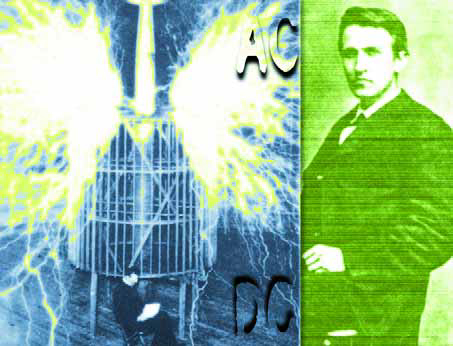 By Jim McNicol
There is no doubt about it – during the later years of the 19th Century, Thomas Edison was "Mr. Electric" in this country, and the electricity he promoted was direct current (DC). Last month, we took a look at the shortcomings of his DC system versus the alternating current (AC) distribution system that now serves us all so well. Now let's take a look at the personalities involved.
In 1876, using