By Vance Gillette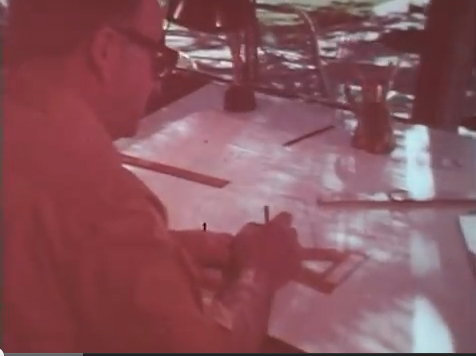 Ever since people started adding swimming pools to their backyards, the companies that make the equipment, tools, systems and accessories that drive or ease their use have tried to reach and influence consumers.
Real successes in those efforts can probably be counted on the fingers of a hand or two; I've always thought that, as an industry, we do a much better job of talking among ourselves at trade shows and in trade magazines than we do at getting to consumers where they live.
You'll be glad to know that this is not a discussion I want to pursue here; rather, I want to focus
By Jim McCloskey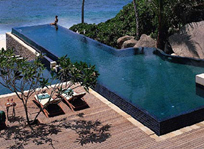 This is a rather unusual Travelogue: I'd sat down to write a blog about the influence of hotel and resort pools on the way homeowners develop expectations of what can be done in their own backyards, and I recognized almost immediately that
By Mark Holden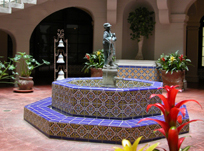 In the first entry in this series of articles, we opened a discussion of the hurdles watershapers encounter when attempting to integrate pools or spas with architectural styles that historically never had swimming pools
By Jim McCloskey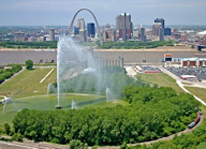 St. Louis is a great American city. My brother lived there for a time, and I have many friends who live within easy reach of that special point on the map where the Missouri River joins the Mississippi River as it flows to the Gulf of Mexico.
I've passed through town on several occasions through the years and was able to play the serious tourist once while visiting in the Spring of 1998. In addition to the famous zoo, a few museums and the Busch brewery, I basked in the splendor of Eero Saarinen's Gateway Arch (although I didn't ride to the top until a later visit) and, for the first time ever, saw the Gateway Geyser put on its
By Jim McCloskey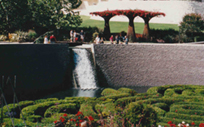 The Getty Center is a true multimedia experience: imposing architecture, lots of people, incredible materials of construction, amazing views, diverse spaces, and rich and varied sounds.
Designed by architect Richard Meier, the 750-acre campus is dominated by
By Jim McCloskey
When I first began organizing these "Travelogues" several months ago, my sincere intention was to focus on watershapes found within the United States. Partly it was a gesture to the restricted travel budgets of modern times, but I also wanted to highlight the fact that
By Jim McCloskey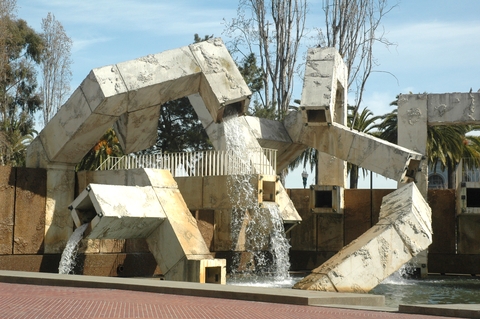 Every once in a while, a watershape impresses me for reasons not even I quite understand.
A case in point is the grand-scale fountain in San Francisco by the Canadian sculptor and performance artist
By Mark Holden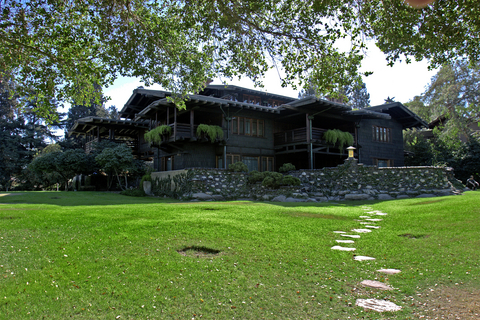 What type of swimming pool do you put in the backyard of a Craftsman-style home?
This question, presented during a course on 20th-century architecture I taught at the pool show in Las Vegas last November, is easy to ask but difficult to answer. In fact, this is
By Jim McCloskey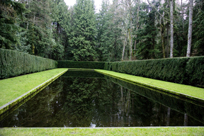 When I travel from Los Angeles to visit my mother, who lives across the sound from Seattle on Washington's beautiful Bainbridge Island, I always do my best to stop by the Bloedel Reserve while I'm there.
The Reserve is an internationally renowned public garden that puts its emphasis on
By Paolo Benedetti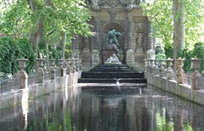 Maria de Medici moved from Florence to Paris in 1600 as the wife of Henri IV, King of France. Homesick for her native city and caught in an unsuccessful marriage, she pestered her husband to build her a mansion and grounds that would remind her of the
On a recent trip to Spain, Paolo Benedetti and his family took a side-trip to Portugal and happened on some Roman ruins that opened his eyes to a whole new set of possibilities. Here, in a most unusual 'Solutions' piece, he describes his encounters with the technologies used to heat an ancient residential indoor swimming pool as well as a collections of pools that made up the public-bath system for a seaside outpost of the Roman Empire.
By Paolo Benedetti
As a pointed expression of the growing global concern over the earth's changing climate, lots of my clients these days are asking me about alternative methods for heating their pools. It's a reasonable concern, and I don't think it will be going away anytime soon.
Part of the problem in answering these questions is that neither I nor my clients want to go out on technological limbs and invest in leading-edge or green ideas that have yet to prove themselves. The rest of it probably has to do with the phenomenon of
By Jim McCloskey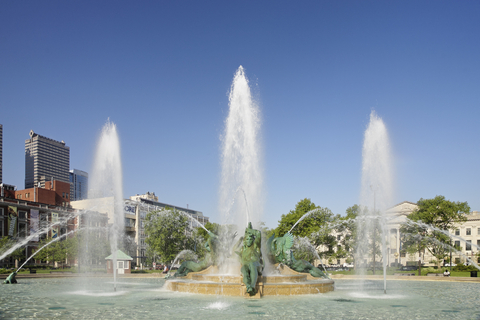 As I've mentioned before in these Travelogues, I have strong ties to Pennsylvania and have spent a considerable amount of time exploring all it has to offer visitors, from the basic touristy stuff to some wonderfully off-the-beaten-path sorts of experiences.
My brother Tom lived in Philadelphia through most of the 1980s, and both work and pleasure led me to visit him on so many occasions that I came to know the city quite well. The waterfront is amazing, and so is the historic district
By Jim McCloskey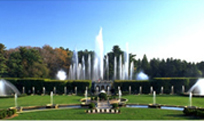 Through the years, I've spent lots of time in Philadelphia, both on business and visiting with family and friends scattered throughout the area.

I've been there so many times, in fact, that I started hunting a bit farther afield for