By Jim McCloskey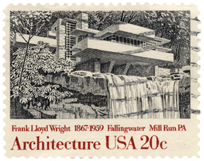 Aided by the fact that my sister lives within easy driving distance of Mill Run, Pa., I've visited Frank Lloyd Wright's Fallingwater several times through the years and have had the good fortune to see it in spring, summer and fall.
It's an amazing place and has been documented with
By Hal Hagen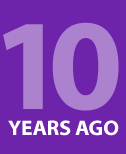 Back in October 2001, Hal Hagen wrote "The Soul of the River" about his passion for restoring damaged or compromised stretches of wild water. His insights from back then ring true, perhaps with even greater urgency, 10 years later:
'At the most basic level, all rivers do is
By Jim McCloskey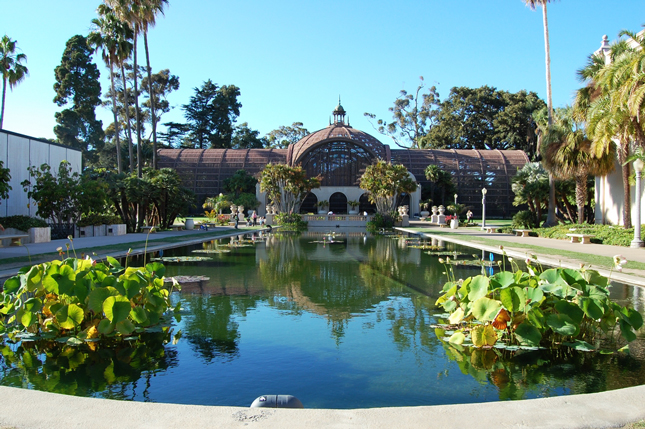 A few weeks back, I came across a story on a celebration that ran off the rails in San Diego's Balboa Park.
In the wee hours of August 12, a party instantly organized on social media lured an estimated 1,500 people to participate in a gigantic water fight. Unfortunately, the park's largest open and available source of water to
By Jim McCloskey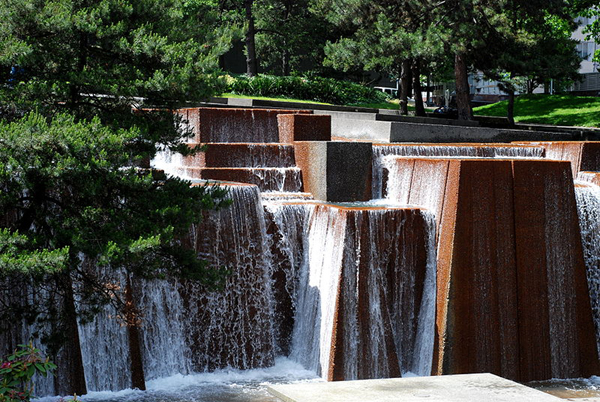 Back in a time before I had anything to do with watershaping, I lived for a few years in Eugene, Ore. – a smallish college town that always left me craving more-urban spaces.
Portland was up the road by a couple hours, and in the days before our first child appeared, my wife and I would make fairly frequent trips to visit the closest real city we had available. We loved
By Mark Holden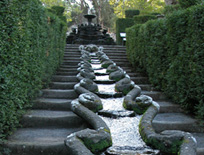 If you want to gain a full appreciation for classic fountains, pools or waterfeatures, you really do need to pack your bags: Seeing their beauty, power and subtlety at first hand gives us the opportunity to
By Mark Holden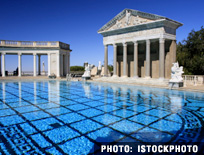 I just don't get Hearst Castle. Why should we celebrate the gross-scale purchases of historical artifacts and period-inspired structures by a wealthy American whose main pleasures seem to have involved amusing himself and overwhelming others?
I am willing to concede that Hearst's San Simeon compound and collections impress
Read more: Hearst Castle: A Question of Balance
By Mark Holden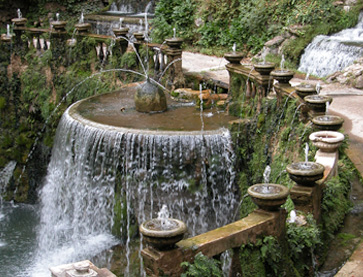 If you're looking for a destination that includes, all in one place, several of the most enduring and influential watershapes of all time, you couldn't go wrong in visiting Villa d'Este — without question one of the
Read more: Villa d'Este: Fountain Perfection
By Mark Holden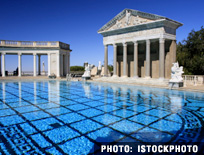 In a previous edition of WaterShapes EXTRA!, I discussed the merits and deficiencies of Hearst Castle, and was quickly rewarded with a torrent of other peoples' opinions. In all of the many comments I've seen, one thing is clear: Hearst Castle is
The restoration of significant architectural sites is always a challenge, but as Jeffrey Boucher of Drakeley Swimming Pool Co. reports, it rises to an even higher level when the project includes restoration of a mural painted by Alexander Calder. Here, Boucher tells the story of a high-stakes project filled with interesting twists and turns – not least of which is the revelation of a deeper connection between the watershaping team and this particular pool.

By Jeffrey Boucher
Back in 1949, a prominent couple living in Litchfield County, Conn., decided they wanted to build a contemporary-style home that would stand out among the classically styled residences that marked the area. After conducting extensive research, they retained the renowned Bauhaus architect and Modernist artist Marcel Breuer.
The home Breuer eventually designed for Leslie and Rufus Stillman pays testimony to the stark beauty of minimalism: The daring, box-shaped, two-level structure featured an array of contemporary elements and appointments, not least of which is a large, rectilinear swimming pool accessed by a dramatic, cantilevered staircase from the home's upper level. (Things worked out so well here, by the way, that this was just the first of three Breuer homes commissioned by the Stillmans.)
The couple avidly collected modern art, so the home became a showplace for a number of original pieces by several of the mid-century period's greatest artists, including Alexander Calder. Although perhaps best remembered today for inventing the mobile, Calder was asked in this case to paint an original mural on a large block wall set above the deep end of the pool. The results were, in a word, spectacular.
But let's fast-forward 60 years: By 2010, the Stillman House was in need of restoration, and even the vivid Calder mural had cracked and eroded from exposure to the elements. Happily, this proved a turning point, as the property's new owners announced their intention to
Some watershapers see their work in primarily technical terms – as complex tasks to be completed efficiently and well. Others, notes watershaper and landscape artist Christopher Lines, see technical mastery as a starting point beyond which they pursue purely artistic impulses. He's firmly in the latter camp, he adds, with a penchant for creating classically-inspired gardens that tantalize the senses and fire the imagination with echoes of eras long past.

By Christopher Lines
As I see it, watershaping is ultimately about its emotional effects: As designers and builders, it's our job to bring a variety of technical and aesthetic elements together to create spaces and structures that leave our clients with enduring feelings of vitality, relaxation, comfort and luxury.
In my case, the quest to realize this emotional component actually drives the process. As I strive to generate spaces that have real meaning for my clients, I'm always putting my heart into the work and am fully aware that what I do is an extension of who I am. Indeed, I've never been shy about letting my designs reflect my passion for art, architecture, history, color, form and even poetry.
By working on this level, I find that I'm able to carry my clients along and make them as excited, inspired and engrossed by the process as I am. It's an unabashedly romantic approach, but it can be infectious – and clearly satisfies everyone who gets involved.
Of course, there is plenty of perspiration that goes along with the inspiration. For all of my enthusiasm, I spend a tremendous amount of time designing these spaces and selecting elements that will populate them, from the largest waterfeature to the smallest plant. I also closely manage the construction process, never relinquishing control because with each and every project, I'm expressing