It was a massive commercial installation, one that included a decorative fountain, a large free-form swimming pool, a tile-lined stainless-steel spa, a massive rock waterfeature and a high-tech, interactive children's play feature – all meant to add to the appeal of an exclusive Florida resort. Teamwork was the key, says the project's manager, Russell Penick, with success resulting from the combined effort of architects, engineers, suppliers and contractors.

By Russell Penick
Everything about this job was big: the budget, the number of watershapes, the upscale location and, especially, the customer's expectations.
The owners, Town Realty of Milwaukee, envisioned their five watershapes as the key amenities for a new condominium development in Cocoa Beach, Fla., a signature element that would woo potential buyers who visited the 124-unit vacation complex. To reach that goal, their project team gathered aquatic experts from all over the Sunshine State to create the plans and specifications, supervise the bidding process, oversee construction and
Locked in the middle of walls and floors in everything from tiny fountains to gigantic commercial swimming complexes, a proper cage made up of steel reinforcing bars is the hidden strength that allows a concrete vessel to hold its form, come what may. Here, veteran steel contractor Larry Long takes a look at this key shell-shaping material, explaining what it takes to set up structures that will last a lifetime – and beyond.

By Larry Long
Watershapes come in lots of configurations and sizes, but when you get right down to it, they mostly share two basic materials of construction – concrete and steel – that in combination have the potential to withstand generations of use.
Fashioning these structures is at the heart of what watershapers do: Every-thing else, from the plumbing or the plaster to the tile or the decking, is really secondary. Sure, the pool won't function without plumbing or look pretty without tile, but it wouldn't even exist without its skeleton of steel and its concrete flesh.
For all that importance, however, most people tend to give the steel in particular little thought or care. It's invisible once the gunite is in place, so there's a tendency even among those who know better to blow it off and save a few bucks by using too little steel or by doing quick, sloppy work. And why should you care? No one will ever see what you've done, right?
Actually, given the role that steel plays in the durability and viability of the concrete structure, this should be the last place to
As clients demand more and more creativity and aesthetic value in their watershapes, an increasing number of professionals are turning to the installation of prefabricated or custom-designed mosaics as a way to add elegance, complexity and sometimes even humor to their work. Here, tile expert Dan Andrews surveys this trend and takes us on a tour through the possibilities of a form of artistic expression with a long, long history.

By Dan Andrews
It's an art form that connects modern craftspeople to those of the distant past.
In fact, the roots of mosaic tiling can be traced to Mesopotamia in the third millennium B.C., where temple walls were decorated with simple earthenware fragments. Centuries later, the ancient Greeks decorated their courtyards with large and small pebble mosaics, and sophisticated examples of mosaic work are found later in everything from Turkish mosques to Italian basilicas.
The Romans, however, probably pushed mosaics about as far as any culture could in the first few centuries A.D. They adorned baths, pools, spas, floors and walls of important buildings as well as humbler residences with intricate mosaics made up of ceramic, stone, glass and marble.
Recent years may have seen a revival of this ancient artistic technique, but as can be seen in the accompanying photographs, what many of today's designers are doing with classic forms is a real step forward – a departure from tradition that has made today's mosaics a thoroughly modern form of
The procession started more than 20 years ago, when those who apply interior finishes to pools, spas and other watershapes began looking beyond white plaster: First came the colored plasters, then pebbles and colored aggregates and, more recently, the polished aggregates. Now, says Kirk Chapman, more new materials and the advent of hybrid approaches are carrying surface specialists to new possibilities limited only by their imaginations.

By Kirk Chapman
Back in 1987 and particularly in California and Florida, the surfacing industry found itself in the middle of an unfortunate wave of plaster failures. Some people blamed the material, others blamed application techniques – and traces of the debate continue to this day.
The situation was truly desperate in some areas, so much so that it drove many plasterers to seek new materials and techniques – anything to escape the cycle of negativity. Our firm in San Diego, for example, moved early and became the first in our county to apply exposed-aggregate finishes. Today, more than 80% of
The project was massive: Four sets of spectacular model homes for a gated community set in the rolling hills above Newport Beach, Calif. – designed by three different landscape architects and each featuring its own creative use of water. By the time he left the site, says pool builder Kent Hart, he had installed more than 20 vessels of various types, shapes and sizes at the One Ford Road development – and found unique challenges in executing the architects' divergent visions.

By Ken Hart
Not every upscale pool contractor has to be working with his or her own designs to be successful in building beautiful pools. Our company, for instance, has established its reputation by excelling at making the ideas of others come to life.
Examples of this can be found in the work we did at One Ford Road, a development where we were asked to follow through on designs prepared by three of Southern California's best-known landscape architects. We've found here and elsewhere that when you work with highly creative people (including those who designed the pools, spas and waterfeatures pictured on these pages), the process can be truly rewarding, exciting and even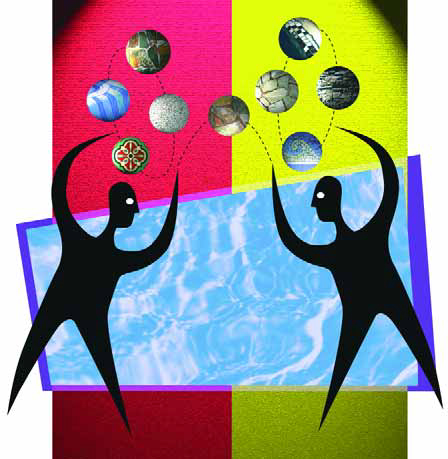 By Brian Van Bower
Lately I've been finding myself in what seems like a fairly unique position: On the one hand, I work as a design consultant for architects and as a designer for high-end customers; on the other, I work as a builder executing the designs that customers and their architects choose.
In this dual capacity, I've been able to gather a tremendous amount of input from construction clients and transfer it in one form or another as a consultant. I also have had the opportunity of seeing how decisions made in the design process play out during the construction process.
Seeing both sides has led me to certain conclusions, chief among them
The customer wanted it all: a large pool and spa made with natural materials; a fully-equipped outdoor entertainment area; a place to keep cool while lounging in the sunshine – all woven seamlessly into a work of watershaping art that took full advantage of a marvelously scenic location. Here's a look at how designer/builder David Tisherman pulled all of the details into their dramatic final form.

By David Tisherman
This project is all about making connections – connections between the inside of a home and the outdoors; between surrounding wide-open spaces and an intimate backyard; between the colors of the hillsides and the materials used in crafting the watershape; between the clients' desire for recreation and their passion for beauty; and between the beauty of nature and the modern, sculptural lines of the design.
If you've followed my "Details" column in WaterShapes in recent months, you've seen many of the components that have been incorporated into this particular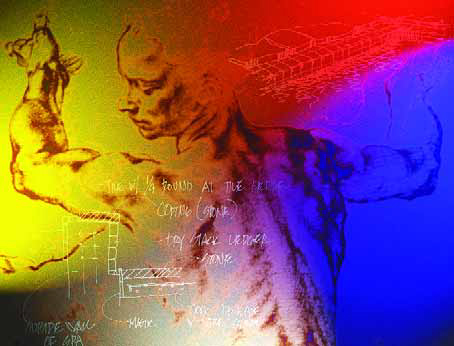 By David Tisherman
I'm amazed at how few watershapers keep the size and shape of the average body in mind or consider the science of ergonomics when they design projects for their clients. Just think about how much more we can do to increase their comfort and enjoyment by doing so, particularly when it comes to custom concrete spas.
Take a look at the average spa attached to the typical pool: On a great many of them, you'll see a cantilevered deck around the edges.
From the perspective of
To homeowners, swimming pools have always represented fun and relaxation. But they also can mean overwhelming energy bills, especially when heating cold water with fossil-fuel heaters is required. As energy efficiency and conservation reclaim prominence in our national consciousness, inventor and manufacturer Mark Urban sees a brave, new world – one in which pools become a resource, not an energy drain.

By Mark Urban
Everyone is concerned these days about electricity, gasoline and natural gas and all other forms of energy. What is amazing is that, despite this surge in interest, very few people have considered ways in which swimming pools can be built to reduce the energy required to heat them – and by substantial amounts.
This dearth of energy consciousness has nothing to do with the manufacturers of heating equipment. It's fair to say that most heater manufacturers – whether they pursue combustion heating with fossil fuel, compression heating with heat pumps or passive heating with radiant solar, absorbent solar panels or solar covers – all have optimized their own products and made them remarkably energy-efficient.
The same is true of recirculation systems: Pumps of all kinds are optimized to very high efficiencies, and the pool and spa industry has made positive improvements in acknowledging the necessities of hydraulic efficiency (although it's fair to say we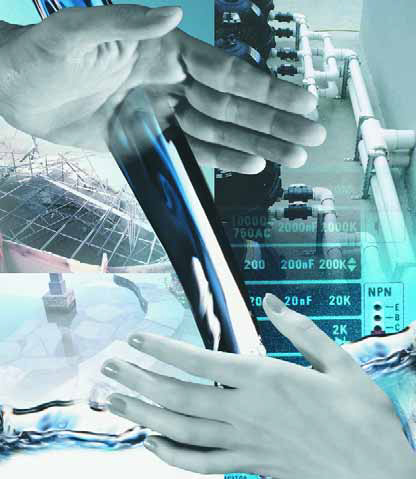 By David Tisherman
As with every other step along the path of true quality in watershape construction, a good start-up is critical – a key transitional step requiring supervision, teamwork and passion for the work.
This is the point where a watershaper's vision becomes reality, where construction becomes maintenance and where the clients' dream is finally realized. It's another important detail, and getting it right requires complete trust and wide-open lines of communication among builder, service technician and homeowner.
That puts a premium on finding the best possible person in your area to take on the responsibility. In my case, I consider myself very fortunate to work with a
Today's consumers are keen on a number of watershape 'looks' that call for unusually high degrees of precision in design and execution – with full-perimeter overflows riding high on many lists. The construction challenge in these projects will always be substantial, but the hydraulic puzzle may find its solution in a prefabricated flow-over system that promises to bring the wet-edge look to more and more mainstream builders, projects and clients.

By Doug Ruthenberg
The consumer's appetite for beautiful water and creative watershape design has grown by leaps and bounds in recent years – and expectations, it seems, are rising right along with the hunger for exceptional details and impressions.
Perimeter-overflow pools and basins are what an increasing number of consumers are after these days, and there's special interest in what are called "wet-edge applications," where the water rises to deck level and flows into a channel slot at the back edge of the coping. It's an amazing look – and harder to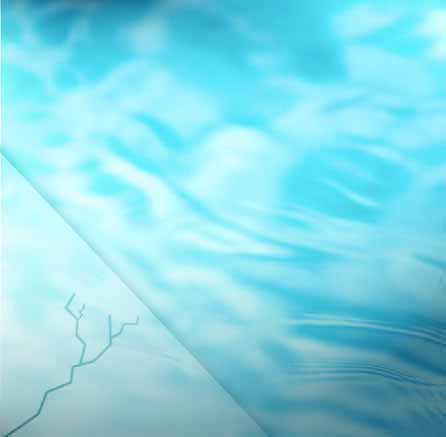 By David Tisherman
Some details seem simpler than they really are. A case in point is the one I'll describe this time – a detail I call a thermal ledge.
In one sense, it's really just a large a big bench located a few inches below the water's surface, but in terms of what it is structurally and what it does to increase enjoyment of a pool, it's something truly special.
The ledge pictured here is visually interesting in the way its stone surface picks up the rockwork used throughout the deck and the barbecue area and within the pool itself. As important, it provides the homeowners and their guests
Seeking to take a giant step to the forefront of aquatic sports in the United States, the city of Mesa, Ariz., has commissioned the design and construction of a monumental indoor swim center to be built in observance of the strictest international competitive standards. Here's a look at what's been involved in realizing the city's ambition, as seen from the perspective of the pool architecture and engineering firm that was asked to join the design team.

By William Rowley & Patricia Soto
When it's completed sometime in mid-2002, the Mesa Indoor Aquatic Center will be among the premier U.S. facilities for competitive swimming, diving, water polo, synchronized swimming and synchronized diving. Once it's up and running, MIAC will be the country's largest indoor competitive swimming facility owned and operated by a municipality; just as certainly, it will also act for years to come as host to countless world-class aquatic competitions.
A project like this