It's easy for watershapers to get wrapped up in the beauty and creativity involved in design and construction of their projects – and he's no exception, says fabricated-rock specialist Richard Winget. But that doesn't mean swimming pools can't be fun. That in mind, he takes us on a survey of user-friendly rock features that make his pools work for the young and young at heart while getting high marks for their remarkably 'natural' looks.

By Richard Winget
It's something we in the business overlook all too often: Swimming pools, kids and summertime go together.
That's why pools have been so enduringly popular, even at a time when watershapers seem to be focusing more than ever before on principles of design and how their work can be artfully integrated into the landscape.
I came to building pools from an extensive background in building man-made rocks for theme parks, which has colored my perspective on the way my pools are used. I've also been swimming in backyard pools since I was a kid, and I've built all sorts of rockwork designs for all sorts of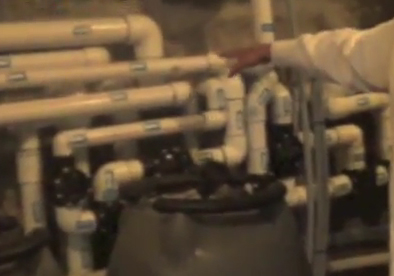 By Mike Farley
For the most part, the equipment sets that power pool and spa systems are placed outdoors in spaces near their watershapes. Maybe that's behind a gate along the side of the house, or behind some shrubs or a wall in a corner of the yard. Wherever they go, these equipment clusters should be positioned so that the noise made by various motors and pumps isn't so pronounced that it
By David Tisherman
In February 1999, the cover photo on the premiere issue of WaterShapes showed a steel cage for a subgrade piling being lowered into the ground. That image was taken from a feature article by designer/builder David Tisherman, the first of many that he has contributed to the magazine. In that article and in another that followed in April 1999, he detailed the design and construction of an elaborate residential swimming pool project that he
Landscape designer Melanie Jauregui believes there's much more to good exterior design than an understanding of project parameters, sound engineering and tight planning and execution. That's why she takes time to uncover the aesthetic and thematic preferences as well as the emotional motivators of each client – a process that enables her to create landscapes and watershapes that not only function as desired, but speak to the heart as well.

By Melanie Jauregui
It's natural for me to wax poetic about my work. Gardening and garden designs are what I call my "magnificent obsession" – so much so that the other arts in which I have an interest and for which I even have talent will generally take a back seat.
After more than 19 years as a professional landscape designer, I am still driven and excited by the challenge of creating comprehensive landscapes for my clients. I thrive on the complexity of organizing the myriad elements required to create outdoor spaces that function properly, are beautiful and harmonious to the eye – and even touch
You won't find too many clients who can afford to install full-scale theme parks in their residential backyards, but that's exactly what builder Steven Knight ran into on this project. Indeed, this owner had the imagination (and the budget) to bring a host of childhood fantasies to life over his sprawling estate in Central Florida, and now the watershapes at Foxtrotter Ranch are a true monument to kids young and old.

By Steven Knight
I like a good challenge in my work, and I like to have fun making it happen. This project embodied the best of both experiences.
The project displayed on these pages was built for a wealthy client who lives on a working horse ranch in the rolling green countryside near Ocala, Fla. Our company, Certified Construction, was up to the task. We build hundreds of highly customized watershapes each year for a variety of theme parks, resorts and high-end residences. Most have highly developed "themes," so we're accustomed to providing our clients with heavy doses of imagination and creativity.
The basic marching orders on this job were straightforward: The owner wanted a theme park on his property for his kids – and he didn't really care about
Watershapers who work with high-end clients know that almost every project is unique – different circumstances, varied objectives and diverse hurdles. In taking on projects at this level, Tom Moneta and his staff of designer/project managers at Leisure Living Pools have found that combining a rich design vocabulary with a mastery of technical detail enables them to satisfy their clients' desires while maximizing the potential of their backyards.

By Tom Moneta & Mike Farley
At our firm, we treat every project and every customer as if they're one of a kind – which in truth they are.
And we've been lucky in developing a high-end clientele that, on the whole, is looking for something special: They enable us to treat each project as an individual work of art; at the same time, they challenge us to stretch our own abilities and increase the variety of design solutions we bring to the drafting table.
In many cases, this requires something of balancing act between what clients think they're after and the practicalities of the site itself, the architecture of adjoining structures and the views of surrounding areas. For that reason, each of our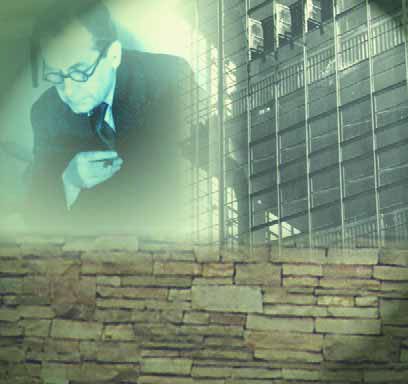 By David Tisherman
For me, the simplicity and elegance of the International Style was just about the best thing going in 20th-century design. The followers of Walter Gropius in the Bauhaus movement held this simplicity – expressed as a cleanness of line, a uniformity of materials and the establishment of clear relationships among architectural planes – in absolutely the highest regard.
I always try to integrate these design principles into my own work – and one of the ways I do so is through the ledger detail we'll examine this time around. It's an expensive
The pool and spa are simple in shape, says builder David Tisherman, but the project was anything but: Built on a wildly unstable Southern California hillside and intertwined with extensive remodeling of the clients' home, the serene finished product contrasts starkly with tales of change orders and complicated decision-making processes – not to mention a desire on the part of client and designer to strive for nothing but the best.

By David Tisherman
This really wasn't a job for the timid. The ground was unstable, access was limited, and the customer could afford to make massive changes along the way. Other than that, of course, the project was a piece of cake.
The truth is, I enjoy a good challenge. People who know me well are aware that I revel in tackling jobs that test my mettle – and this was definitely one of those cases. Ultimately, it turned out to be one of the most satisfying and beautiful projects I've been involved with in a long while.
The site is located on
Teaching others the principles of vanishing-edge design and construction is something Skip Phillips has been doing for more than a decade. He knows from experience that each setting is different in ways that make it hard to generalize, but nonetheless, he says, watershapers can strive for spectacular results by approaching these projects with a standard set of considerations and questions in mind.

By Skip Phillips
Vanishing-edge pools are all about changing the relationship of the water to its surroundings. They enable the water to reflect views and create visual links to the surrounding scenery in dramatic and surprising ways that simply can't be achieved with conventional designs.
The same distinction is true of perimeter-overflow systems and pools with deck-level (or slot-overflow) designs, which is why I classify all three together as "water-in-transit" systems. There's a lot of diversity under that big conceptual umbrella, but these pools share
Of all the projects he's pursued in the past few years, says David Tisherman, he can't easily think of another that rivals the achievement of this one with respect to balance, color, harmony or sheer energy. The key words here, he adds, are color and energy, with one flowing irresistibly from the other in a reinvigorated backyard that was once drab, uninteresting and crowded with an old pool that just didn't fit with its surroundings.

By David Tisherman
If you can't see potential in every backyard you walk into, then you're in the wrong business.
Yes, some projects are more inspiring than others, and some spaces seem to offer you more to work with than others. Without exception, however, our clients' yards present us with opportunities to develop programs that take advantage of what's there in ways that bring balance and harmony and interest to any setting.
Speaking for myself, I'm no more energized in a project than when I get the opportunity to right a wrong and replace a past mistake with a fresh, interesting design – and that was certainly the case in the project discussed in this article and in my past several "Details" columns in this magazine. The setting was special, the clients were great and I was given free rein to work with color, shape and line in vivid, interesting and even startling ways – all in keeping with their wants and desires.
SETTING THE SCENE
To recap information from recent "Details," this pool/spa combination with its associated decking, walls, planters, outdoor cooking facilities and private garden area are located in a narrow yard at the base of a slope in Pacific Palisades, Calif. It's a spectacular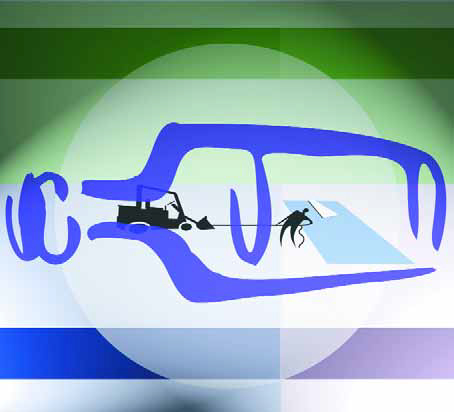 By David Tisherman
Let me introduce you to an exciting project I've been working on most of this year. Right from the top, I'll say that even in the realm of the unique and rarified, this one is truly amazing.
The clients are quite well-to-do, and the moment you walk into their home, you can't help recognizing that they are accomplished art collectors with an eye for modern masters as well as folk art. Their beachfront Malibu, Calif., home – one of
With its elegant structures, extensive sculpture gardens, beautiful watershapes and exquisitely maintained grounds, this 12-1/2-acre estate in Highland Park, Ill., is the product of two decades of ongoing design work by architects and environmental designers Suzanne and Ron Dirsmith. Among the many works of art and perfectly scaled amenities placed on the property, the project's pool and spa create spectacular spaces for relaxation or exercise.

By Suzanne & Ron Dirsmith
Water can be a central feature of any design, but in many cases it is just one element among many of equal (if not greater) importance.
In the case of the project pictured here, the owners, a gentle and loving family, established and have maintained a vision of just the sort of warm and nurturing home and landscape they wanted, one in which the lives of family members and friends would be sustained, enriched and enlivened. Their vision (and their involvement with us) might have begun with the water, but it has since expanded to include
The key to clear and clean water in just about any successful watershape is effective and efficient filtration. What this means for residential pools and spas in particular, says hydraulics expert Steve Gutai, is that the watershaper needs to understand the characteristics of available filter media as well as the nuts and bolts of how filters are installed. Here, he breaks down these basics with an eye toward matching systems perfectly with specific applications.

By Steve Gutai
In conceptual terms, watershape filtration is about as simple as it gets: Water that picks up insoluble organic materials in the form of dirt, debris, dust and algae is drawn by the pump to pass through a filter medium of one type or another. The medium – whether sand, a cartridge or diatomaceous earth – traps these materials and lets only clear, clean water back into the vessel.
When the pump sends the cleaned water out of the filter, that water returns to the pool to dilute the dirty water in a continuous cycle of cleansing and dilution that ultimately results – when the system is set up the right way – in clear, clean water that's both aesthetically pleasing and safe.
Sand, cartridge and diatomaceous earth filters have long dominated the market, and each requires a filter tank with internal components specific to the filter medium it uses. There are common components (as discussed at the end of this article), but it's important for the watershaper to