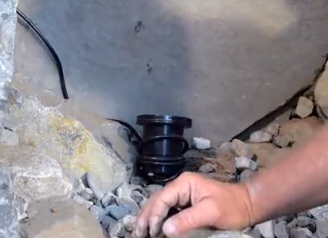 By Eric Triplett
Of all the messages I've tried to convey in this video series and its introductory texts, one of the crucial ones is my observation that the people who buy and own ponds will spend lots of time enjoying their watershapes after it gets dark. The only way to make that happen, of course, is to include an effective in-pond lighting system to make the watershape's best features
Watershapers who tackle projects in older communities often face the necessity of fitting their new designs in with historic architecture and long-established landscape tastes and styles. It can be a challenge, says landscape designer Bruce Zaretsky, but if you're sensitive to tradition and work carefully with your surroundings, it's possible to add beautiful and even surprising features to classic homes.

By Bruce Zaretsky
LeRoy, N.Y., is an historic village that's most famous (or most notorious?) for being the birthplace of Jell-O.
Far more significant to me, however, is the fact that the town is filled with beautiful 19th-century homes that run the architectural gamut from Colonial to Italianate to Victorian in style. It's a beautiful place, and the site of one of my firm's most unusual projects in recent memory.
The home featured in this article is a Second Empire Italianate estimated to be about 140 years old. It's a prime example of 19th-century craftsmanship, from the Mansard roof with its scrolled cornices to the drive-through porte-cochere and the wraparound porch with its beefy wood railings.
It's definitely an architectural treasure, filled with the kinds of details that have been lost as far as today's custom-built homes are concerned. Mindful of those special touches, we set about designing a similar level of detail into the landscaping in creating gardens and watershapes that brought real tranquility to
When watershapes and sculpture are both to be included in a garden, the designer faces the challenge of making each component look as though it truly belongs in the setting. Here, Chicago-based landscape designer Rosalind Reed explores what is involved in pulling off this balancing act for a small urban space. The result is a careful interweaving of artistic and aquatic forms that blend serenely in the heart of a bustling city.

By Rosalind Reed
Looking for inspiration in an urban environment can leave a designer with precious few useful references. Take downtown Chicago, for example, where our indigenous waterfeature is Lake Michigan and our public art is too often plopped in the middle of concrete plazas.
Be that as it may, I do my part by trying to introduce both water and art into my projects. So I was thrilled to be retained by Mary O'Shaughnessy, owner of the Wood Street Gallery in Chicago, to design a sculpture garden. I knew it would give me the chance to create a balanced, beautiful space – even though I also knew the job wouldn't be easy.
What she wanted was a garden environment in which she could display and sell contemporary American sculpture – a place that would help clients visualize the way the art might look in their own gardens.
As we dug deeper, we uncovered additional goals: It needed to be a space that would accommodate a changing variety and number of pieces; it had to be functional for large parties; and it had to incorporate and acknowledge the garden's urban neighborhood while still providing a sense of enclosure for gallery visitors (and, of course,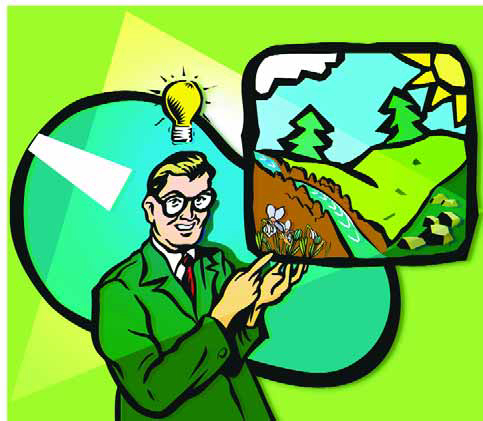 By Brian Van Bower
This past January, I had the pleasure of traveling to Tucson, Ariz., to attend the annual conference of the Association of Professional Landscape Designers. The focus of this year's conference was the use of water in landscape design, and the program appropriately featured an interesting mix of experts on swimming pools, fountains and water gardening.
To be honest, I didn't know what to expect when I signed on. I'd only been to one landscape event before, and much of that trade and the people in it have been mostly unfamiliar to me. As it turned out, however, this conference was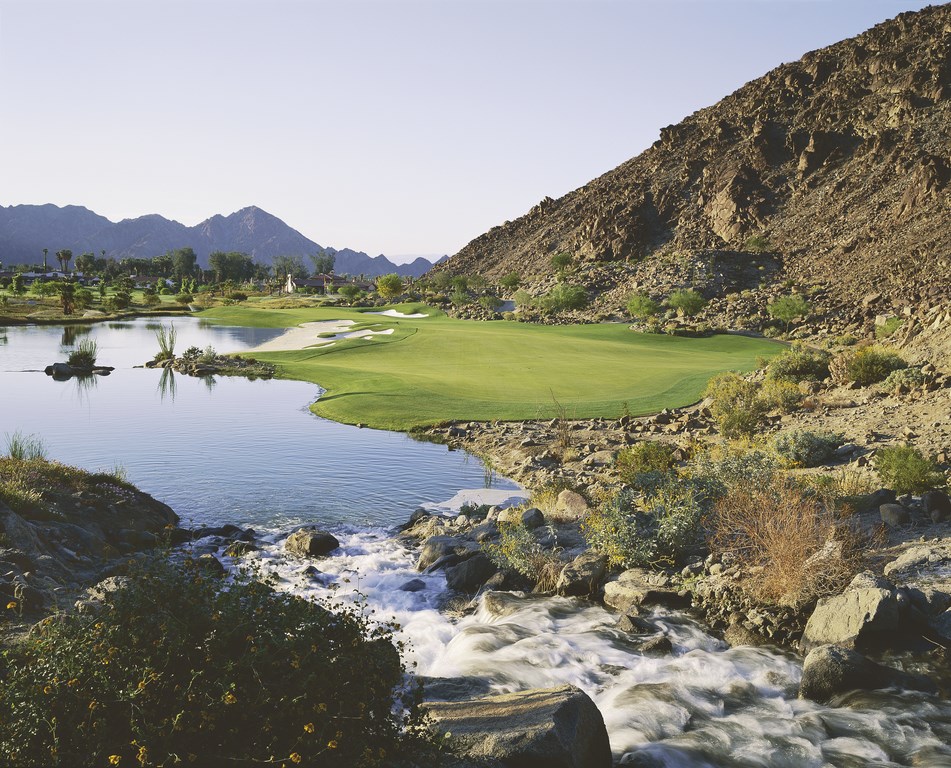 From Pebble Beach to Augusta National, water and the game of golf share a storied history – and the relationship is growing even closer, says landscape architect and watershaper Ken Alperstein of Pinnacle Design. As new courses compete for major tournaments and real estate sales on adjoining properties, course architects are using streams, ponds and lakes to make aesthetic statements – and giving watershapers a chance to work on the grandest scale.

By Ken Alperstein
Of all the sports, there's none that relies more on the art of landscaping than golf. The contours of the land, the style, size and placement of plantings, the use of elaborate stonework and the installation of substantial bodies of water often define not only the competitive challenge of the game but the ambiance and character of the entire golfing experience.
This is especially true of championship golf courses, where designers seek ways to stretch the envelope in terms of the way the game is played and in the physical beauty of the courses themselves. In their search for true distinction, many have turned to the use of
In some places, observes landscape architect Lauchlin Bethune, Mother Nature sets higher standards for naturalistic watershapes. Where he lives near Seattle, for example, he and his clients are surrounded by the beauty that comes with ample rain, rugged terrain and plentiful greenery – an environment that makes it tough for watershapers to balance the practicalities of construction with the passionate desire to mimic local grandeur.

By Lauchlin Bethune
The Pacific Northwest is full of spectacular scenery. From where I live near the Puget Sound, for example, you can see the Olympic range running along a peninsula to the west and the Cascade range off to the east. Looking southeast, Mt. Rainier is a silent, majestic sentinel silhouetted against an ever-changing sky.
It's a beautiful place to live and perfect when it comes to design inspiration – especially when your work is creating naturalistic gardens and watershapes.
One of the most spectacular waterfalls in the entire northwest is just a short drive up Interstate 90 from me, a place called Snoqualmie Falls. Local hiking trails are dotted by scores of perennial waterfalls that cascade down mountainsides. For me, there is nothing more refreshing than clambering up a steep grade and rounding the corner to find a misty, shady waterfall. It invigorates the soul and encourages one and all to keep climbing in the hope of seeing even more spectacular scenery.
The attractions of nature and its inherent beauty are much enjoyed by people who live around here. In recent years, I've seen a trend toward bringing slices of that grandeur down to a residential scale in gardens that use water in motion as a key feature. It's the water that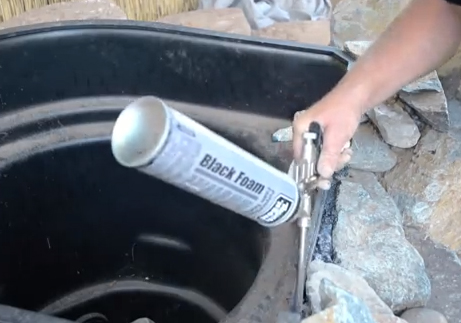 By Eric Triplett
As the process of installing this beautiful little pond moves toward its conclusion, we find as always that we have lots of smallish details to consider – including the important task of creating a great look with the waterfall's spillway.
This step may not take the strength or persistence or grand vision of some of the project phases covered to date in this video series, but I can assure you it takes both care and finesse – especially
The watershapes for the Colony at White Pine Canyon were intended to mimic nature as closely as possible. That's not an unusual goal, says Land Expressions' project manager Clayton Varick, but it was one made more difficult by three factors: a tight schedule, the need to work at very high altitudes – and the fact that the surroundings being imitated were the staggeringly beautiful slopes of the Wasatch Mountains above Salt Lake City.

By Clayton Varick
Landscaping has to be something special to harmonize with the amazing natural surroundings of places such as we encountered with the Colony at White Pine Canyon: Set on 4,000 acres near the famed ski slopes at Park City, Utah, the resort/homestead project was to have watershapes second to none when it came to their natural beauty.
Indeed, water was central to the entire plan. We at Land Expressions of Mead, Wash., were engaged by the developer, Iron Mountain Associates of Salt Lake City, to execute an 830-foot stream, a 34-foot cascading waterfall and a sprawling quarter-million-gallon pond. All of this came along with an array of natural plantings, pathways, a 500,000-gallon water tank surmounted by a five-acre meadow, and a guard shack made from rocks, sod and a fallen tree.
Projects of this sort don't come along very often – and when they do, they call for creativity, preparation and planning on a grand scale. In this case it, also meant working at (literally) breathtaking altitudes and in a small window of opportunity between snow seasons – all while infusing the work with intricate detail.
Here's a look at
There's no doubt that the 'pond craze' spells opportunity for watershapers. But a hot market can be a two-edged sword, observes pond/stream/cascade specialist Rick Anderson, because it draws in many who lack the technical, artistic and philosophical foundations needed to deliver high-quality work. What he suggests here is that it's time to step back, consider what's at stake – and take a long look at fundamentals that will help the market flourish.

By Rick Anderson
The watergardening business has exploded in North America in the past few years – so much so that it's easily the fastest-growing segment of the watershaping industry.
This wave of interest in naturalistic watershapes means that hundreds of people new to the craft of pond and stream building are now out there, working on all sorts of residential and even a few commercial projects. Some of these are landscape contractors working with water in a significant way for the very first time. Others are pool contractors who've
Creating natural-looking cascades and waterfalls requires the deft handling of a range of technical and aesthetic details – the chief of which, observes watershaper Bob Dews, is effective concealment of the water's source. Here, this specialist in ultra-natural watershapes for residential and commercial clients discusses strategies he uses to hide the headwaters and conjure some distinctly 'natural' impressions.

By Bob Dews
Cascades and waterfalls are different from most other types of watershapes. In ponds, for example, the quiet reflective surface of the water serves to accentuate elements within the water, such as the plants, fish and rock materials, while reflecting the features surrounding it. That same reflectivity is a hallmark of pools as well.
Our purpose in setting up cascades and waterfalls is, by contrast, to highlight the water itself, and specifically the beauty of water in motion. As it flows over and around rocks and descends through natural weirs and cascades, the water itself creates interest, excitement and soothing sounds.
There's also a greater sense of variety when you make the water move. Within relatively small spaces, we set water up to rush and meander, cascade and roll, tumble and trickle – all by way of conjuring impressions of a natural stream moving down a grade.
Using moving water in this way – in mimicry of nature – is a true watershaping specialty, and volumes could be written about what it takes to make these scenes believable. For now, however, let's focus on setting up headwaters – a feature we at Xstream Ponds in Cashiers, N.C., have come to see as the key to
Even for a firm that specializes in massive natural-stone watershapes, this Pennsylvania project was one for the record books. Working for an enthusiastic client who demanded beauty and visual drama on a truly enormous scale, the staff at Glacier Inc. stepped well beyond the usual in renovating a 78-acre private lake while creating a long, cascading stone stream and waterfall – with a grotto thrown in for good measure.

By E.J. Biernesser, Pete Biernesser & Mike Raible
When you work on projects in which stone is commonly measured in the thousands of tons and streams are frequently described in fractions of miles, you're not easily impressed by size. This job, however, was remarkably vast – a project driven by creative passion and a client's desire to turn a singular vision into reality.
It's the kind of opportunity that doesn't come along every day, and when it did, we knew we'd have to give it everything we had.
Our company, Glacier Inc. of Glenshaw, Pa., is a design and construction firm specializing in large natural and naturalistic bodies of water, and most of our work includes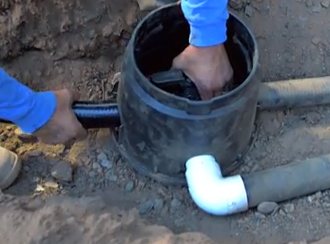 By Eric Triplett
Of all the steps we've covered so far in this series of videos on pond installation, this is the only one that might be considered atypical, basically because the need for completing this operation depends on the type of filtration system you're using.
In this case, we're installing a permanent gravel bed in the waterfall/filter unit, which means we need to include a backwash system in the form of a three-way valve and a drain line to make the bed easy to clean, refresh and maintain. The great thing is
Pool builders mostly use some form of reinforced concrete in setting up their watershapes. By contrast, the majority of landscapers and pond builders rely on liners to create their bodies of water. Rubber liners may suit certain low-budget situations, observes Douglas Roth, an expert in the art of Japanese gardening, but when it comes to creating high-quality naturalistic waterfeatures, he says, rubber liners come up short. (Photo courtesy Jim Lampl Landscape Service, Allison Park, Pa.)

By Douglas Roth
As modern building materials have been developed, we humans have been remarkably proficient at applying them in ways that go well beyond the vision of their inventors. Such is the case with roofing membranes, which now are widely used as liners for backyard streams and ponds.
It's understandable that landscape designers and contractors have taken to these rubber liners. After all, they make pond and stream construction inexpensive and easy. But from the perspective of the Japanese gardener or quality watershaper, convenience and affordability alone do not qualify a material for use. Instead, standards of durability and enduring