The owner wanted something unique, something spectacular to mark the entrance to a new development of upscale homes. Michael Nantz dove into the project with enthusiasm and a head full of ideas – but soon found that the flat terrain and the site's immediate proximity to a busy highway presented special challenges.

By Michael Nantz
Some projects grab you right from the start, and this was definitely one of those cases.
As the principals at Herzog Development Corp. explained in our initial meeting, their new development was to be a "golf course community with a rustic feel, but refined." To embody that refinement, Don Herzog and his son, Daryl, wanted some sort of elaborate waterfeature – something that would break the monotony of the stark, flat terrain of northeast Dallas County and welcome
The sound of water moving through the landscape adds something special to any backyard, offering a powerful aesthetic component to even the simplest of designs. These auditory enhancements evoke powerful images, emotions and associations even from casual or occasional observers, notes landscape designer and watershaper Rick Anderson, who suggests that the 'aural factor' should be considered from the very beginning of the design phase.

By Rick Anderson
All too often, the purchasers of a home (new or old) find a garden space stripped of any natural feel. Large lot or small, they sense no "connection" to the land – only a bleak space devoid of vegetation or any sort of overhead canopy and lacking the finishing touches that draw them out of the confines of the home to enjoy what usually represents the majority of their real estate.
From my perspective, the best way to generate this connection to the land is through the creation of ponds, streams and waterfalls in these backyard settings. Such features bring a more natural look and feel to residential garden spaces and instill a sense of connectedness. And whether customers pick up this sense consciously or subconsciously does not matter: What matters is that they somehow know it, that they feel it.
Plantings are a big part of this picture, but I lean heavily on watershapes to create connections because of
'When you install a pond, you install a lifestyle,' says Greg Wittstock, proclaiming the universal appeal of ponds, the variety of settings in which they can be placed and the huge range of aesthetic options available to consumers. In this pictorial, he shares some of the many projects his company has completed, pointing out along the way the simple power found in these living watershapes.

By Greg Wittstock
Waterfeatures may well be the hottest thing in landscaping today, and the reason is simple: No other landscape detail captures all the senses the way moving water does. I don't get the impression that people sit around for hours watching their tulips grow, for example, but I know for a fact that people who have ponds in their yards will sit for hours, with others or in solitude, drinking in the scene and communing with the koi and the water lilies.
In that sense, ponds have more to offer than the average waterfeature: A pond's live component adds interest and touches of tranquility that work in countless settings, from backyards and corporate offices to dining terraces and the common areas in apartment complexes. The possibilities are
Designing and building a stream is no small task. The usual scale of these projects, along with typically high customer expectations for a convincingly 'natural' look, combine to ratchet the difficulty level up several notches. Here, landscape designer Rick Anderson, who specializes in streams, shares his expertise in approaching these challenges as a guide to watershapers who aim to please with wandering waters of their own.

By Rick Anderson
As I see it, there are six main types of watershapes: pools, spas, fountains, ponds, waterfalls and streams. Although there is tremendous variety within each category, I think most of us in the business would put pools, spas and fountains in one sub-group and ponds, waterfalls, and streams in another.
Obviously, there's room for overlapping here – waterfalls installed with pools, for example, or fountains in the middle of ponds. The key distinction for me, however, is the closeness with which a pond, waterfall or stream must imitate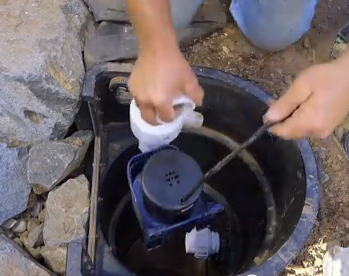 By Eric Triplett
Installing a pond pump is a fairly simple process – and, as you'll see in the video linked below, represents one of my last big chances to sound off on the importance of basic pipe-connection skills.
Yes, I'll admit that I'm a perfectionist and maybe a bit compulsive about making my pipe connections look right in addition to fitting right. In the operation covered here, however, there's good reason for care: If you're sloppy with glue application while installing a check valve, there's always the possibility that
The true artistry of stream building is found in the closing phase of construction, says landscape designer Rick Anderson. Here, in the final installment of his series on streamcrafting, he walks us through the concluding steps he takes to transform a raw installation into a finished watershape that dazzles the eye with its natural look and delights the ear with its gentle sound.

By Rick Anderson
Now comes the fun part.
The final stage of building a stream is where all of the planning and close attention to the stream's earthen substructure, transitions in elevation, liner alignment and hydraulics come into play as you move to build in details that effectively mimic nature.
In the first two installments of this series (click here for part 1, here for part 2), I discussed in detail how you excavate and grade the site, place the major transition stones, lay in the liner and install
The thing that makes a painting great isn't the pigment mixed on the palette or the brush used to apply it. Those are merely tools, observes landscaper Jim Lampl, who finds art and beauty in the way the strokes are laid on the canvas. The same holds true for watershapes, he says: The art and beauty aren't in the stones or plantings, but in the way all of the components and materials are composed on site.

By Jim Lampl
I believe that what we strive for in our watershapes is evident in the paintings and sculpture of the great masters. The harmony, the beauty, the drama, the excitement of the senses, the total captivation of the viewer create an experience we call great art. The more we can reflect on this work and use it as a lofty benchmark, the more effective our watershapes become.
I've always believed that the best way to work at the highest level is to follow the tenets of
From building a 21-foot, cantilevered waterfall to mimicking the muddy banks of a jungle stream, this sprawling installation at the Palm Beach Zoo presented a series of unusual challenges for watershaper Steve Lucas – not the least of which was thinking like a tiger. By the time Lucas was finished, however, two of the zoo's most popular residents enjoyed a lush jungle paradise tailored to meet all their environmental and aquatic needs.

By Steve Lucas
Believe it or not, I became involved with this project because my nine-year-old daughter, Savannah, plays tackle football. I was watching one of her games when I overheard a teammate's father talking about a renovation at the Palm Beach Zoo.
Joining the conversation, I learned that he owned a general contracting company that builds large commercial projects and that he'd been hired to renovate the zoo's parking lot and utility infrastructure and build an exhibit facility for two Bengal tigers. It was, he told me, the first phase of a long-term plan to upgrade the zoo at Dreher Park, a complex that also includes a planetarium and a museum.
The work at the zoo, he said, was one phase of an effort by the city to create a quality facility that ultimately could serve as a low-cost alternative to Orlando's theme parks. As part of the project, my new friend's firm also was acting as general contractor in the construction of a new tiger pen, the first of a series of new display areas planned for the modest zoo.
When he talked about the watershapes involved, I jumped: The design
For all of the aesthetic considerations that come with crafting a stream, the fact is that man-made waterways must function properly. Here, in the second installment of a series on the art of stream construction, landscape designer Rick Anderson addresses this practical/technical part of the picture, guiding us through liner placement, plumbing and equipment installation – all with an eye toward ensuring an end product that meanders steadily, cleanly and beautifully.

By Rick Anderson
As is the case with a stream's aesthetics, the functionality of any multi-level, gravity-driven waterway must be considered from the outset of any project. After all, no matter how natural and beguiling a stream may be in appearance, if it doesn't hold water, work properly in terms of hydraulics and filtration or provide ecological balance, the whole thing can and will become a nightmare.
Fortunately, making streams work isn't all that difficult – as long as you keep your eye on a critical set of fundamentals.
Last time, we laid out the stream course, created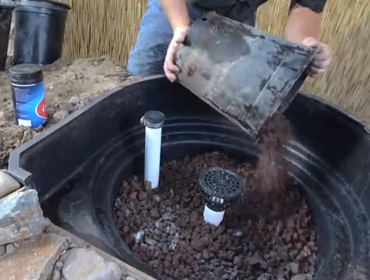 By Eric Triplett
As was mentioned a few episodes back, in designing this particular pond we settled on a filtration system that made the most sense for the setting and the situation – and now it's time to show you how we install its permanent gravel bed.
As the video shows, it's a straightforward process of rinsing the material to get rid of as much dust as possible and doing what I can to cull any smaller-than-desired chunks of gravel that might
From start to finish, observes Rick Anderson, the process of stream building isn't that complex or exotic. But in addition to good planning, he says, these projects require thoughtful spontaneity and a subtlety in the work itself that defines success or failure in creating streams that look 'natural.' Here, in the first of a series on stream construction, Anderson starts at the beginning – with the land and the layout and excavation phases.

By Rick Anderson
Building a stream that looks as though it was actually completed by Mother Nature is no small challenge. To make the illusion work, the watershaper quite literally "shapes" the basic elements of the stream – its path, width, depth, outcroppings, falls, transitions and plantings – all with an eye toward mimicking natural designs.
To a large degree, the process is different from that of designing and building a pond, pool or fountain. In those cases, the watershape generally goes in the ground almost exactly where and how it's been drawn. With streams, however, the differences between
Nature has it's own set of rules, observes horticulturalist and zoologist Jeff Rugg of Pond Supplies of America. If you work in harmony with those rules, you stand a good chance of being successful in creating systems that support plant and animal life. Work against them, he says, and nature will soon show you the error of your ways. Here's a look at what it takes to make the balancing act work, from pond sizing to basic equipment and materials.

By Jeff Rugg
It all begins with the water.
The first thing anyone approaching the world of ponds needs to understand is that life-supporting water is quite unlike the sterile water found in swimming pools or spas or many other watershapes. A second and related point is that clear water is not necessarily healthy water when it comes to the needs of the inhabitants of the pond.
For a pond to be healthy, its water must meet the chemical requirements of plants and fish by having an abundance of some things (such as nutrients) and a near-total lack of other things (such as pollutants). Sanitized water may be beautifully clear, but the fact that sterile systems are designed to knock out nutrients and work chemically because they are "polluted" with chlorine and algaecides makes them completely unsuitable as life-supporting ecosystems.
The goal with ponds is to work with nature in balancing the life-sustaining features of the water – and to set things up in such a way that maintaining that balance will be something your clients can do long after you've moved along to another project.
To do so, you need to embrace the water-quality basics outlined in the last issue of
Beauty and tranquility are words on the lips of more and more consumers these days, and they're discovering with greater and greater frequency that ponds are just what they're after. Critical to meeting this rising demand, says zoologist and horticulturalist Jeff Rugg, is knowing what goes into creating healthy, clean water in the presence of plants and animals – and into setting these mini-ecosystems up for the long haul.

By Jeff Rugg
It's a tale of two professions: Pool and spa people are taught to keep things dead; pond people are taught to keep things alive. Pool people sell chlorine; pond people sell de-chlorinator. Pool people sterilize; pond people fertilize. This contrast in approaches to basic water maintenance is perhaps the most significant difference between two trades that are coming into closer and closer contact with one another every day.
At issue between the two groups is whether to work against nature in a sterile system, or work with it to create an ecosystem. Each discipline has a foundation in the science of water chemistry and both have a place in the world – but beyond that (and as the table below demonstrates), things really couldn't be much different.
As more and more pool/spa professionals move into water gardening and more and more landscape designers and architects get into pools and spas, there's an increasing need for all of us to understand these water-treatment distinctions and the basics of each approach. I come from the pond side, so I'll cover things from that perspective in a pair of articles – a science-oriented overview this time before we