Granite and water have long been combined to create spectacular visual compositions – artistic statements with the ability to speak to us across the centuries. Today, says fountain designer Jeff Castle, modern technology has kicked these materials to all-new levels of aesthetic performance, and a new breed of fountains has emerged in which various precision-crafted granite objects float on thin sheets of water and move as if they were weightless.

By Jeff Castle

There's something intriguing about heavy objects that float on water. In our daily lives, we often see traditional fountains made with utterly huge pieces of stone, but as gorgeous and compelling as those systems can be, it's the ones in which that stone moves that are the most fascinating of all.

The very idea that you can move a massive piece of granite with just the slightest touch of a hand is simply mesmerizing. These floating objects become centerpieces immediately – a fact that has led to their proliferation in plazas and other public spaces around the
Used for more than 30 years to treat watershapes hosting everything from killer whales and fish to penguins and people, ozone's ability to kill harmful microbes, oxidize bodily wastes and get rid of other organic byproducts has made it the water treatment of choice for zoos, marine theme parks and aquariums as well as resorts. Here, Beth Hamil of DEL Ozone discusses what ozone does in these settings – and the technology used to deploy it.

By Beth Hamil
I may be revealing a professional bias here, but ozone is fascinating stuff.
In nature, it's among the most essential chemicals on the planet, existing most prominently as a gaseous component of our upper atmosphere. Formed there by sunlight's reaction with atmospheric oxygen, it collectively constitutes the famous Ozone Layer that protects us from the sun's ultraviolet rays and is crucial to the very existence of life on earth.
Closer to the ground, ozone is widely used across a broad spectrum of applications. It's well known in the pool and spa market as a water sanitizer, for example, either as a chlorine alternative or an adjunct. It's also widely used in food processing and municipal drinking and wastewater treatment systems and plays key roles in the production of cosmetics and with air freshening and purification systems.
For all that, one of the most interesting applications of ozone-generating systems in the past 20 years – and the subject of this article – is the use of ozone in the life-support systems for aquatic animals held in captivity or for
The art of the water wall has come a long way in recent years, observes inventor and manufacturer Tory R. Zweigle, and he isn't shy in pointing out that his company, Acqua Werks of Corona, Calif., has led the charge. Building on the basic concept of water flowing down vertical surfaces, he has created hundreds of variations on that theme in both custom and mass-produced formats for hundreds of thousands of clients around the world.

By Tory R. Zweigle
In a real sense, I want to build antiques: My goal in designing and shaping water walls has always been to develop systems of beauty that will be around and appreciated decades or even centuries from now. Not only are they built to the highest standards of quality – as are many antiques – but they're also meant to hold running water year after year.
I don't know who created the first water wall, but my best guess is that they've been produced in one form or another since the late 1960s or early '70s. I became aware of them in the early '80s, at which point a number of craftspeople were making them from stone, copper, and bronze.
Some of these products aspired to be works of sculptural art, but for the most part I thought that the medium's artistic potential hadn't been fully explored or expressed. My idea at the time was to expand the concept with respect to shapes, sizes, materials and styles. I also wanted to check into the possibilities of combining
The tale of a river is often told by the life within it, observes Hal Hagen, the one-time owner and operator of a fish hatchery who has since become a specialist in restoring natural waterways. Here, he explains his unique approach to a highly specialized form of watershaping – and discusses how understanding the way nature works in the wild can inform, enable and empower those seeking to replicate it in their man-made streams.

By Hal Hagen
I live in the Rocky Mountains of Colorado on the banks of the Arkansas River – a beautiful place and a beautiful river. Within easy reach of my home, the Arkansas flows swiftly in certain spaces, cascading over rugged terrain, then slows down in others to form deep pools that reflect brilliant skies and create a diversity of aquatic habitats.
As I watch the river flow, sometimes I can't help thinking back to my days at a trout hatchery and recognizing that if we'd had such a volume of moving water available to us in our operation, we could have produced millions more pounds of healthy fish. I'm simply amazed by the power and complexity of the water I watch, and especially by its ability to
Watershape designer and installer Rick Pendleton is passionate about using watershapes and landscapes in executing designs uniquely inspired by given settings and the personalities of his clients. In the project covered here, for example, he took a cue or two from the homeowners, borrowed a motif he found in the home's architecture and combined them with a top-flight approach to construction in delivering the unique look his clients craved.

By Rick Pendleton
For me, hitting the high notes in watershaping and landscape design is a product of careful observation, boundless imagination and detailed visualization. These factors drive the design process, after which I transition into the more practical phases of the project with reliable engineering and quality construction.
The early, creative phases can definitely be tricky, because they require many of my clients to take great leaps of faith, especially when what they're after is a highly customized environment – something truly unique.
In those cases, we know that we at Artisan Home Resorts (San Jose, Calif.) are asking clients to visualize something nobody's ever seen before: No matter how well we represent our ideas on paper or on a computer screen, the outcome will, to a certain degree, remain an abstraction until the everything is finished and working.
When everything finally comes together (as we believe it did in the project illustrated in this feature), a vision is realized and the payoff can be extremely rewarding, both for the clients and for those of us who worked hard to see the process through. Here as in few other projects we've done, however, even we weren't precisely sure how
Wave pools have become a mainstay of waterpark environments in the past four decades, providing visitors with a dynamic experience that once could be found only at ocean beaches. Here, Andy Tymiak of Whitewater West describes what makes these waves roll, reviewing basic wave-pool technology, system functions, vessel configurations and creative factors involved in designing and installing these spectacular, crowd-pleasing watershapes.

By Andy Tymiak
The idea that someone can enter a man-made body of water and go surfing is both exciting and a bit mind-boggling. Perhaps that's why, as is the case with many a good idea, there's more than one claimant to the distinction of having built the first-ever wave pool.
Most people in the know trace the origins of these vessels to the early 1970s, and I know for certain that we at Whitewater West jumped into the game early on: The company became involved in its first wave pool a year after opening its doors in 1982, and to date we've been involved in installing many of the hundreds of systems that now grace aquatic facilities across North America.
As waterparks work to distinguish themselves, wave pools have become more elaborate when it comes to both themes and aesthetics. In fact, in the 17 years I've been working on wave or surf pools for the company, I've seen these vessels grow dramatically both in popularity and in the level of the technologies and design details that make them
For more than three decades, industrial designer, educator and inventor Stephen Pevnick has quietly been producing the mind-bending systems he calls 'Graphical Waterfalls' – highly specialized watershapes in which letters, words and images are formed with remarkable clarity within fine sheets of falling water. He discusses this mesmerizing effect here and its role in capturing attention and conveying messages in unique and surprising ways.

By Stephen Pevnick
It comes as no shock that we remember things that surprise and fascinate us. Back in my days as a graduate student in fine arts, I was determined to exploit that very human tendency in creating nature-inspired artworks meant to evoke deep-seated memories and a personalized sense of déjà vu.
My first work along those lines involved creating a rail of ice with a central channel that carried heated air: The idea was to create a situation that reminded people of hot/cold experiences, such as the heat of a campfire on a cold night or the warmth of the sun atop a snow-capped mountain.
That project started me down a long path that eventually led me to create waterfall systems that use large quantities of precisely controlled droplets of water to "paint" kinetic graphics, logos and text – a concept I've continued to perfect through the past 30 years.
So far, these systems have mostly been used to display commercial messages at trade shows. It all makes sense: As deployed by exhibitors looking to amaze attendees (and by a handful of other high-profile commercial and public clients as well), the effect is meant to dominate a setting and attract maximum attention. To date, I've designed, programmed and installed more than 100 of these exhibits worldwide.
We've done some special events as well, including an installation seen by 24 million people who visited Atlanta's Centennial Park during the 1996 Olympics and, ten years later, another display celebrating the 60th anniversary of the coronation of
When it comes to listing the most extensive, ambitious uses of water in recreational settings, the resort property known as Atlantis, Paradise Island, Bahamas, should quickly come to mind. With its multiple swimming pools, waterslides, fountains and huge marine exhibits, the project took six years to complete, says the resort's aquatic sciences vice president Steve Kaiser, and is a magical experience for anyone who admires creative watershaping.

By Steve Kaiser
The resort opened in 1994 with completion of Phase I of a program that emerged once developer and entrepreneur Sol Kerzner bought the property from Merv Griffin in 1992. Phase II saw another round of construction that was opened to the public in 1998 – and ever since, Atlantis, Paradise Island, Bahamas, has been known around the world as a prime vacation spot for couples and families.
The original pre-1992 property consisted of three buildings that had been built about 30 years previously along with one swimming pool and 27 tennis courts. Today, the facility occupies about 70% of Paradise Island's 826 acres on the northern edge of Nassau and is the unabashed expression of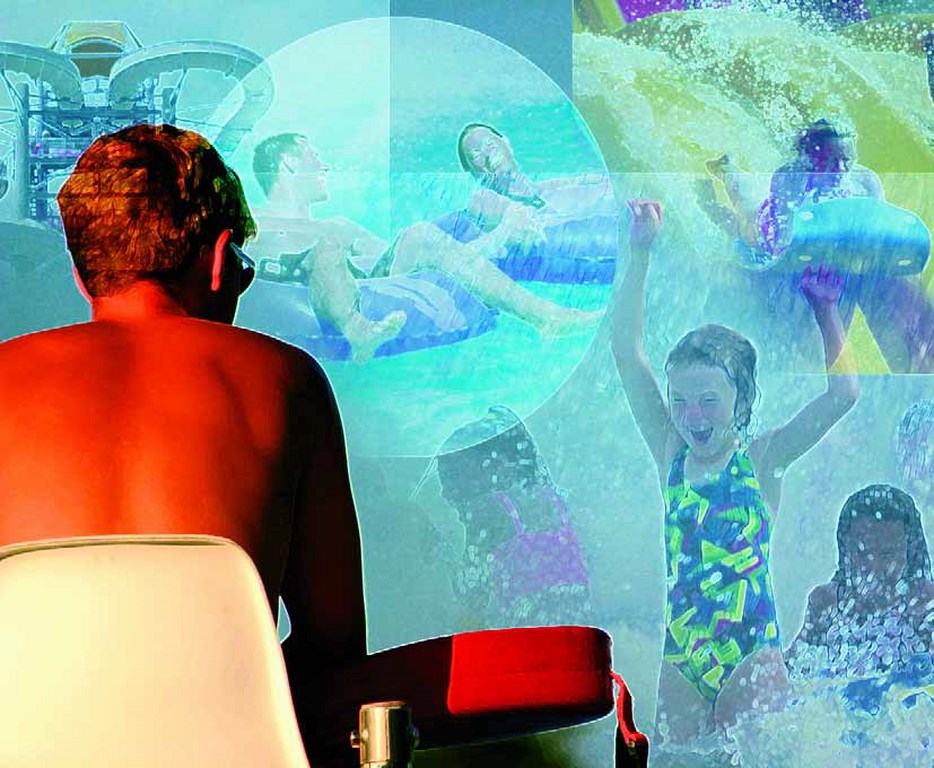 Waterpark design is typically about delivering the fun, comfort, safety and excitement guests have come to expect from these expansive aquatic playgrounds. Here, veteran theme-park lifeguard Brett Herman offers his deck-level perspective on key factors to be considered in making these environments work not only for the paying public, but also for the young people charged with the practicalities of managing these busy spaces.
By Brett Herman
On any given day in some spot around the globe, a waterpark will add some new feature or other or opens its doors for the very first time, and the design focus is always about developing systems and mechanisms that will lead to a strong popular response and increasing financial success.
If there's a fly in the ointment here, it's that these facilities are
Vera Katz Park was once just an empty sidewalk in Portland's Pearl District – up until landscape designer and sculptor Scott Murase transformed it into a vibrant urban 'sliver park' complete with a long watershape and other attractive amenities. The results of his endeavors are chronicled here, with an emphasis on a unique design process and his use of a creative editing approach that perfectly served the needs of this distinctly urban space.

By Scott Murase
Our involvement with Vera Katz Park started with a phone call from Alan Beard of GBD Architects, a firm that has been responsible for designing several signature buildings in Portland, Ore.
The project at hand was the complex renovation and transformation of the city's National Guard Armory into a modern theater and the new home of the Portland Center Stage Theater Company. After an energetic interview process, we were selected to design the site's landscape.
We were enthusiastic about the project from the start. The sidewalk area we were designing is an integral part of the redevelopment of what's known as the Pearl District, a former industrial area now being revitalized with mixed-use buildings and high-rise developments. At 200 feet long by 20 feet wide, the space presented an interesting design challenge in an area much in need of parks and public places.
The city's goal is to establish pedestrian connections throughout the neighborhood while creating a sense of community within the district. For our part, we saw the site, which was to be named in honor of former Portland mayor Vera Katz, a devoted supporter of the arts who had been instrumental in the repurposing of the Armory Building, as an opportunity to create a
Nature is his favorite source, says inventor David Whiteis, when he seeks ideas for new designs. He was so fascinated by his observation of whales' and dolphins' ability to generate perfectly circular rings of bubbles using their blowholes, for example, that he felt compelled to replicate the trick. It took some doing, but he eventually developed a few simple mechanisms that reproduce these hypnotic rings, consistently and repeatedly.

By David Whiteis
People have known about bubble rings for a long time: Dolphins and whales make them with their blowholes, and a great many humans have taught themselves to make them underwater using their mouths.
I'm one of those humans and have known how to make them since childhood: Back when my mother would send all of us kids down to the community pool, I figured out how to blow the equivalent of a smoke ring underwater. Later on, I decided to invent a device that would do the same thing so that other swimmers could enjoy the rings without learning how to generate them.
A bubble ring is basically a doughnut-shaped pocket of air, moving upwards in a body of water. The air inside a bubble ring spins as it travels through the water – not like a spinning plate, but rather the way a bead bracelet rolls on your arm. (Smoke in a smoke ring spins in this same way.) As bubble rings rise, their circumference widens and the rings
In December 2004, WaterShapes introduced 'The Platinum Standard,' a registry of projects that embodies watershaping at its finest. Now, as part of our celebration of the magazine's 100th Issue, Eric Herman offers 'The Platinum Standard II,' a fresh set of 20 projects that have graced the pages of the magazine in the past three-and-a-half years – projects that demonstrate clearly that watershaping has become an art form in its own right.
Michael Batchelor
Andrey Berezowsky
SWON Design
Montreal, Quebec, Canada
The artists at SWON Design specialize in bold, innovative compositions that combine light, glass and water. In the case of this beautiful vanishing-edge pool, their passion emerged in the form of a unique glass-and-stone waterwall that looms over one end of the structure. Here, a glass surface consisting of 77 tessellated panels inset into the wall is flooded by sheets of water that become fracturing lenses through which colors, light and motion are perceived in ever-changing arrays.
In December 2004, WaterShapes introduced 'The Platinum Standard,' a registry of projects that embodies watershaping at its finest. Now, as part of our celebration of the magazine's 100th Issue, Eric Herman offers 'The Platinum Standard II,' a fresh set of 20 projects that have graced the pages of the magazine in the past three-and-a-half years – projects that demonstrate clearly that watershaping has become an art form in its own right.
David Wooten
Captured Sea
Anaheim, Calif.
Presented by Eric Herman

The Getty Villa in Malibu, Calif., is one of the world's great repositories of Greek, Etruscan and Roman antiquities. Founded and sustained by tycoon J. Paul Getty, the facility underwent a decade-long renovation during which its watershapes were restored, updated, refined or in some cases newly built by the fountain designers at Captured Sea. The result is an expression of water and architecture that transports visitors to a faraway time and place and will inspire visitors for generations to come.