Water that dances in time to music has come to shape the pinnacle of architectural fountain design in recent years, and for good reason: The results can be utterly spectacular. In this article, fountain designers Ken Martin and Gerald Tester take a look inside this technology while profiling a musical fountain they recently installed in White Plains, N.Y., where tuneful sprays have quickly turned a small urban park into an invigorating cultural hub.

By Ken Martin & Gerald Tester
At a time when scores of American cities are still looking for ways to revive the faded glory of their urban cores, possible approaches are as visionary (and numerous) as can be. The process has resulted in new parks, major redevelopment, architectural restorations and a long list of other solutions – including the unique watershape commissioned by the city of White Plains, N.Y.
A town with 54,000 full-time residents whose population swells to more than 200,000 during the day when office workers, shoppers and visitors come calling, White Plains made the decision to invest $4.5 million of public and private grant money in resurrecting a small downtown park.
Appropriately named Renaissance Plaza, the park surrounds a state-of-the-art musical fountain unveiled in October 2003 for the specific purpose of luring people back to the downtown area – and it has worked. In fact, the plaza has become such a hub of activity that nearly 1,700 units of new residential housing are now under construction in its downtown neighborhood.
URBAN OBJECTIVE
First settled by British colonists who bought it from the Mohican tribe in 1683, this historically rich city located 25 miles north of Manhattan has truly been reborn, and it's with no small measure of
Late in 2003, landscape architect and watershaper Mark Holden set out on a personal mission to document some of Italy's most beautiful watershapes. From Rome to Venice, he observed glorious uses of water in courtyards and plazas filled with great artwork and beautiful architecture – and in this article takes us on a guided tour of some of those spaces with a discussion of how the work of these past masters still influences today's watershapes.

By Mark Holden
Have you ever wondered why watershapes are at the heart of so many venerable courtyards and plazas?
In a modern context, we might start answering that question by thinking about the natural human fascination and connection with water and then conclude that, like us, those who built the public spaces of ancient Mesopotamia or Athens or Rome simply liked being in the presence of water for emotional and spiritual reasons.
But the truth behind the prominent role of water in these spaces isn't as romantic as all that. Indeed, there's
Code requirements for public pools and spas are well established in most jurisdictions, but specific guidelines governing the creation of decorative watershapes are far less widely developed, notes fountain specialist Dominic Shaw. Having spent a career designing and building high-end fountains here and abroad, he has grappled with the fragmented state of fountain-related codes and offers a personal guide to keeping things straight.

By Dominic Shaw
Composition of this article began with an e-mail I received a while ago from a colleague working in Australia. "What," he asked, "is the maximum allowable depth for a fountain in the United States?" As simple as it sounded, when I took the time to research the issue I found that there was a noticeable lack of definition.
I took the next logical step and called various people I know in the watershaping industry and asked them the same question. Surprisingly enough, nobody could point me to any code, regulation or standard that defined what depth a waterfeature's pool could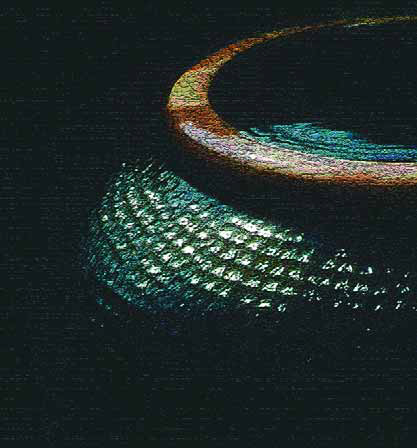 By David Tisherman
It's unusual to think of such a wonderfully decorative watershape in this way, but the one featured in this edition of "Details" was the result of a client's desire for a measure of safety for the front of his home.
The house is located on an intersection in a hilly part of Manhattan Beach, Calif., where the steep, downhill orientation of the streets occasionally lead cars to make turns at unwisely high speeds. Given the orientation of his front door, my client was concerned that, with a bit of very bad luck, he might someday find an out-of-control-driver's car in his foyer.
As is the case with many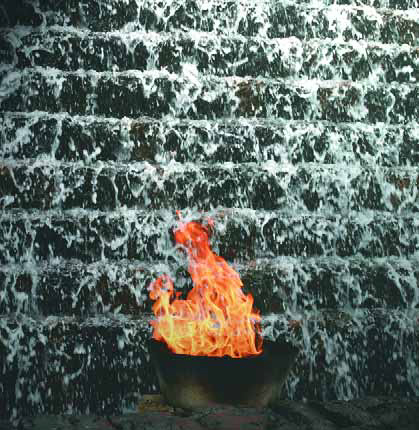 By Brian Van Bower
As watershape designs become ever more creative and adventurous, there's an increased need to help clients and other project participants visualize our plans.
Indeed, presentation is a topic of great importance these days for designers from both the pool/spa industry and the landscape trades, so much so that it's become a fixture on educational calendars and one of the cornerstones of the Genesis 3 curriculum. What has everyone excited about upgrading the way they present their ideas is that there are various good ways to get the job done.
To be sure, having the ability to draw is a tremendous asset – some would say an absolute necessity – but fortunately for those who are
Dedicated in 2001, the D-Day Memorial in Bedford, Va., stands as a solemn commemoration of the sacrifices made by the U.S. and allied troops who landed on the beaches of Normandy in June 1944. At the center of the memorial stands a striking watershape – designed and installed by fountain specialist Jon Mitovich and the staff at Roman Fountains – that captures the spirit of the battlefield and serves as a haunting place of remembrance.

By Jon Mitovich
June 6, 1944, was a cold, dark, cloudy day along the northern coast of France.
When the Higgins boats carrying allied troops slapped their gangways into the cold sea 60 years ago this month and released their human cargo onto the beach, withering machine gun fire greeted the soldiers from German bunkers high above the beach. Before the day was over, 6,603 Americans had lost their lives in what became known as D-Day – the start of the allied invasion of Nazi-occupied Europe.
When planning started for a National D-Day Memorial to be built in Bedford, Va., the project's
Once the site of an abandoned sewage plant, Jambalaya Park in Gonzalez, La., stands as testimony to just how ambitious a renovation project can be – and of how tangled the path to success sometimes becomes. As watershaper and watergarden specialist Les Ewen reports, the first attempt at installing the park's fountain and Koi pond ended in a shambles, at which point he and his staff stepped in to put the city's plans for the park back on track.

By Les Ewen
Truly a large-scale project full of unique technical challenges in an unusual and important civic setting, the renovation of the watershapes at Jambalaya Park in Gonzalez, La., is easily the most unusual project our firm has ever tackled.
The park covers seven beautifully wooded acres in an older section of town that's mostly residential but sits directly behind City Hall and several other smaller civic buildings. It takes its name from the fact that the city is known as the world's "Jambalaya Capital" and annually hosts a week-long festival celebrating the Cajun stew that has become a star in the
Working on historic fountains is a specialty that calls for sensitivity to the original designers' intentions as well as a capacity to integrate modern ideas, say Kerry Friedman of Hydro Dramatics and fountain consultant Mike Perkowski. As cases in point, they report here on projects for two facilities in St. Louis' Forest Park – the restoration and augmentation of large fountains in the Grand Basin and the addition of a small pool and jets in the Jewel Box.

By Kerry Friedman & Mike Perkowski
To residents of St. Louis, Forest Park is a civic treasure on the order of New York's Central Park – which, locals are quick to point out, is smaller than their favorite park by 500 acres. Established in 1876 at the heart of the city, Forest Park has a similarly grand and glorious history, including service as the site of the renowned 1904 Louisiana Purchase Exposition & World's Fair, which drew more than 20 million visitors from across the globe.
Through the years, the park's 1,370 acres have become "home" to such major attractions as the world-famous Saint Louis Zoo as well as the city's art museum, science center, planetarium, history museum and The Muny, the nation's largest outdoor theatre. Forest Park is also home to the
Through 35 years of creating watershapes ranging from small fountains to large waterfalls and streams, landscape artist Frederick L. Gregory always sought to harmonize the primordial splendors of nature with current times and settings. Today, he sculpts granite and creates his harmonies by deftly merging the asymmetry of the Japanese garden with the sensual abstractions of tropical Brazilian landscapes in compositions that often involve the mesmerizing qualities of water.

By Frederick L. Gregory
Creating granite waterfeatures is not unlike the delicacy of deep-water yacht racing: Racing big boats across the open sea requires intuitive sense in harnessing the raw powers of nature, much as do the creative insights needed to take raw monoliths from quarry walls and produce elegant expressions that reflect our primal essence.

Both endeavors must gracefully balance the unbridled forces of nature. In yacht racing, wind and waves must be brought into harmony with a yacht's unique rigging and sails by its skipper and crew. With granite waterfeatures, an innate sense of harmonic balance must be struck between granite and/or water, the landscape and the human observer's ability to appreciate solemnity.
In my case, these harmonies have consistently been found in asymmetry. Indeed, I've come to feel confident with the premise that people are, knowingly or not, drawn to the asymmetrical balances they see in nature. I also see both art and architecture as skillful reflections and expressions of what we have observed in nature from time immemorial.
To that end, I try to create works that draw their form and spirit from the intuitive balance of asymmetry. Whether sculpting a landscape, setting stones in a rock garden or
On a busy corner in downtown Palm Springs, Calif., stands an unusual sculpture that artfully moves water through the hot desert air. The work of New York sculptor David Curt Morris, 'The Rainmaker' was commissioned by community leaders who hoped the fountain would become a landmark celebrating the life-giving power of water in the driest of climates while providing passersby with a place to cool off, relax and play.

By David Curt Morris
In 1997, the City of Palm Springs Arts Commission held a national competition for a sculpture to be placed in a prominent public space, the Frances Stevens Park. I was intrigued by the site's high visibility – and by the fact that the California city wanted a sculpture that used water in a desert setting.
Working from my studio on the East Coast, I put together an initial proposal that included a number of ideas – provocative to me, but not yet fine-tuned.
It wasn't until I actually visited the site in Round Two of the selection process that I knew just how perfect a setting was being offered – a wide-open space in the center of town, ringed by tall palm trees and low-lying buildings with the stunning
When it was decided to upgrade the children's play area in Boston Common, Copley Wolff Design Group was called in to reshape a space that not only needed to serve the needs of a diverse population, but also had to fit within historic surroundings. This was no small challenge, say landscape architects Lynn Wolff and John Copley, but the resulting Tadpole Playground now charms children (and their parents) with whimsy, art and water.

By Lynn Wolff & John Copley
Founded in 1634, Boston Common is the oldest public park in America – a significant and historic public place. It is familiar to us as Bostonians, of course, but we've also been privileged as a firm to have worked there before, when we renovated the park's main watershape, the Frog Pond, to serve as a splash pool in summer and as an ice-skating rink in winter.
During the pond renovation, we learned that tackling projects in such storied surroundings can be a tall order. For example, we had to place all of the pond's chillers and pumping equipment underground to mask any obvious intrusion on the 17th-century space. As we approached a second major project – this time the renovation of the park's playground – we knew going in that those who hired us were keenly sensitive to the nature of the place and came armed with preconceptions about colors, images and what would be "appropriate" for the setting.
To keep things moving, we worked very closely with the city's Historic Commission in establishing the color palette, procuring artwork and developing an overall plan that would result in a space that was attractive and safe for children and suited to the surroundings. To be sure, the negotiations were intense as we
Encompassing a wide spectrum of artistic styles and making statements that range from the modest to the magnificent, the fountains of Kansas City are so tightly woven into the urban fabric that the town is justly known as 'The City of Fountains.' Here, watershaper and Kansas City resident Curt Straub pays tribute to a tradition of fountain-craft that has shaped so many public spaces of his city – and defined a community's pride. (Photo courtesy City of Fountains Foundation, Kansas City, Mo.)

By Curt Straub
Kansas City, Missouri, proudly calls itself "The City of Fountains," and it comes by the title legitimately. In fact, more than 150 public fountains grace its plazas, boulevards, parks and public buildings, and the community has long held to a tradition of creative use of moving water and sculpture in developing its public spaces.
As a resident of the city, I get a sense of civic history and our collective self-image as I look at these fountains. As a watershaper, I take additional pride in the variety of forms and styles I see and in the course of technological development that has lifted fountains to new heights of
Read more: Shaped in the Heartland
As the popularity of interactive watershapes continues to grow, more and more architects, aquatic designers, home and resort developers, city officials and others are recognizing their value to communities. Indeed, says Stephen Hamelin, founder of Vortex Aquatic Structures, working with these exciting manifestations of aquatic fun is a positive experience at every level, especially given the opportunities they offer to help children learn through play.

By Stephen Hamelin
Fifteen years ago, aquatic play attractions were found mainly in commercial waterparks in the form of large, multi-level, themed structures. Some smaller elements were found in the shallow ends of swimming pools, but they were generally limited to a few play apparatuses such as water umbrellas.
Much has changed in recent years, and aquatic play systems are now featured in a greater variety of settings including city parks, recreation centers, resorts and a range of other recreational spaces. This trend did not burst forth overnight: For more than ten years, our firm and others have been helping things along by focusing attention on the value of concepts related to zero-depth aquatic play.
We at Vortex Aquatic Structures in Montreal, for example, have designed our "Splashpads" to bring the joy and recreational value of aquatic play to almost any space. Among our objectives is bringing a measure of the commercial waterpark experience to places such as neighborhood parks, housing developments, campgrounds and other facilities, thereby allowing everyone within a community to experience