When Jim Wilder approaches a fountain project, his knowledge of basic hydraulics tells him to rely on balance and lay out his systems accordingly. But he also knows how difficult it can be to resist a bit of performance-ensuring overkill -- even when he knows better.

By Jim Wilder
No matter where you turn these days, you'll find watershaping experts preaching the gospel of balanced hydraulics. In class after class, text after text, they all say that if you do exactly the same thing on one side of a tee as you do on the other, you will get the same flow on both side of that tee.
If, for example, two main drains are connected to a single tee with pipes of the same length and diameter and the same fittings, those drains will both draw equal amounts of
More than 25 years ago, even before he was a watershaper, Jim Wilder came across a fountain puzzle he couldn't solve. Since then, he's figured it out -- and shares his observations of a neat effect here.

By Jim Wilder
Water in the open basins that commonly surround fountain jets or nozzles is never tranquil while these systems are in operation. It will slosh around in response to the upward thrust of those jets or nozzles as well as the splashing the rising water makes as it drops back into the basin. If the circumstances are right, this disruptive splashing will produce waves in a distinct, consistent pattern. By exploiting these waves, it's possible to produce an effect I find
When the city of Denver decided to revitalize an old downtown neighborhood by bringing its historic train station back to life, reports Karen Van Heukelem, she and her colleagues at Colorado Hardscapes were ready to pitch in on several levels. They did lots of work that's buried underground, she notes, but the evidence their sub-grade craftsmanship shines forth on deck in the form of a wonderful leaping-jet waterfeature.

By Karen Van Heukelem

In recent years, cities across the United States have found that restoring their old train stations is a great way to attract people and commerce to downtown districts that have seen better days. These revitalization projects have picked up the pace in cities from Washington, D.C., to Los Angeles, and they seem to work best when old, original functions are preserved and mixed in with the new.

That's precisely the direction that redevelopment of Denver's historic Union Station has taken: The classic, Beaux Arts-style building, which opened in 1914, lost almost all of the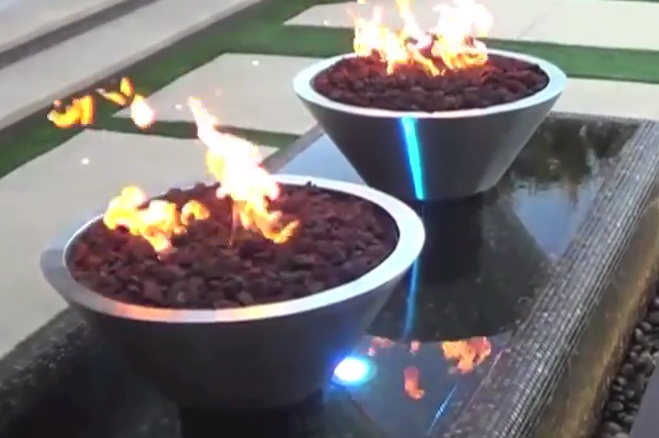 By Mike Farley
In my experience, watershapers have a tendency to focus a bit too narrowly on one or another aspect of the craft – some on pools and spas, others on ponds or fountains. You get the idea: In speaking with clients, there's an inclination to play to one's strongest cards – and I think that can be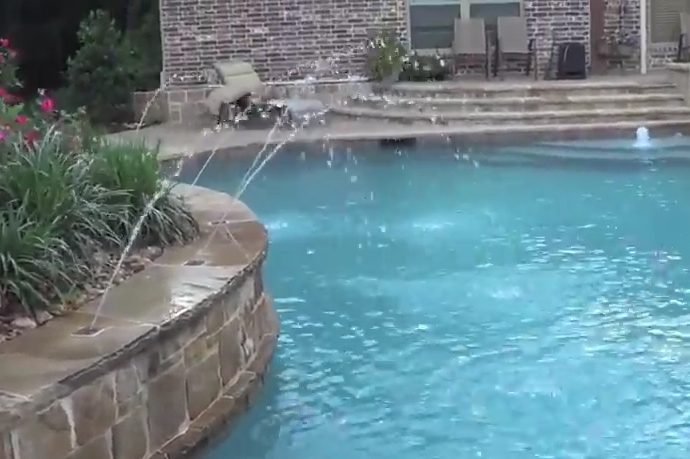 By Mike Farley

These days, it seems like just about every homeowner wants to get something special with their pools and spas. More often than not, that means some form of water in transit, whether it's a cool spillway, a vanishing edge, a bubbler on a thermal shelf – or, as in the case highlighted here, some sort of jet that will
Working fast on a major art installation with a need for secrecy: That was the challenge the client presented to Bryan Weber and his staff in designing and building two reflecting pools that were to raise 'Sky Mirror' to a position of prominence in front of a major sports stadium, and it is one they met by collaborating with trusted partners and opening channels of communication that turned a potential minefield into a pathway toward success.

By Bryan Weber & Eric Cooper
Consider this scenario:
A company you've worked with in the past calls your firm in to work on a project. You're told the setting is magnificent: You'll be working with a huge sculpture in the most prominent position in front of one of the most renowned sports stadiums on the planet – all of this in a city that prides itself on brilliant architecture.
The job is yours, but here's the thing: The client is the wife of Jerry Jones, owner of the Dallas Cowboys, and he's not supposed to know what's really going on out front of his own stadium until an unveiling ceremony scheduled for his birthday.
And it gets better: The call comes at the end of April and the unveiling ceremony will take place in October. To say it's a fast-track project would be putting it mildly.
Once the design was finalized, we were to have ten weeks to turn approximately a million and a half pounds of concrete, steel and stone into a working fountain. And along the way, the stadium was to host a range of events – a Monster Truck Jam, a FIFA World Cup Soccer qualifying match, a Professional
Tackling a major fountain project in a significant public space is nothing new to Jon Mitovich and the staff at Roman Fountains – but getting it done at breakneck speed? That, he says, brought out something special in everyone who participated in designing, engineering and building the reflecting pools intended to set off a key sculptural addition to the front of Dallas' AT&T Stadium.

By Jon Mitovich
Some projects carry obvious prestige, and this is one of them: The pair of reflecting pools and the sculpture that rises above them stand in front of AT&T Stadium in Arlington, Texas – home to the Dallas Cowboys and, several times a year, host to nationally televised football games.
But certain of these prestige projects take on extra dimensions – and this was one of them, too: The mirror-finished dish that surmounts the watershapes
On paper, reports Ben Dixon, the design fired everyone's imagination by taking a garden-variety, linear waterfall and enhancing the visual effect with a set of serpentine twists and turns. But making that effect work on site was a different matter – one that called for ingenuity on the part of the construction crew as well as the waterfall system's supplier.

By Ben Dixon
This waterfall could've been built in either of two ways: A system of internal reservoirs and a long, narrow nozzle could've been formed as part of the structure itself, a task that would've placed huge burdens on the forming crew and the person shooting the gunite; or a manufactured fixture could be used to create the desired effect.
Sensibly, the folks at Tango Pools in Las Vegas chose to pursue the latter option, deciding it would be better to
You see them more and more often these days: Streams of water leaping from beneath paved walkways or plazas in a display that adds drama, beauty and interactive fun to any public space. In this feature, system designer and manufacturer Jon Mitovich shows how these projects, known as 'dry-deck' fountains, come together as projects and how their very special effects are achieved.

By Jon Mitovich
It was one of those projects where aesthetics, technology, function and history all came together.
Installed on a pier on the waterfront in Hoboken, N.J., right across the river from the Manhattan skyline, the dry-deck fountain pictured on these pages was part of a civic development movement aimed at creating new public areas on both the New York and New Jersey shores.
Our company, Roman Fountains of Albuquerque, N.M., first became involved in the project in 1996, when we
Water doesn't typically fly through the air with the greatest of ease. Indeed, multitudes of environmental factors influence it along the way, making its behavior unpredictable and offering real challenges to engineers who want to create consistent visual and aesthetic effects. But when it comes to extending laminar flows, says fountain designer Paul L'Heureux, things that couldn't be accomplished a few years back are now within reach – even in backyards.

By Paul L'Heureux
Through all the centuries of watershape design, the laws of physics have imposed restrictions on the watershaper's ability to extend a laminar flow of sheeting water beyond a drop of five or six feet. Go much beyond that limit and the sheet breaks up, thus impairing the aesthetic effect, causing an annoying degree of splashing and generating an abundance of undesirable, monotonous noise.
Those physical laws have been seriously bent in public spaces in recent times. Indeed, special weirs and nozzles have made it possible to achieve laminar flows of 12 feet or more. Up until now, the solutions employed to achieve these effects have usually been beyond the budget of smaller commercial projects or residential clients – but that's changing.
At my firm, Crystal Fountains, we've long been studying the phenomenon of falling water with an eye toward maximizing the surface tension of water and thereby extending the "laminar" effect without breaking the bank. We've had the luxury of working on some high-end projects that enabled us to perform the research and development necessary to do that stretching.
By adapting some of the design ideas we
As watershaping moves toward new creative frontiers, the trade is approaching a point where it's tough to set a boundary between craft and art. One who clearly has crossed the line into fine art is modernist sculptor Barton Rubenstein, who uses water to create a range of intriguing aesthetic experiences. They might not look like other watershapes, but he insists that the physical and aesthetic principles he applies are all quite familiar.

By Barton Rubenstein
It's an age-old paradox, this relationship between art and science. On the face of it, things artistic may seem solely the realm of high-flying thinkers and philosophers who spend their days at the far reaches of interpretation and meaning. By contrast, engineers and scientists would seem to be dealing purely in the certainties of what is quantifiable and real.
The truth is, I don't know of a modern art form that doesn't involve technology of some kind. Conversely, most branches of modern science call upon researchers to apply a great deal of intuition and creativity to the processes of exploration and discovery. In other words, neither the arts nor the sciences could exist without ideas and disciplines derived from the other.
That's especially true when it comes to water systems. Whether created for aesthetic or recreational purposes, art and science can come together here in a particularly compelling and interesting way. By combining technical disciplines with
The health and welfare of a typical pond or lake depends on a long list of factors – not the least of which, says engineer Erich Altvater, is proper aeration. If you get it right, he says, you can improve water quality; miss the mark, however, and many man-made ponds or lakes will fall into an unwelcome balance. Here, he explains what it takes to understand the water's needs and guide clients to the proper aerating system.

By Erich Altwater
As the watershaping industry gets more involved with naturalistic bodies of water – particularly large ponds, lakes and streams intended to harbor life in the forms of aquatic plants and fish – it becomes increasingly worthwhile to understand the important role of proper aeration.
Aeration is a simple process involving the injection of dissolved oxygen (DO) into water. Nature aerates by way of things such as waterfalls and rain – activities we must imitate by mechanical means in our man-made settings if fish are to be healthy and a host of water-quality problems are
Even under favorable circumstances, installing watershapes beyond the borders of your own country can offer formidable challenges. For his Canada-based fountain company, says Paul L'Heureux, success in establishing effective communications, eliminating wasteful snags and performing up to clients' expectations means following a clearly defined process – one that keeps his team and its work on track from start to finish, around the globe.

By Paul L'Heureux
It's a fact: Creating large watershapes for international clients is enough to send a project team's stress levels off the charts.
You start with all the usual pressures of time, money and prestige that go along with performing on the global level. Then there are cultural differences, not to mention local environmental concerns having to do with water usage. And these factors can give you trouble even when you think you know what you're getting yourself into.
Through the years, our company has learned many lessons about the importance of accommodating the cultural and economic overtones of what we do. From our base in Toronto, Crystal Fountains pursues projects the world over and always strives to