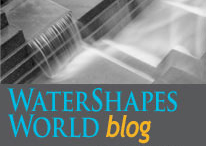 By Jim McCloskey
Something has been nagging at the edges of my consciousness for a while now, and I think it's high time to write about it.
One of my duties for the past several years has been to roam the Internet to find stories related to pools and all sorts of other watershapes and decide whether a given item merits your attention. From the start, I noticed but did not share a whole class of items related to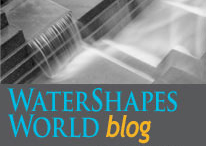 By Jim McCloskey
I came across this news item a couple weeks back and have wanted to share it with you ever since.
Written by Suzanne Perez Tobias for the May 24 edition of the Wichita Eagle, it's about one person's response to the Kansas legislature's decision to prevent the state's needy citizens from using any public assistance money to go to public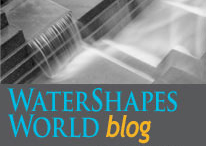 By Jim McCloskey
You've all been peppered by my emails in recent weeks, and I'm sorry for that. But I think that letting you know about the WaterShapes Professional Network is important enough to burden you with a few special messages – including this one.
So far, the most frequently asked questions have had to do with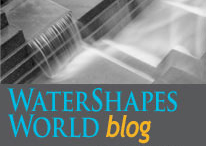 By Jim McCloskey
I can't begin to count the number of times our watershaping writers have explored the topic of travel, either as the source of clearer thinking or for the inspirational value of seeing how others have addressed specific design, engineering or construction challenges – or how Mother Nature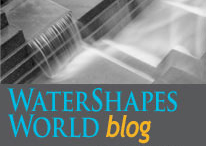 By Jim McCloskey
The process of selling off back issues of WaterShapes has been a sentimental journey for me, and I know it's going to become even more so when the recycling truck shows up on June 1 to clear away all of the unclaimed copies: I love those printed relics with all my heart, and I hope I'll be packing lots of them up in the next few days and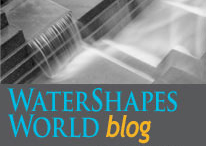 By Jim McCloskey
Every time there's an earthquake in any populated place on the planet, my heart and thoughts go out to those who made it through the experience and to the families and friends of those who didn't. The recent deadly quake in Nepal is another in a long line of seismic events that trigger memories of my own experiences when the ground has started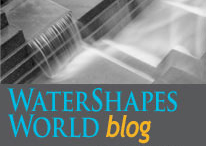 By Jim McCloskey
Many years ago, a gentleman by the name of Jack McNairy said something during a meeting of the National Spa & Pool Institute's Board of Directors that has always stuck with me.
It was in the late 1980s or very early '90s, when Jack was running his distribution business in Texas and also publishing a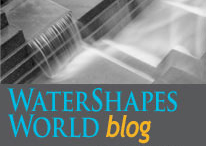 By Jim McCloskey
I spend a lot of time wandering around the web looking for information to share with followers of WaterShapes.com's "Around the Internet" and "Aquatic Health, Fitness & Safety" sections and of the "The WaterShapes Web Café" feature that appear in each edition of the WaterShapes newsletter.
This browsing can be fun and entertaining, but there's also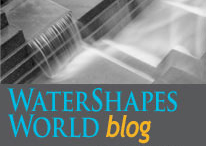 By Jim McCloskey
Given what I do for a living, it's fortunate that I have a deep and abiding love of water. I enjoy being in, on and near it. I even like water in the forms of mist and fog.
I must declare, however, that living in the Pacific Northwest for more than three years in the early 1980s put me off a similar love of rain and, more specifically, led me to loathe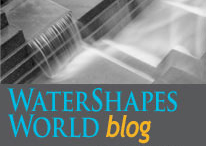 By Jim McCloskey
It's attention-getting, so it's easy to figure out why it's done. But in this case, my feeling is that just because it can be done doesn't mean it should be done.
What I'm agitated about here is the peculiarly popular practice of coloring fountain water to commemorate special dates or events. You know what I mean: Think about all those fountains dyed red for Valentine's
Read more: Color Me Unimpressed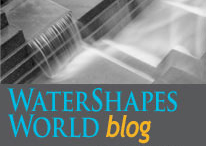 By Jim McCloskey
For the past six years – ever since that fateful day in the spring of 2009 when I decided that my offsite storage space was far too inconvenient to be worth the monthly cost – I've been surrounded in my office by floor-to-rafters shelving stacked with back issues of WaterShapes.
I love the old magazines, and despite the fact everything we ever printed is now easily available online, I still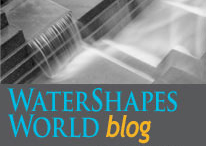 By Jim McCloskey
Among the many things I like about working on WaterShapes.com and its companion digital newsletter is the opportunity it has given me to write.
Back when I was with Pool & Spa News, I wrote opening editorials in just about every issue for nine years. That kept the engine going, but I wouldn't exactly describe the "Reflections" I wrote there as either free-wheeling or exactly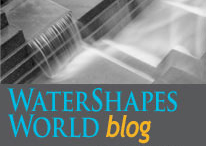 By Jim McCloskey
I spend a lot of time looking at watershapes: Big and small, elaborate and simple, recreational and decorative, calm and eruptive, distant and interactive. In too many ways to count, they're so much nicer now than when WaterShapes started paying attention to them 16 years ago.
I think back to a time when I was an occasional