It was a Mid-Century Modern home that needed the right poolscape: That task was well within Kurt Kraisinger's design sweet spot, and he responded with a dramatic, low-slung vision complete with a fire feature, broad decks and a pizza oven -- not to mention a big, blue duck.

By Kurt Kraisinger
It definitely helps to have a good reputation within the local design community.
In this case, an architect I've known for years and have worked with on numerous occasions – someone with whom I've gotten so familiar with on the job site that we've become good friends – called me in to meet clients who needed help beyond the work he was doing on their house.
He thought we'd be a good fit, and he was right: From our first meeting, the clients and I
Some clients want all the benefits of a manufactured spa to go along with their inground pools. As Dave Hoffman explains here, there's a ready-made option for these folks, one that's easy to design into a poolscape so long as you keep a few basic practicalities in mind.

By Dave Hoffman
I'd hazard the guess that most experienced pool designers and builders have run into this scenario: The clients want a pool, and they also want a spa – but not just any spa will do.
Through the years, these clients have been in the attached spas of friends' inground concrete pools, but this is not what they want. That's because they've also experienced portable spas and prefer their performance: superior jet action, diverse seating arrays and options, more features and
To win this backyard project in competition with three big Atlanta architecture firms, Shane LeBlanc had to call on his eye for grand-scale details in creating a delightfully asymmetrical poolscape -- one that looks polished, inviting and fun from every conceivable angle.

By Shane LeBlanc
Sometimes, things come together in just the right way.
I'd been called in to a multimillion-dollar property with a large, three-year-old house on it, right next to the Chattahoochee River on the northwestern fringe of Atlanta. There was an existing pool, but the homeowners wanted something new – a composition that befitted the home's elegance and said more about
Through the years, Brian Davis has been asked to try all sorts of 'wonder products' -- a process that has made him so skeptical that he tests almost everything he sees. As he discusses here, that included a thermo-polymer option to Portland cement-based pool finishes.

By Brian Davis
As a general contractor, I am steadily bombarded by information about new products that claim they will forever change the way I look at whatever category the novel gizmo occupies. This sort of marketing has turned me into a skeptic whenever I see something new come along, basically because experience and communication with other contractors have showed me that few of these novelties ever fully live up to the hype.
Some contractors respond to this slippery situation by sticking solely with what they know, which, in my view, is
When it comes to refining the way mosaic tile projects come together, says Jimmy Reed, there's no substitute for persistence in working on intersections where surface planes flow into one another. It takes patience, he adds, and a crew trained to pursue visual perfection.

By Jimmy Reed
Through many years of applying small pieces of tile to the complex sorts of surfaces found in pools, spas and other waterfeatures, I find most of the challenges (and opportunities) come in figuring out intersections – that is, places where planes meet, contours change and, in general, a whole lot of attention needs to be paid to getting things just right visually.
We at Rock Solid Tile (Calabasas, Calif.) have been fortunate to find ourselves involved in many projects in which
Colored plaster and aggregate finishes are found in more and more watershapes these days. But as Que Hales, Doug Latta and Kim Skinner discuss, not all pigments are created equal -- and knowing how to choose among the options can be the key to a project's success.

By Que Hales, Doug Latta & Kim Skinner
There are few things prettier than the classic sky blue that results from the combination of white plaster and clear water. In recent times, however, amazing and even startling colors and color combinations are appearing within swimming pools and other watershapes courtesy of either integrally colored plaster, white plaster paste coupled with colored aggregate or colored paste with a colored aggregate.
Various textures are also available courtesy of these finishes, with surfaces ranging from
The inside of the client's home reflected her refined style sense, but the outside, well, not so much. That led Kurt Kraisinger to pursue a path that transformed her humdrum suburban backyard into a sleek Contemporary showpiece -- one with a subtly nautical presence.

By Kurt Kraisinger
As a landscape architect, I generally approach projects with a balanced view of a space's potential. I weigh all of the possible elements in the prospective design, envisioning pools, spas, decking, lighting, shade structures and plantings as well as the flow from the inside of the home out into the backyard and the uses to which the homeowner intends to put the space.
Every once in a while, however, the unique features of
When Ian McGregor approaches a backyard project, he does all he can to embrace the entire environment. In doing so for this project, he created connections between existing indoor spaces and new outdoor rooms that echo familiar functions while injecting dashes of fun.

By Ian McGregor
The modern concept of "outdoor living" took hold a long time ago – the very first time a homeowner set up a barbecue grill somewhere near the backyard pool, then figured out a way to enjoy a family meal al fresco.
This sort of casual and mostly seasonal approach held on for decades, but approaches to outdoor living took a giant leap forward in the 1990s, when swimming pools started being joined in increasing numbers of backyards by
Beautiful glass tile can be the crowning touch for a great watershape. But if the budget's not really there, advises Paolo Benedetti, you should avoid the urge to cut corners with materials or installation to make it work: You'll only disappoint your client -- and hurt your bottom line.

By Paolo Benedetti
For quality watershapes, there's nothing like a finish made up of mosaic glass tile: The material has a great look and a spectacular texture, comes in amazing colors and offers a full range of visual effects, from complete transparency to shimmering iridescence. It's the perfect crowning touch for an outstanding project if the budget is right – and that's where the trouble often starts.
Through the years, I've inspected more than 40 projects in which
Encountering a backyard with a good bit of room but a super-wide easement, Tanr Ross dug deep to optimize the space for a pair of design-oriented clients. It took plenty of creativity to organize all the features, he says, but now it works -- both functionally and aesthetically.

By Tanr Ross
It's a small backyard with a Texas-size easement – and a good thing that I like challenges, because designing a project for this outdoors-loving family in Katy was an exercise in making a whole bunch of ideas fit comfortably within an unusually constrained space.
As we learned, their gated-community property is separated from the street directly behind it by a tall boundary wall. This meant that there was no backing parcel to share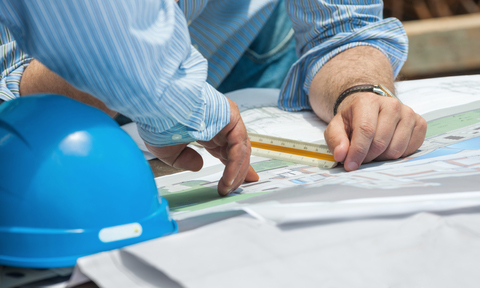 While he understands why some homeowners might think that acting as their own pool contractor is a good idea, Paolo Benedetti also knows it's likely to be a huge mistake. That's why he wants professional watershapers to get involved and be part of the solution.
When Jimmy Reed approaches intersections of planes in tile surfaces, he sizes up the situation and figures out ways to complete the transitions with polished visual dexterity. It's not easy work, but he knows that these deft touches turn the common into the awesome.

By Jimmy Reed
Even after years of operation in the tile-application business, we still find fresh challenges and new sources of pride in what we do. I think it's primarily because we spend so much of our time focusing on fine details – the little touches that turn routine work into creative exercises and repetitive tasks into ongoing sparks of inspiration.
A case in point is the huge job on display in this article: The three watershapes encompass vast square footage that includes fields of
Working at a distance is nothing new for Brian Van Bower, whose projects frequently carry him across the globe. But this one on a beach in Sri Lanka tested his limits, both in the scope and scale of the project and in the fact that it was all done without him ever visiting the site!

By Brian Van Bower
Working on a wide range of projects in a wide range of locales for a broad range of clients is an interesting way to make a living, I have to say, but in some cases the projects we participate in are so high end that we know we'll only ever experience the finished product in pictures.
A case in point is the Ani Villas, a resort property in Dikwella on the southern edge of Sri Lanka, a large island off the southern coast of India. It's a water lover's paradise, with 270-degree views of the Indian Ocean as well as grounds dotted by multiple watershapes: two large main pools, numerous small private plunges for certain guest rooms, a pair of pools for kids, a weeping wall to greet visitors and a river/cascade system through portions of the property.
It's an amazing place, and I'm proud to say we