You really can find opportunities in unexpected places, insists Mehrnoosh, a Los Angeles architect and designer who enjoys making refined aesthetic statements in previously plain suburban environments. To illustrate her point, she takes us to a project in a modest neighborhood to define how simple architectural and landscape elements – and water – can bring elegance and tranquility to otherwise overlooked and underappreciated spaces.

By Mehrnoosh
I've always been fascinated by the concept of urbanism as defined by Thomas Jefferson: He boiled it down to the notion that everyone should have his or her own private space as well as a buffer against the outside world.
In a sense, the physical concept of the front yard fits perfectly within Jefferson's utopian ideal. At root, it's an ingenious setup that has probably endured for so many centuries because, on some level, it addresses our primal need to have land all around us. By the very configuration of our residential spaces, we each have a small, open, pastoral area that separates the privacy and sanctity of the home from adjacent public areas, sidewalks and streets.
The problem is that in many modern cities and suburbs, the amount of room allocated for front yards in particular has dwindled as property values have soared and lots have become smaller and more tightly packed as a result. And when you combine that spatial shrinkage with the increased desire for safety and privacy on the part of many homeowners, it all works together to place ever-higher premiums on how we choose to make use of our small slices of front-yard land.
To my mind, this dynamic set of trends
The watershapes for the Smithsonian Institution's National Museum of the American Indian came with a high-minded design mission as well as a significant set of technical challenges. Here, design-team member Dominic Shaw surveys the history of the project, discussing the many details that make the watercourse and wetland area surrounding the newest facility on the Capitol Mall a fitting tribute to those the facility seeks to honor. (Photo by David Lloyd, courtesy EDAW, San Francisco)

By Dominic Shaw
Whether we function as designers or builders or both, we watershapers tend to be flexible folk: We mold ourselves to projects and situations and tasks when we're called on to apply our skills and experience, and this often leads us to perform in unanticipated ways. This sort of adaptability is a way of life for most of us: It's a talent we use to produce success.
But even the most adaptable practitioners of the watershaping arts will, every once in a while, encounter a project that shocks the system, alters all formulas and breaks down familiar parameters. In these rare cases, just surviving the process is an accomplishment that brings a sense of relief as well as a sense of amazement that both you and the project made it through to completion.
I was recently fortunate enough to be part of just such a project – a fascinating set of challenges now known as the Smithsonian Institution's National Museum of the American Indian in Washington, D.C. It's the last museum that will be
Watershaper David Garton has spent a career mastering the fine points of ponds, waterfalls and streams – skills he now teaches to others in the Denver area. Here, he leads us through a discussion of what he does to make his creations measure up to the real thing right down to the smallest details, giving significant nods along the way to the character of the settings and, as important, to clients and their future pride of ownership.

By David Garton
Every year, it seems, I'm asked to teach more and more classes on how to build streams, waterfalls and ponds that look natural.
I enjoy conducting these sessions for local supply houses, landscape architecture firms, community colleges and other organizations and find it flattering that they value what I know. My motivation for sharing, however, is less about ego gratification than it is about my awareness that there's no way a single company can build all of the naturalistic watershapes consumers want these days.
To me, it's a matter of collective as well as personal interest that these watershapes be built to function well and look great. In Colorado in particular, I also see a need for work that appears completely and distinctly natural, simply because most clients here are accustomed to seeing remarkable beauty in the countless alpine settings that grace this beautiful state.
Indeed, it's a fact of professional life here that the work must mimic nature closely or it just won't fly. That can be very good for business, of course, but only if more than a few professionals hereabouts are up to the challenge.
Available projects range from those that use thousands of
Taking great pride in crafting watershapes that are as natural in appearance as possible, pond/stream specialist Steve Sandalis has developed a systematic approach that always guides him in the right directions. A case in point is the project discussed here, in which a thousand tons of stone, hundreds of feet of liner and countless plants came together to create a setting so amazingly romantic that its owner changed his mind about how to put it to use.

By Steve Sandalis
It certainly doesn't happen very often, but sometimes the addition of a watershape can completely redefine the way a property is perceived.
In the case seen here, a nine-acre estate in the mountains above of Malibu, Calif., was zoned for agriculture. The owner's intention in buying it was quite appropriate: He wanted to turn it into a working vineyard brought to life visually by a big stream, pond and waterfall system.
Once the watershape took form, however, the owner was so inspired by what he saw that his vision for the property changed and he recast the place as a venue for weddings and other events that would be enhanced by the bucolic, utterly romantic surroundings. In a very direct way, in other words, the watershapes served to increase both the aesthetic and financial value of the property.
I'm a romantic at heart, so the notion that the work on display here will be a backdrop for special, memorable occasions has made the big, complicated project even more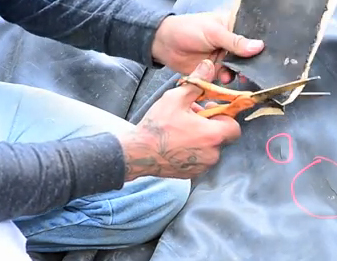 By Eric Triplett
In any given project, it's almost certain that we'll figure out a new way to nick or tear some spot on the 45-mil EPDM liners we use in our ponds. Sometimes it's a sharp edge on a heavy boulder we're jockeying into place; other times it's the random sort of harm to be done by shovel blades, knives, screwdrivers, awls and other tools you can't get away from on a job site.
The great thing about EPDM liners is that repairing nicks and cuts is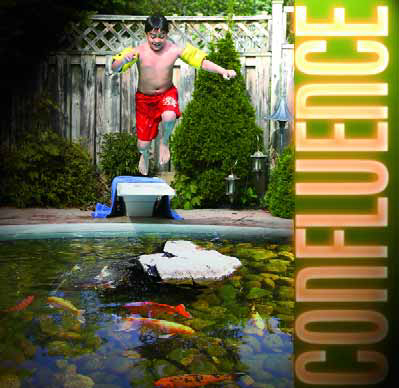 By Brian Van Bower
I've been using the word "confluence" a lot lately – so often, in fact, that I decided to look it up to be sure that I wasn't misusing it in some way.
According to Webster, the first definition of confluence is "a flowing together of two or more streams," with a second meaning of "a gathering, flowing, or meeting together at one juncture or point." To me, it's a perfect word to describe a trend that's redefining the watershaping industries – that is, a growing confluence between the pool/spa and pond/stream industries.
Coming from the pool/spa side of the discussion, I can recall a time not very long ago when ponds and streams were only rarely if ever considered by anyone in my business. What could pools and spas possibly have in common with
Creating watershapes and landscapes that are natural in appearance is always a challenge, says Ken Alperstein of Pinnacle Design, a firm that specializes in high-end projects related to top-flight golf courses. For this project in Shady Canyon, however, the ante was upped considerably by the site's location in an environmentally sensitive coastal canyon in southern California – a design challenge intensified by regulatory scrutiny every step of the way.

By Ken Alperstein
Creating watershapes and landscapes that are natural in appearance is always a challenge, says Ken Alperstein of Pinnacle Design, a firm that specializes in high-end projects related to top-flight golf courses. For this project in Shady Canyon, however, the ante was upped considerably by the site's location in an environmentally sensitive coastal canyon in southern California – a design challenge intensified by regulatory scrutiny every step of the way.
It was a job that forced everyone involved to be on exactly the same page at all times.
The landscapes and watershapes at the Shady Canyon Golf Club in Irvine, Calif., were developed by the Irvine Company as the heart of an upscale residential community. The wilderness area set aside for the course and its immediate surroundings had a subtle, bucolic charm all its own – a character the design team needed to
He came to the profession by an unusual path, but pond, waterfall and stream specialist Steve Sandalis has taken to his work with rare passion, turning a one-time hobby into a thriving business. Here, he describes what he's after in working with his clients, the openness with which he operates and the approaches he takes to offer his clients watershapes that bring peace, tranquity, beauty and a generous dash of romance to their backyards.

By Steve Sandalis
I believe it's fair to say that many of us who are now in the business of creating naturalistic watershapes have been intensely influenced and inspired by experiences we had as children playing near streams, waterfalls and ponds.
That was certainly true for me as a kid growing up on Long Island, N.Y., where I was constantly exposed to beautiful natural bodies of water. When I grew up, I found myself in the entertainment industry for several years. It was exciting at times, but no matter where I went, I always felt myself being drawn back to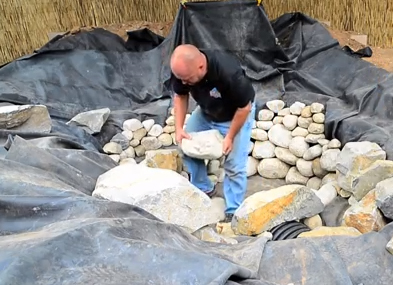 By Eric Triplett
I've often seen rock placement described as an "improvisational art" by others who've written for WaterShapes, and I couldn't agree more. Once the liner's in place and it's time to dress it up with everything from large boulders to tiny gravel, I get the sense that this is less a construction task than it is an exercise in creative manipulation.
You'll see some of that creativity on display in the two videos linked below, but what you'll also see is that experience really does count: In setting rocks in place, you end up handling and rotating and flipping and fine-tuning the positioning of dozens or hundreds or even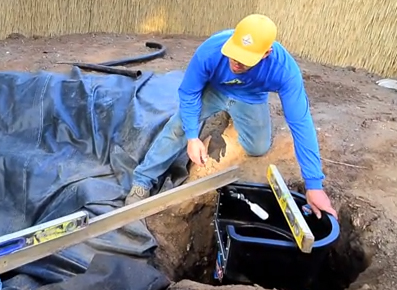 By Eric Triplett
The task highlighted in the video linked below – that is, the process of setting and leveling the skimmer – is right up there at the top of the list when it comes to determining the success or failure of a pond-installation project. In fact, it may be the most important of all with respect to aesthetics, because it's what sets the pond's water level and has a huge amount to do with how things will look to people who approach the water's edge.
We don't do the digging for this part of the installation until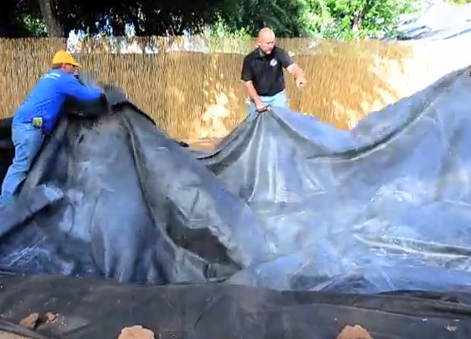 By Eric Triplett
With the excavation of the main pond area complete – that is, with all shelves cut and compacted and niches prepared for caves and hiding places – it's time to insert the underlayment and place the liner.
The underlayment is something of an unsung hero in pondcrafting: It keeps sharp stones from gouging the liner as it's being set in the hole and, longer term, deflects roots that might try to penetrate the liner to get easy access to a huge source of water. Our goal is to prevent any such problems, so we
A spectacular site is often the foundation for extraordinary watershapes and landscapes, observes Melanie Mackenzie – and that certainly proved to be the case with this project. As seen here, she built upon elements suggested by the site and its surroundings to develop a fully integrated approach that ties the front and rear yards together in ways that delight the eye, cheer the spirit and encourage the contemplation of distant horizons.

By Melanie Mackenzie
From my first visit, I knew I'd be spending a lot of time here developing the watershapes and landscapes on this amazing site.
Set on a bluff in Del Mar, Calif., the whole property slopes down from the street level to the back edge of the property. Beyond was an open space offering uninterrupted views of a river estuary, native coastal scrub studded with rare, indigenous, protected Torrey Pines and the Del Mar shoreline's pounding surf. There were also the spectacularly patterned cliffs at Torrey Pines State Park – a vista and set of colors that ultimately determined material choices for this project.
It helped that I was completely at ease with
For the past 30 years, landscape artist/architect Jim Robinson has pursued his projects with a distinct focus on creating subtle and complex beauty. Based on traditions of Japanese gardens, the resulting sites range from the monumental to the decidedly intimate – but in all cases, his approach to the placement of plants, stone and water is directed to establishing spaces that speak to visitors with a timeless, sublime tranquility.

By Jim Robinson
My love of nature started with a rock collection I had as a child: My fascination with the simple beauty of those small pieces of stone hit me early in life and never left.
Several years later, my outlook was dramatically expanded when a wealthy uncle of mine paid to have a formal Japanese garden built for his home in Boulder, Colo. Ever since, I've had a profound appreciation of archetypal Japanese gardens and the way they celebrate nature through landforms, rocks, plants and water.
By the time I was in high school, I had already decided that my career was going to involve working outdoors, and from that time forward, my prime interest was in bringing the techniques and disciplines of Japanese gardens into the greater American landscape both where I grew up in the Pacific Northwest and elsewhere.
For 30 years now, I've worked as a landscape artist in that region – for 15 years in Portland and for the last 15 in Eugene, Ore. Although many of my designs are not what you could describe as "Japanese gardens" per se, everything I do is informed and influenced by those traditions. I bear no grudge of any sort against the beauty of gardens in the Western European tradition, but to my mind, there's nothing in landscape design that harmonizes more seamlessly with nature than