Widely regarded as one of the country's most prestigious golf courses, The Quarry Golf Club at La Quinta, Calif., is also a significant point of pride for Ken Alperstein, managing partner at Pinnacle Design Co., a firm that specializes in creating expressive landscapes and watershapes for golf links nationwide. Here, he describes what went into the waterfalls, streams, ponds, rockwork and landscaping that lend the setting such powerful charm.

By Ken Alperstein
Tucked into a small cove in the mountains behind La Quinta in California's lower Coachella Valley, The Quarry Golf Club is hidden, ultra-private and basically unknown to all but members of the golfing elite and the wealthy few who play the course.
First conceived by entrepreneur Bill Morrow and designed by renowned golf course architect Tom Fazio, the course is a prime example of just how beautiful golf courses can be – and of how critical a role landscaping and watershapes can play in defining their character and aesthetics.
Our challenge was to embroider the course's 18 PGA-sanctioned, championship-caliber holes with
The watershapes on this corporate campus serve as monumental employee amenities – fountains, streams, ponds and a lagoon that provide workers with views both intimate and expansive and with great places to relax, think or hold meetings. Keeping these multi-purpose systems in top-notch condition is the mission of lake expert George Forni, who discusses here what it takes to meet the client's demand for high-profile, highly specialized care.

By George Forni
Even compared to other spectacular facilities established by Silicon Valley's high-flying software industry, Oracle's corporate campus is truly impressive.
The mirrored-glass architecture and warm, meticulously maintained grounds are only the start of the story. As you dig deeper, you find a range of employee-oriented amenities both inside and outside the buildings that make it tough to do anything but admire the audacity involved in creating such a workplace – and envy the people who work there.
The management at Oracle makes no bones about it: All of the opulence is designed to attract and retain employees capable of developing cutting-edge software systems. That's why you'll see designer furniture in the offices, international cuisine in the restaurants and beautiful artwork throughout the compound. It's an amazing place, and one that has been scrupulously maintained since construction was completed in the early 1990s.
The watershapes reflect the management's lofty sensibility and are an integral part of an overall scheme of plazas, rolling lawns, pathways and places to relax, meet or socialize with fellow workers. Our role since 1998 has been to
The home sat above the shoreline of Seattle's Mercer Island like a modern, angular beacon. The challenge, says watershape designer/builder Clayton Varick, was to weave the residence more successfully into its lakeside surroundings – a mission accomplished by setting up a string of pools, streams, waterfalls, ponds and plantings that effectively create transitions from the starkly geometrical to the breathtakingly natural.

By Clayton Varick
Finding ways to blend the angular rhythms of modern architecture with the sweeping splendors of nature constitutes one of the more difficult challenges faced by today's watershapers.
In the case of the project pictured on these pages, we were contacted in 2002 about an enormous, modern-style home on Mercer Island overlooking the shore of Lake Washington, right near Seattle. The property was being remodeled, and the owners wanted a set of watershapes that would enhance the beauty of the two-acre estate while more convincingly integrating the geometry of the structure with its woodsy lakefront setting.
The solution: a set of watershapes that start near the house with perfect geometric forms that stick to the architect's original design, then moves down the hillside through various transitional stages to a pond feature that looks like part of
Along with an increasing demand for large, naturalistic watershapes in both residential and commercial settings has come an unprecedented desire for exceptional water quality in those watershapes, says George Forni, a specialist in the design, construction and maintenance of lakes, ponds and streams. Here, using several of his projects in northern California as examples, he discusses just what it takes to meet both the demand and the desire.

By George Forni
Clear, polished water in well-designed, well-built lakes, ponds and streams: What better way to communicate a powerful message about the value of the properties that surround them?
In a commercial setting, for example, clear water in a meandering string of ponds will readily translate into office space filled with happy tenants, while the murky-water alternative could be just the eyesore that holds down the image and limits the facility's financial success.
The same principle works for watershapes at apartment complexes, where unseemly streams will almost certainly draw complaints from unhappy residents while cool, translucent water will become a point of pride and source of relaxation for tenants who otherwise might reflexively hold their noses as they pass by. Or consider the private estate where ponds are meant for swimming: Without question, these waters must have a crystalline clarity that attests to the water's safety and potential for recreation.
Delivering this level of water quality is more and more a part of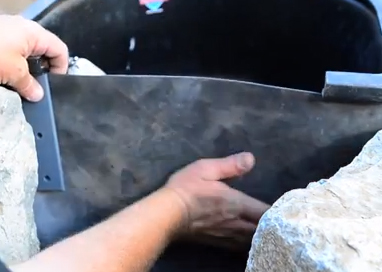 By Eric Triplett
I've always been a demon when it comes to getting everything having to do with my pond skimmers right: If they're set up properly, they'll work so well that you rarely need to think about them – and that's always my goal, both for me and for my clients.
Trouble is, you usually end up securing the liner to the faceplate at a fairly awkward point in
Widely recognized as one of the country's foremost authorities on watergardens, streams and cascades, Eamonn Hughes' watershapes in the Pacific Northwest are among the most beautiful found anywhere in the world. Here, he shares several of his favorite past projects, using them to define what it takes to achieve believable, naturalistic results with waterfalls, cascades, streams and ponds of any size, large or small, in just about any setting.

By Eamonn Hughes
So often, design comes down to an ability to see patterns.
I first learned this from my mother, a dressmaker who had an uncanny ability to look at garments for which there were no sewing patterns and then sit down and make them from scratch. I seem to have inherited this talent, taking in a barren landscape and quickly visualizing how it will look with plants, rocks and water. For this, I am happily in her debt.
Not everyone comes across such a gift by birth, but I believe that the ability to visualize is something most any watershaper can develop through experience and by taking the time to learn the "language" of any
A range of issues can conspire to make any good, man-made pond or lake head in the wrong direction. Addressing those factors and remediating poor water quality is a real specialty, says pond/lake expert George Forni – one that calls for an understanding of biology and chemistry as well as hydraulics. Here, he details the variety of techniques his firm employs when faced with a body of water that has taken a turn toward the foul and fetid.

By George Forni
It's a fact: A great many of the ponds and lakes in the western United States are simply not part of nature's scheme.
Whether used for water retention, landscape beautification, fishing or swimming, these artificial, man-made bodies of water are inclined (and in some cases doomed) to be troubled, usually because of fertilizer- and pesticide-laced runoff from surrounding developed areas. Indeed, some of these problem watershapes are filled with just about the worst water the environment has to offer.
As our business has developed, a large portion of what we do has focused on setting things right in these troubled watershapes and
Tucked into a canyon within easy walking distance of the Pacific Ocean, the the Self-Realization Fellowship Lake Shrine in Los Angeles is an oasis of water, plants and spiritual imagery. At a time when exterior designers are often being asked to develop "tranquility gardens," it's a model space of beauty and serenity – and, for landscape designer Stephanie Rose, has become a place to fine tune her skills in plant selection and placement.

By Stephanie Rose
During a lifetime of driving up and down the part of Sunset Boulevard where it finally meets the Pacific Ocean, I'd often noticed the sign pointing to "Lake Shrine" but had never taken the time to stop and have a look.
I suppose the "shrine" part of it made me think it was the exclusive preserve of adherents or members of the Self-Realization Fellowship – an organization I knew nothing about other than that their facility was in one of Los Angeles' most beautiful locations.
I finally overcame my hesitation about visiting the Lake Shrine a couple years ago, when a friend told me it was a place where people of all faiths and religions were welcome to stroll, meditate and enjoy the tranquility of the setting. Curiosity overcame skepticism and I finally visited the place. What I found at the Lake Shrine was a serene, calm, meditative oasis of lush, beautiful gardens surrounding a lake.
To this day many years later, the minute I drive through the entrance gate, I'm always swept up by sensations of serenity and peace – and have since
By Eric Triplett
A surprising number of my clients come into the pond-buying process without having given any thought at all to how the watershape will look after the sun goes down. That probably has something to do with the fact that the big natural ponds they've encountered in their lifetimes have not benefited from any kind of illumination beyond the occasional pole-mounted floodlight.
So they're in for a treat when we complete their pond and they watch it
The art of crafting visually pleasing bodies of water is very much a matter of understanding and applying appropriate edge treatments, says master watergardener, author and teacher Anthony Archer-Wills. In the first of a sequence of articles on such topics, he shares the principles and techniques he uses to create watershapes that invite observers right to the water's edge, where they are rewarded with dynamic and carefully balanced vistas.

By Anthony Archer Wills
When we think about the challenge of literally "shaping" a body of water, we must start by thinking about edges.
The edge is the pond's DNA or blueprint. It tells us almost everything about the pond. Without being able to observe the edge, you can't discern whether it's a formal pond, lake or a sewage-treatment facility. It might be a beautiful water feature or an eyesore. The edges form our reference in defining the whole setting and are consequently of the utmost importance.
We find this defining-edge concept at work in nature's own beaches, riverbanks and lakeshores, and it is a one that extends right through the heart of watergardening and all types of watershaping, whether architectural or naturalistic (or, as I commonly classify them, formal or informal). No matter the focus or intent of our designs, we must always consider what will be happening at the water's edge. This is the part that demands the most thought, skill, care and expenditure.
The subject of edges is so massive that it will be considered here and in articles to come. For purposes of this discussion, we'll limit our look to the use of edges in informal pond settings and situations in which we are attempting to create the impression that the body of water in question was originally
The hills of Bel Air, Calif., are replete with steep slopes, lush greenery, winding streets and luxury estates – the perfect setting for one of Mario Abaldo's elaborate naturalistic compositions in artificial rock and water. The work took months to complete, during which time he and his crews of artisans spent countless hours creating a pool and spa, streambeds, ponds, landscapes and a 40-foot waterfall set amid towering eucalyptus trees.

By Mario Abaldo
In designing and constructing naturalistic projects for residential clients, I keep two thoughts uppermost in mind: First, the only way to create a successful, natural-seeming illusion is to base my work on the observation and study of nature; second, the only way to build fun into such an environment is to fill it a child-like sense of wonder that draws old and young alike to the natural beauty.
For the project pictured in these pages, those two thoughts were always front and center. The homeowner first contacted us about his desire to place a dramatic waterfall in front of some striking, 120-foot-tall eucalyptus trees. That vision soon expanded to include additional watershapes now woven through the majority of the steep, terraced, heavily wooded site.
Some work had already started on a set of streams and a hillside pool by the time we became involved, but when the client became acquainted with our work and saw the sort of realistic, highly detailed projects we execute, he wanted us to pick up and take the entire project to completion.
Built during the unusually wet winter southern California experienced this past year, the project was challenging in logistics, scope, variety and detail. Some of the practical challenges included hand-carrying 400-pound rock panels down 100 yards of steep, switch-back paths – and occasionally dodging rogue golf balls shanked over from the adjacent Bel Air Country Club. Despite such annoyances,
Anthony Archer Wills has spent a four-decade career assembling some of the most beautiful aquatic compositions to be found anywhere in Europe or the United States. Working in a range of scales and styles, he seeks to inspire those who observe his work by bringing them into close proximity with water – whether it's a lake or a small pond – and by encouraging them in terms both practical and emotional to share his love of water in garden settings.

By Anthony Archer Wills
My journey in the company of water began when I was about seven years old, as soon as I was old enough to explore the countryside near my family's farm in Southern England. It was then that I fell in love with water – wading in streams, making dams out of small rocks, sticks and mud and watching the fish darting in clear pools. Much of my summer vacation was spent on a sun-peeled green punt gliding on a lake and staring down to the bottom at the aquatic plants and water creatures. It was a formative experience.
My parents loved the water, too, and they always had some type of boat. I'll never forget how almost every one of those modest vessels leaked profusely. This gave all of us first-hand experience of enjoying the water as we developed a visceral appreciation of the importance of
As ponds and lakes become more common amenities for large estates and commercial properties, says George Forni, increasing numbers of clients are demanding water quality more akin to that of swimming pools than to natural bodies of water – and very often, he adds, they want cleanliness and clarity to be attained without any chemicals. Here, he shows how this can be accomplished, in this case in a system of large ponds on a 100-acre estate.

By George Forni
Our projects generally take two forms.
On the one hand, we're called upon to "heal" ailing bodies of water that have been set up with inadequate or improperly functioning circulation and filtration systems. Although other people's mistakes mean good business for us, I won't say that we ever look forward to seeing potentially beautiful ponds or lakes cursed by unappealing or even unhealthy water conditions.
On the other hand, we often have the opportunity to join a project at the design phase and handle the installation as well, applying what we know about water quality from the first conceptualization of the watershape. That's always a welcome prospect: Not only is it exciting to