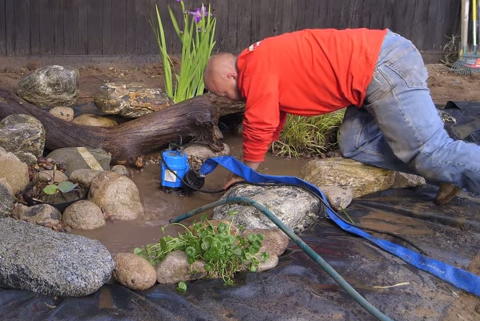 By Eric Triplett
No matter how firm a focus you maintain on making a pond into a safe, comfortable home for frogs, there's always the need to keep at least one eye (if not both) on the way the pond looks. My goal, as I discuss in some detail in the video linked below, is to make every watershape I produce look as though it belongs where I've put it, as though the pond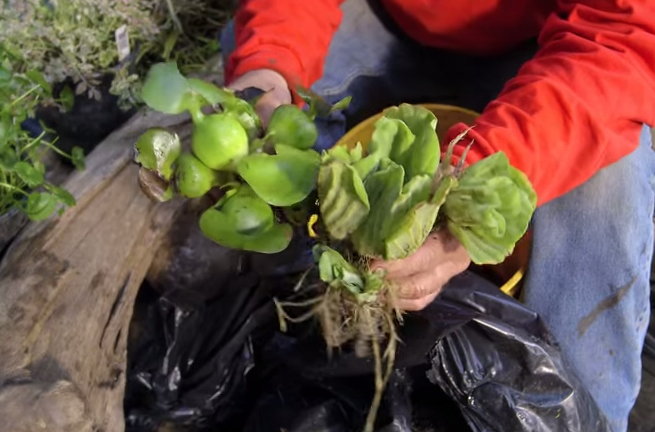 By Eric Triplett
As mentioned previously in this video series, one of the key points distinguishing frog ponds from most other modern backyard ponds is the fact that there's no circulation system of any kind – no pump to keep the water moving, no skimmer or filter to help keep it clean. That fact puts quite a burden on the frog-pond designer to make certain the water will be safe for tadpoles and attractive to the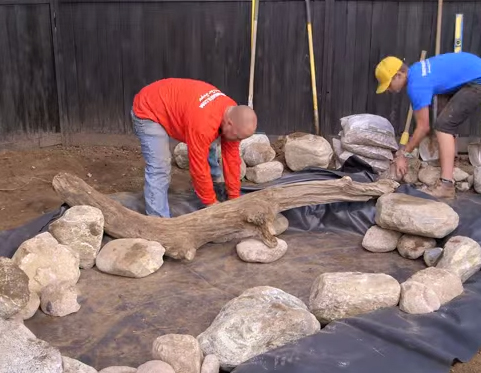 By Eric Triplett
The fact that frog ponds are so shallow offers the pond installer some special challenges with respect to making them look completely natural.
As you'll see in the video linked below, there's an obvious temptation to take the easy way out by lining the edge with rocks of similarly large sizes and settling for the dreaded "string of pearls" look, where stones hang out like some sort of lumpy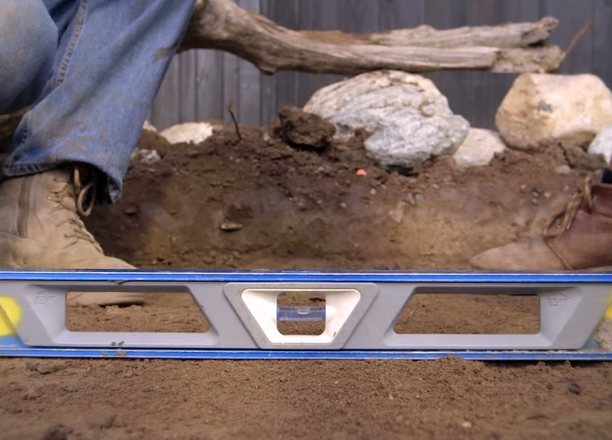 By Eric Triplett
There are many kinds of swimming pools and spas out there, and maybe even more specialized types of fountains. So it shouldn't come as surprise that there's also plenty of variety when it comes to ponds. From huge agricultural retention basins to the smallest birdbaths and everything in between, the broad spectrum
By Eric Triplett
Competence is a wonderful thing – and that was exactly the problem with the pond we were called in to replace: The original installers had none, and kept on demonstrating their utter lack of it all through the six or seven weeks they were on the job site.
Happily, competence is something my own crew has in abundance, and in two days we not only got rid of the mess our predecessors left behind, but also installed a brand-new pond and turned a shabby mess into a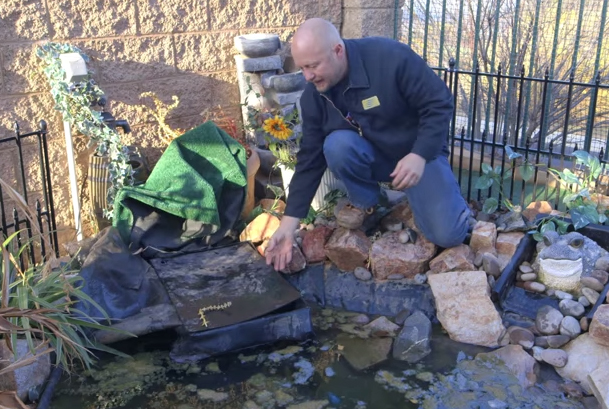 By Eric Triplett
This is a case where the client said it best: In describing his backyard pond as "a HazMat spill," he put it more bluntly and succinctly than I ever would or could have. And he was right: The little pond was a complete, total, unholy mess.
For starters, the waterfall and skimmer had been placed within inches of each other in a hard-to-access corner, thereby obliterating
When Mother Nature wipes the slate clean with a hurricane, says Raymond Jungles, it's possible to rework everything about a site. Having fantastic rock, great plants and a sharp elevation change are great ways to start. (Photo: Amanda Jungles Photography)

By Raymond Jungles
The untamed profusion of the South Florida landscape informed the design of this expressive garden. Filled with native plants and deep, inviting waters, it's a haven for abundant local wildlife as well as a luxurious retreat for the homeowners and a haven for their pet pig.
Set on a historic road in a protected-wildlife area of Coral Gables, Fla., the property had been a mango and avocado grove until Hurricane Andrew changed everything in 1992. The home, fortunately,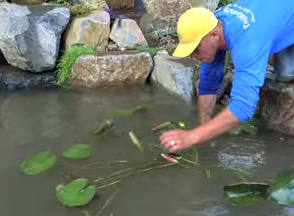 By Eric Triplett
It's with mixed emotions that I bring this long series of videos to a conclusion: It's been fun sharing what I know about all of the steps of the pond-installation process with you, and it's been gratifying to get comments from some of you along the way. But all good things must come to an end, and that's what happens with this video.
One technical point before I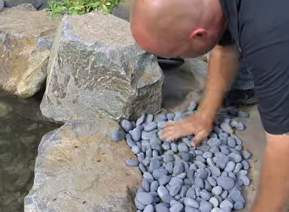 By Eric Triplett
As I mention at the start of this video, setting the edges is just about my favorite part of the pond-installation process. As is true with juggling and placing big rocks, there's an art to getting things just right and making the setting look as natural as possible – that is, as though the pond not only belongs there but has also been there for uncounted years..
As the video discusses, there are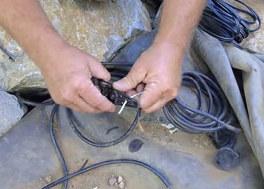 By Eric Triplett
As becomes clear in watching this series of videos, pond installation involves a bunch of specialized skills, from working with the liner and circulation system to moving large rocks and, as we'll see soon, arranging aquatic plants. But completing the project also involves a range of common job-site skills. As we've seen time and again, for instance, you need to know how to measure, fit and glue pipes, and you also need to
The owner wanted something unique, something spectacular to mark the entrance to a new development of upscale homes. Michael Nantz dove into the project with enthusiasm and a head full of ideas – but soon found that the flat terrain and the site's immediate proximity to a busy highway presented special challenges.

By Michael Nantz
Some projects grab you right from the start, and this was definitely one of those cases.
As the principals at Herzog Development Corp. explained in our initial meeting, their new development was to be a "golf course community with a rustic feel, but refined." To embody that refinement, Don Herzog and his son, Daryl, wanted some sort of elaborate waterfeature – something that would break the monotony of the stark, flat terrain of northeast Dallas County and welcome
The sound of water moving through the landscape adds something special to any backyard, offering a powerful aesthetic component to even the simplest of designs. These auditory enhancements evoke powerful images, emotions and associations even from casual or occasional observers, notes landscape designer and watershaper Rick Anderson, who suggests that the 'aural factor' should be considered from the very beginning of the design phase.

By Rick Anderson
All too often, the purchasers of a home (new or old) find a garden space stripped of any natural feel. Large lot or small, they sense no "connection" to the land – only a bleak space devoid of vegetation or any sort of overhead canopy and lacking the finishing touches that draw them out of the confines of the home to enjoy what usually represents the majority of their real estate.
From my perspective, the best way to generate this connection to the land is through the creation of ponds, streams and waterfalls in these backyard settings. Such features bring a more natural look and feel to residential garden spaces and instill a sense of connectedness. And whether customers pick up this sense consciously or subconsciously does not matter: What matters is that they somehow know it, that they feel it.
Plantings are a big part of this picture, but I lean heavily on watershapes to create connections because of
'When you install a pond, you install a lifestyle,' says Greg Wittstock, proclaiming the universal appeal of ponds, the variety of settings in which they can be placed and the huge range of aesthetic options available to consumers. In this pictorial, he shares some of the many projects his company has completed, pointing out along the way the simple power found in these living watershapes.

By Greg Wittstock
Waterfeatures may well be the hottest thing in landscaping today, and the reason is simple: No other landscape detail captures all the senses the way moving water does. I don't get the impression that people sit around for hours watching their tulips grow, for example, but I know for a fact that people who have ponds in their yards will sit for hours, with others or in solitude, drinking in the scene and communing with the koi and the water lilies.
In that sense, ponds have more to offer than the average waterfeature: A pond's live component adds interest and touches of tranquility that work in countless settings, from backyards and corporate offices to dining terraces and the common areas in apartment complexes. The possibilities are